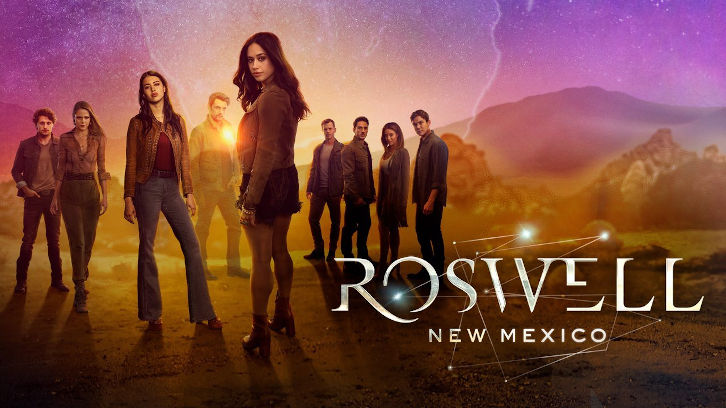 After last week's flashback episode, I was anxious to see how the show would move the characters forward and I am pleasantly surprised by what unfolded in this outing. Read on for some teases about Tuesday's installment!

Moving Forward

After last week's bombshells that Isobel killed Rosa and Max and Michael covered it up, Liz and Max share the same emotion.... Anger. They both decide to throw themselves into various distractions in order to avoid the emotional wounds they feel from the secret finally being revealed. For Max, that means trying to get back on duty after his run-in with Wyatt where he was shot. Some of his actions this episode were very knee-jerk as he takes out his anger on anyone in his path. Some of it is justified and some of it is over the top.
Now onto Liz, who is bit more logical whilst channeling her rage. She is brought in for questioning about Wyatt and on her way out, comes face-to-face with an apologetic Isobel. The moment is tense and Isobel is worried about Liz's next move. Liz decides it is best to lock herself in the safe space of her lab for some much needed avoidance for the time being. That works until Alex comes along and gives her some perspective that has nothing to do with Max, Isobel or Rosa. These interactions are much needed, because we are supposed to believe that Liz and Alex were very close in High School.
Maria
I have seen several comments about there not being enough Maria content and this episode finally gives the people what they want. Sherri Saum (The Fosters) makes her debut as Maria's mother
Mimi
and while I don't want to spill too much about what her appearance entails, it was my favorite part of this episode. Maria finally gets some ample screen time and it serves this show very well as Heather Hemmens is a fantastic actress. There are great scenes with her, Liz, Alex and Mimi that reminds us that there is more to this town than just the aliens and their secrets. Also, if you were hoping for Michael and Maria to have some interaction, this one is for you!
Other Teases
* Cameron is back this week.
* Noah gives Max some legal advice that does not go over well.
* Isobel spends a lot of this episode in Michael's trailer teetering between self-loathing and self-reflection.
* Max lets Michael know he knows about a certain something Michael thought he was good at hiding.
* We find out which one of her 'brothers' enables Isobel the most this episode.
That is it for now! What are your hopes for the episode? Sound off in the comments!