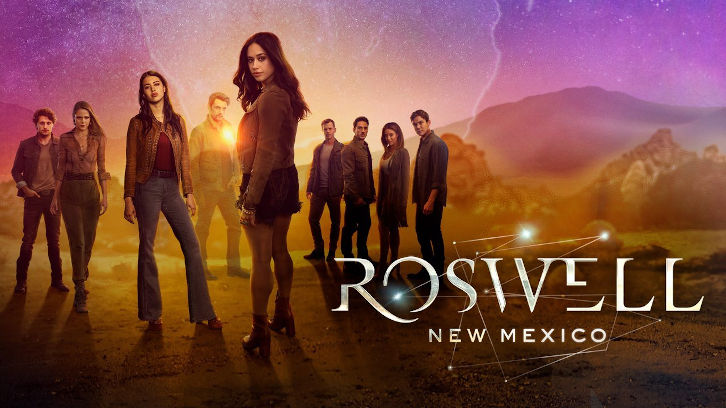 This week on Roswell, New Mexico Isobel has checked herself into a mental hospital and influences Kyle to inject her with Liz' serum. It nearly kills her. Alex attacks his dad and hacks into his files. He then blackmails him into leaving town but not before getting a lot of info on who Manes thinks are aliens (this includes Michael). Liz and Michael work together to find a way to save Isobel. Max asks his mom about the symbol and she tells him about a boy who kept drawing it at the orphanage. Isobel goes back into one of the pods so that Liz and the others have more time to find a way to save her.

So proud: This episode may have focused on Isobel, but Alex stole the show this week. I have been waiting to see him stand up to his dad for weeks but this was so much better than I could have ever hoped. Sure, a bit extreme as well, but deserved. I won't lie, I cheered when Alex hit his dad over the head with his crutch. It seems that Alex has been researching his dad's work off screen. And aside from being a badass soldier, he also has very impressive computer skills. Which is what leads him to be able to blackmail his dad into leaving town. I doubt he'll actually stay away, though. This guy has been running a research program for 8 years against his superior's wishes. He's not going to stop because his son tries to make him.

Aren't you forgetting something? Sure, Liz has her reasons to not want to help Isobel. Michael had a point there. But he sure seems to have forgotten what his role was in the cover-up. He doesn't seem to quite grasp just what kind of an impact the way they covered it up had on Liz and her family. But even Liz seems to have forgotten it because I was so sure she'd bring that up. Personally, I consider Liz a saint for still wanting to help them after everything that happened, not just her sister's death but that Isobel influenced her to leave before her sister's funeral. Sure, the idea may have already been in Liz' head but that doesn't mean she would've done it without Isobel's influence.
Not smart: Raise your hand if you would inject yourself with a mystery serum meant to incapacitate you. No one? Shocking. Isobel nearly committed suicide by proxy. Kyle may have been influenced but that doesn't mean it wouldn't have affected him if his hands had caused her death. Also, what the hell was she thinking? She must have been seriously desperate to do this. They had no way of knowing what the serum would do. What if it had amplified her powers? That would've been fun.
Tell your mother: So Max was ready to tell Liz he's an alien 10 years ago yet his own mother still doesn't know. What the hell guys? If you can't trust your own mother, who can you trust? I know they probably just want to protect her but this probably just created a rift between them. And yeah, she'd probably freak (she seems like the kind of person who would freak) but she's the woman that raised them. We don't know much about their childhood but from everything we've seen I assume, it was a good one. And a good mother would do anything to protect her kids. She deserves to know.
Was it just me? So when Max and Isobel's mom mentioned the boy who kept drawing the symbols, did anyone else think this wasn't Michael? Sure, I may be looking for signs of a fourth alien. But wouldn't the symbol have meant more to Michael if he once drew it over and over again on a wall? They had no memories of events that happened before they went into the pods, but they should still remember things from afterward. Just a thought.
Best quotes: Ann: "You look thin." Max: "So do you." Ann: "Really? Thank you."
Isobel: "Yeah, Dr. Valenti. Terrible bedside manner."
Alex: "Do not talk to me about unprovoked violence!"
That's it for this week. Check in again next week for an all-new review and let me know in the comments what you thought of this week's episode.
Please be respectful in the comments, any unnecessary rudeness isn't welcome.