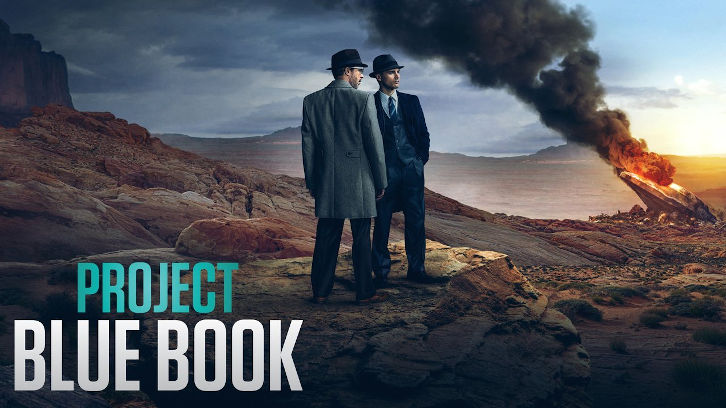 Project Blue Book
"Abduction" was written by Sean Jablonski and was directed by Alex Graves, whose other credits include
Homeland
,
Game of Thrones
, and
The West Wing
. Not surprisingly, this is another beautifully shot episode! Two scenes use mirrors to create an interesting synergy between the scenes. Look for Malcolm Goodwin to guest star as Thomas Mann (he's also currently appearing on
iZombie
!).
The episode breaks from the usual format of beginning with a case. Susie's (Ksenia Solo) associate (Currie Graham) continues to be a prick. Susie asks him to do something surprising. Hynek (Aiden Gillen) has a surprise for Quinn (Michael Malarkey).
Mann and his wife Valerie (Khalilah Joi) turn up at the base with a story for Quinn and Hynek and ask for their help. Quinn and Hynek come to different conclusions. Hynek tries to prove a point with Quinn with a mirror. Mimi (Laura Mennell) is a terrible packer. Susie tells Mimi how she can help.
Hynek has a surprising new skill. Three scenes are intercut beautifully – with three different physical altercations. Something is found in an unusual location. A night time meeting doesn't end well. Quinn and Hynek take separate trips.
This is a beautifully directed episode. Things are definitely coming to a head as we count down to the season finale – I'm so glad we are getting another season! Don't forget to tune in
Tuesday at 10pm on History!
And, of course, a few dialogue teases….
We're not leaving.
No one is calling you a liar.
You're having second thoughts.
I want to help.
I just want an answer.
No wonder you don't understand.
Something big is about to happen.
You're the one that's full of shit!
There was no moon that night.
You do realize the kind of trouble you're in right now.
None of the doctors were able to tell us what's wrong.