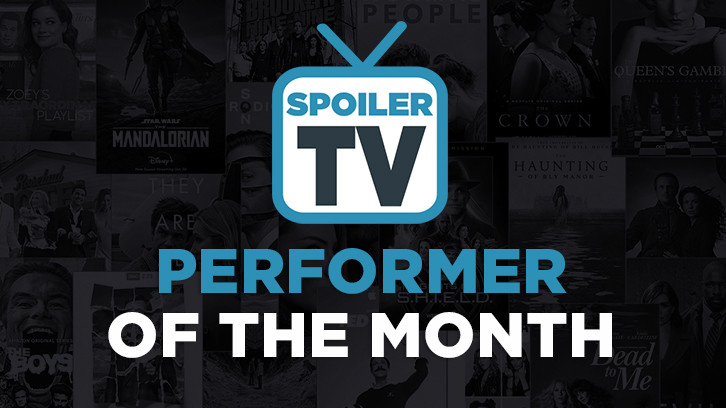 Results:

Much like last month, the Readers' Choice winner shot out to an early lead and no one ever again came close. The Staff side, however, went down to the wire with only a single point determining the winner.


In its fourteenth season,
Supernatural
is thriving. Its fans won't hesitate to credit their love and the show's success to the superb cast, especially the show's leading men Jensen Ackles and Jared Padalecki. Last month, our readers voted Padalecki as January's Performer of the Month for his ruthlessly emotional tour de force. An unforgettable performance only equaled by the one that Jensen Ackles gave in the next episode
Lebanon
. Dean Winchester faced his happiest dreams and greatest tragedies in the show's 300th episode, and Jensen Ackles drew on fourteen seasons of triumphs and battles and heartbreak for his portrayal in this milestone episode. Fans won't soon forget the levels of talent and emotional intensity Ackles has brought to this entire season. He won our readers' votes for SpoilerTV's February Readers' Choice Performer of the Month, but the real winner is all
Supernatural
viewers who tune in each week for Ackles charismatic, crackling performances.
It's not very hard to find a TV character with a meaningful story, but you would have to dig very deep to find one with such beautiful development as Eliot has had on
The Magicians
. His spellbinding story wouldn't have any of its spellbinding resonance without the actor who inhabits Eliot. Hale Appleman has given life to one of the most intricate and satisfying character evolutions that TV has ever blessed us with. There's never been a time in the show's run where you couldn't see a dozen different layers of Eliot in a single scene. In that way, Appleman's work in
Escape From The Happy Place
(4x5) is not remarkable. He has always been this good, always able to draw the audience so intimately into Eliot's courage, passion, grief, and yearning. This performance, however, is especially worthy of recognition because this episode celebrates the entire body of work Appleman has produced throughout the show. He takes us from the past to the future in an episode that not only sees a major shift in the story itself but in Eliot's own individual emotional growth. What Eliot experiences simultaneously wounds him and us while also giving a precious glimmer of hope, and there's no other word to describe what Appleman does, no other word except electrifying. For all the reasons, he is SpoilerTV's Staff Choice for February Performer of the Month.
The winner articles for Jensen Ackles and Hale Appleman will be released before the end of the month. In the meantime, feel free to use the below comments section to discuss these two very worthy winners and their very talented competition.
Original Post:
February delivered some phenomenal performances and thanks to your nominations we have a strong list of nominees to be voted on to determine the Readers' Choice Most Outstanding Performer of February.
2018 Staff's Choice Performer of the Year: Sandra Oh
2018 Reader's Choice Performer of the Year: Alycia Debnam-Carey
December Winners:
Readers' Choice: Goran Visjnic (Garcia Flynn) - Timeless
Staff Choice: D'Arcy Carden (Janet) - The Good Place
January Winners:
Readers' Choice: Jared Padalecki (Sam Winchester) - Supernatural
Staff Choice: Andre Braugher (Captain Raymond Holt) - Brooklyn Nine-Nine
Please remember that a performer can only win once in 2019. After that win, they will be ineligible to win again in 2019, but they will secure a spot in our year-end Performer of the Year contest.
Now comes the hard part where you can
only vote for 1 performer
. The poll will be live until
Monday, March 11th at 6 pm ET
. After you vote be sure to make a pitch in the comments section for what the performer you voted for most deserves to win.