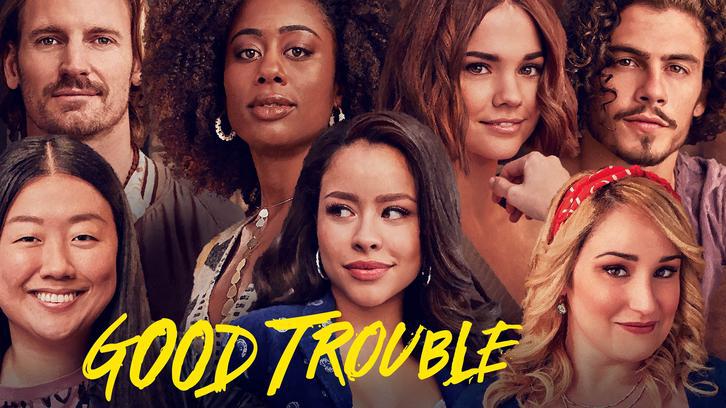 Good Trouble returns Tuesday night at 8:00PM ET on FREEFORM

There is so much going on in this week's episode of Good Trouble. I am not sure if this has been announced, but a character on the show might be exiting in tonight's episode. The show duped me about the direction it was taking with this character, but I didn't expect an exit. I am more interested now to see how the writers proceed. Callie and Gael might be going back to their past habits; however, Bryan is not going to be pushed out of the picture. For the first time, I think we get to see Gael express what Bryan means to him and this will kind of surprise Callie, who all along has been thinking she has some power over Gael. There is a bit of a step forward for Gael, and this was a long time coming; hopefully, they expound on this storyline.

Malika is dealt with some emotional family issues in this episode that will break your heart. We eventually get to meet her mother who is or not a recovering alcoholic. There is plenty of manipulative behavior that is highlighted even though necessary, felt a bit of a stereotype to me. You can judge for yourself when you watch the episode. She deals with her family with poise, but it ultimately breaks her down. I liked her brother, but now I think he might be in on the con with the mother.


Alice is dealing with a lot in this episode. She agrees to assist Sumi's fiancé in hosting a bridal shower which in itself was a crazy idea. Sumi joins Alice for a lunch that is supposedly a regularly planned rendezvous, and it is remarkably painful to watch. Certain sad things are revealed at this lunch. Even though Alice might be ready to move on from Sumi, she will need to first deal with all the secrets that she's holding. Sumi is insufferable, and I want her gone from Alice's life; she continues to be oblivious of Alice's feelings for her, and it's getting on my nerves.
The situation at Judge Wilson's court is becoming uncomfortable particularly after it is revealed at the beginning of the episode that Callie shared about the abusive judge that Rebecca clerked for before. Judge Wilson is someone very hard to read in these types of scenarios but buckle up because things are about to be very intense. The Jamal Thompson case eventually gets a hearing, and things don't turn out as Callie expected. This might cause some stress between the clerks since Rebecca knows about Callie and Malika's real living situation.
There you have it a little sneak peek into tonight's episode.