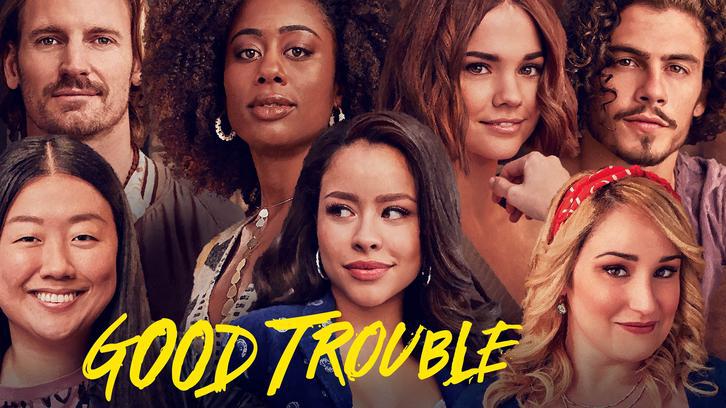 Good Trouble returns Tuesday night at 8:00PM ET on FREEFORM

Previously on Good Trouble...

Rebecca made an abrupt departure and left Callie a lovely note. Seeing that they were cordial but not necessarily close the sentiments expressed sounded a little corny but it was kind of her. I was happy though with how the writers wrapped up her story even though I had been fooled into thinking there would be something between Jesus and Rebecca. Ben is still around which is a bit unusual, but I will say this, the writers are doing an excellent job of not sticking to a particular plot that requires logical continuity. They are just letting everyone live and have a good time, which feels like everyday life.

This week's Re-Birthday is fun and also pushes a few characters ahead in a very delightful way. Yes, Brandon shows up so randomly but has some of the best scenes of the episode. He goes on a ride with Dennis, and they have this genuinely good conversation. Brandon is not here to satisfy our nostalgia, but his appearance is used to help Dennis make a decision that could be foreshadowing his future on the show. I am happy with what comes out of Brandon's chance pop up on a crazy night with this crew. Also, I don't think he will be back soon even though he lives in Los Angeles and that's okay.


The coterie gang heads out for Davia's twenty-fifth birthday that turns out to be a night of truth bombs. Raj joins the party; his growing bond with Mariana will make your heart swell. I want these two to stay friends, and if anything is to happen between them, it should be organic and needs no pushing. The other Speculate men are still obnoxious even though their appearance in this episode is minimal; I would prefer they don't show up at all. Davia and Dennis are definitely into each other, or there is something there that they do not want to address and this episode everything blows up. Davia is an absolute control freak and always has opinions about everything and everyone else, but she's hurting, and I hope we get to see a little bit of care taken to help her address some of her personal issues.
Sumi is around a lot lately which makes me wonder if she still has feelings for Alice. Things get a little hot in this episode. Alice needs to move on but sometimes the heart wants what it wants and in this case, being a little puppet for Sumi is what Alice wants. Everyone is concerned about Alice, and you will see some solidarity that might be instrumental in nudging Alice to deal with her emotions. Malika seems to be heading into a relationship but this show cannot let anything nice stick so pay attention to the conversation that she has with the "could be" boyfriend.
I think or hope we have reached the point of the Gael and Bryan relationship that will see them really be with each other. I am wholly confused as to where this will go, but I need to see the writers try as much as they do with Callie and Gael. I love Jamie and Callie together; however, some of the events that transpire in this episode might be an indication that their relationship will go the way of Brallie.
Anyway...
This show doesn't try to make its audience work too hard, they are giving us just good entertainment. Re-Birthday is a fun episode, and it brought me a lot of giggles, so I hope everyone enjoys it as much as I did.
There you have it a little sneak peek into tonight's episode.