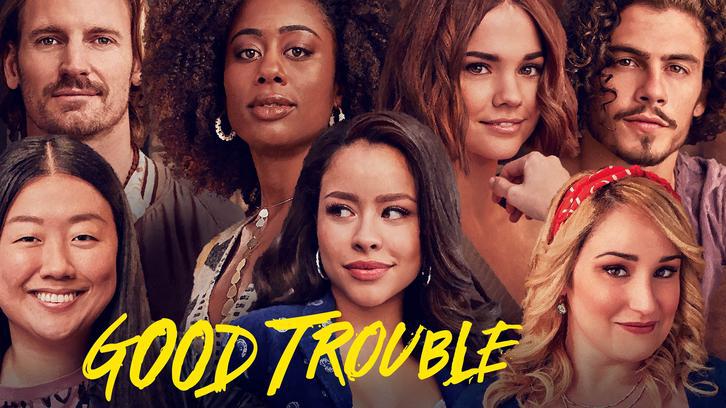 This week on Good Trouble:
This episode was a whole lot different from last week's fun episode. Callie and Mariana's work situations are at the forefront here and the moms are also making a comeback. Callie, Mariana, Jamie, Stef and Lena are invited to Judge Wilson's house with his wife and son, which honestly is some of the most awkward television I've seen in a while. Callie is trying to figure out what she should do with the Jamal case and how Judge Wilson is handling it, while she is fighting for Judge Wilson to hire Kate (Judge Handleman's last clerk). Towards the end of the episode, Judge Wilson does hire Kate, but he also takes Callie off the Jamal case. I really did feel for Callie because she was just trying to follow her intuition and fight for what she believes in like she's always done. I do think the rest of this season will be an uphill battle for Callie, career wise.


Mariana is fighting for her rights at Speckulate with the spreadsheet but she's debating whether or not to include race. The women at Speckulate thinks that they should focus on just trying to get their wages more equal to the men, but after having a really good conversation with her moms, Mariana decides that she needs to fight for who she is. She will lose a lot more money because she is Latina than what for example a white woman would, and after telling the women at Speckulate her feelings, they agree that race should be included. Mariana does get a win in this episode when they are having a staff meeting with Evan. First of all, I love Evan, and you can tell that he's just been so busy with the company that he hasn't seen what's been going on behind the scenes. He agrees to hear Marians app pitch after he asks her, Josh and Angelia why Mariana didn't follow up earlier about the app pitch. I liked that Evan really put his foot down and told Josh and Angela that what they did was wrong, and I'm excited to see Mariana pitch the app idea to Evan.
As I mentioned, the moms are back and they are not in the best place because of Lena's election and the fact that Stef feels like she can't give her opinions about anything since it can harm Lena's campaign. I thought it was so funny when Mariana and Callie tried to sit their moms down and talk it out like the moms had done with the sisters earlier in the season. The talk didn't go as Mariana had planned but the moms did work it out in the end as they always do and we got some really nice scenes between four of the Adams-Fosters family members.
I know that I said that the dinner with Judge Wilson was some of the most awkward television I've seen in a while, but honestly, the double date with Alice, Joey, Sumi and Meera was even more awkward, which says a lot. Sumi has been getting on my nerves for a few episodes now and honestly, this episode was just so awkward. I felt really sorry for Meera, and for Alice and Joey who got roped into that double date. Malika had a really tough time this episode. Old footage of Jamal surfaced where he basically said that he didn't like black women. Malika is mad, and disappointed, and tired and she wishes that she didn't have to organize a protest for someone who couldn't even see the beauty in his own people, but she does it anyways because she feels like she has to be there for everyone.
Favorite character:
I know that Evan was only in like a few minutes of this episode but I absolutely love him. I think he's such a fascinating character and I just loved how he noticed that Mariana is a motivated employee. It's about time someone at that company notice the hard work that Mariana puts in and how smart she actually is. I liked how he encourages her to pitch the app and also how he told Josh and Angela that they were wrong. If someone can just tell Alex how much of a jerk he is now, I'll be very happy.
Favorite scene:
The staff meeting scene where Mariana got to flag an issue and really shine was something that I absolutely loved in this episode. I also really liked the rooftop scene between the moms and Callie and Mariana. Those kinds of scenes always make me really happy and it reminds me of the Fosters, but I do think that those kinds of scenes can also be really appreciated by people who didn't even watch the Fosters. Also, any scene that Jamie is in is something I like because his character is really growing on me as the episodes go by. I kind of liked him in the Fosters three-part finale but didn't really know what to make of him but the more we see him in Good Trouble, the more I like him, and what he does for Callie.
Favorite quotes:
Lena and Stef to Callie and Mariana:
"We're talking about fighting for what you believe in, and for the people that you believe in, included yourself. "
Jamie to Callie:
"Yes, I like golf, don't hold that against me."
Malika:
"I have to be there for everyone, because we all should be there for each other"
Callie:
"Who's there for you?"
What did you think about this episode of Good Trouble? Please, let me know your thoughts in the comments below.