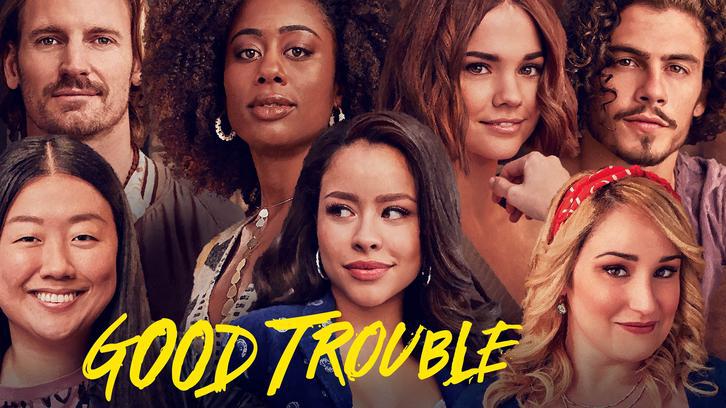 Good Trouble airs Tuesday night at 8/7 CT on FREEFORM

Broken Arted is an episode of Good trouble that I wish I didn't watch, but I did. It sent me to a place I still am struggling to come out off. It took two days to gather my feelings to put my thoughts together to write this review. First of all, I do want to mention that I have not watched the finale or any sneaks peaks and promo from the finale episode. I do not know if the end of Broken Arted means what I think it means but I also don't want to pretend that it could be a nothing but a twist.

We left off the last episode with Callie's removal from the Jamal Thompson case by Judge Wilson. Her handling of the situation with Rebecca and Handleson pushed Wilson enough that he couldn't work with her anymore. As much as I don't agree with Wilson he made the right call; however, this doesn't look good for him especially with Callie's knowledge of his son's troubles and supposedly police cover-up. Wilson should know by now that Callie is a Foster and their past time is meddling so this is not over. Wilson spotting Callie and Jamie talking to another lawyer is clearly an indication that things are going to get tricky for him.


Love triangles are not tropes I enjoy watching, but it's just that one aspect of television and film that has refused to see death pun intended. Callie is stuck in this messy emotional game with Gael. Jamie seems to be less attached nevertheless is heading towards falling for Callie and appears like he wants a dose of the emotional beat down. I love Callie, but she can be very manipulative and does enjoy the hot and cold games with those she chooses to be intimate with.
The end looks near for Gael and Bryan after this episode I don't think they can rekindle their romance. Bryans seemed stressed the entire episode, and I thought this was a little off-character. We have seen him get upset at Gael, but he is always tender, his outburst really threw me off. The final scene between them was a bit sad and confusing, Gael didn't want to address the elephant in the room aka Callie but also looked like he didn't care if Bryan bailed. Gael asked Bryan to be exclusive, and his sudden reversal was hard for Bryan to take. Gael believes that if he ends it with Bryan, Callie will be back in his bed but I don't think things will be that simple. Jazmin might also have been the push Gael needed to completely break it off with Bryan.
This episode gave us a little background on Evan via Josh and Angela who in the beginning looked like were in cahoots. As the episodes have progressed, Angela has proven to be a better person. The hints about Evan having had cases brought against him by women at Spekulate were vague at best even from Raj. Evan admits to being socially awkward, but if those rumors are true, then Raj was right to let Mariana know despite her negative reaction to the news. Angela sharing the salaries with Mariana was a critical part of the episode that might finally help bring to light what the women engineers at Speculate have been saying all along.
Another thing I loved about Angela coming to Mariana was the depiction of this woman that did not feel empowered enough before to question the discrepancies despite a prominent position at the organization but got courage when the other women banded together. This is true to real organizations, and it highlights the importance of voices coming together to fix inequities. I am not sure if Mariana will be able to have any inroads with Evan after Rajs concerns but time will tell.
I had some trouble understanding Malika in this episode especially when it came to her brooding about her brother Dom. She was doing excellent with all the activism plans she was putting together with the Coterie gang, but at Gaels' showing she was preoccupied with Dom. I don't know why her brother was at the showing, did she invite him? Last time she had contact with him he had betrayed her trust by hoodwinking her into visiting their mother and giving them money. I found everything about this very frustrating, the flashbacks didn't help either to shed any light on what was going on. Was her brother homeless all this time, since the graduation card she sent him came back? I have questions, and I need answers hopefully in the finale. One aspect of Malika's story that made her shine this episode was the scene with Davia where she called her out on her privilege. This was a subtle dig at Teach For America teachers. Some of the teachers tasked with attending to inner-city children are totally oblivious of the socio-economic struggles of the kids they interact with.
Davia faced her predicament with Jeff and told him the truth about not wanting to be his mistress. I thought Jeff was going to indeed leave his wife and be with Davia but his reaction when she rejected his moving proposal changed my mind on his intentions. The strange thing about this though was that Davia finally listened to Dennis who before her encounter with Jeff had advised her to be kind to herself.
I never thought I would be writing this, but I felt sad for Sumi in this episode. I still think she is a manipulative little devil, but Alice loves her despite having a new woman. Sumi has done things that broke Alice's heart, but her confession to having feelings for Alice seemed genuine. I am a sucker for a good "meant to be" love story, but I am also skeptical that she's only doing this since Alice has finally found some else. I will be interested in seeing if Alice will go back to Sumi, I would love to see her pursue something with Joey.
It only feels right to end this review with what I think is on everyone's mind and has occupied mine for the entire weekend. I began asking myself why I reacted to the end of this episode with the conclusion that Dennis had died by suicide and that it wasn't just a plot twist that the show was trying to introduce. I then moved to think the writers were messing with us and that Dennis will be in the finale alive and smiling. Then it was wondering why as storytellers Lynn and Solomon would tease something this serious and not follow through? Next, I battled with rationalizing why Dennis would be the last person to die by suicide. Did I not pay attention to the crumbs the writers were dropping in the several episodes where he was featured?
This was a constant, maddening thought process that I went through even while writing this review. It could be my own biased perception of what I think are signs of someone struggling mentally. I had to stop myself from over thinking because I go through depressive funks that I hide very well with a cute smile so this ending was not and shouldn't have been a shock to me. It makes sense after watching the interaction with the Coterie gang at Gaels show that he was sort of saying goodbye. All along Dennis was putting up a façade of this well-adjusted person, but we got a warning when he almost had a break down a couple episodes back while talking about his son with Stef.
So, why am I battling with the likelihood that Dennis's storyline ends this way? I don't know, and until I watch the finale and see that he is actually gone, then I might have closure. I would be a liar if I said it wasn't a trigger since it made me have an anxiety-filled weekend.
From a writers perspective "Broken Arted" is a masterful piece of writing that was woven with so many blind spots to keep the viewers absolutely blindsided by what transpired at the end. Lynn and Solomon despite the difficulty of the subject matter did a fantastic job. Paige's direction was incredible, and they definitely got the shock they were aiming for, but I am still heartbroken.
What did you think of the episode?