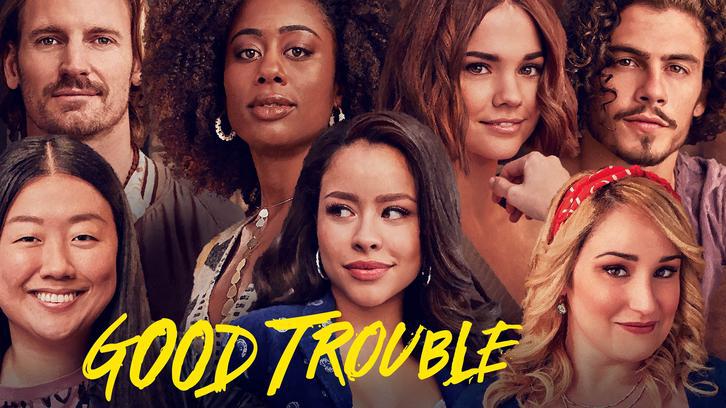 Good Trouble airs Tuesday night at 8/7 CT on FREEFORM

I cannot believe we are already at the penultimate episode of Good Trouble, but time flies, and here we are. "Broken Arted" is an episode that was intended to tie loose ends here and there, in case the show was not going to get a second season. This was a smart move on the show runner's part, and I am thankful that they were planning to ensure that they didn't leave fans hanging. Having said that, I am annoyed to no end at how things turn out in this episode. Megan Lynn and Wade Solomon team up as writers on a tight and perfectly directed episode by Peter Paige. A number of the characters from the beginning of the show make an appearance in this episode and we could be seeing the exit of two characters. I don't know how I feel about these two characters being written off. I am particularly unsettled about one of the characters who I think has the potential to have an incredible arch.

Gael gets to finally showcase his art at a fancy gallery and the Coterie gang, their friends and others from Spekulate are attending the exhibit. All the drama will be happening at this location albeit in very unpredictable ways. The tension between Bryan and Callie can be cut with a knife. Since Callie is no longer working the Jamal Thompson case, she involves herself more with researching on Judge Wilson's sons' drama. Jamie and her though will be heading towards a rough patch in their "new" relationship or whatever it is they are calling it. I will be honest and say that this is a frustrating storyline. I know one of the showrunners has addressed this in some interviews and talked about Callie's complicated love life; however, I don't buy the need for this angle with Callie. I wanted growth for her, and it seems like we are back to where she was all through her Fosters days.


Mariana ends up with a completely unexpected ally at Spekulate. This character, it turns out might have been unable to deal with issues until Mariana, and her fighter personality showed up. This was the push that this character needed and how they portray this is exceptionally accurate and important. The women at Spekulate might finally be able to get their grievances heard and addressed. Mariana's relationship with Raj is tested in this episode, but my gut tells me that Raj is going to be on the right side of history in this case. We do get to see a little bit more of an interaction with Evan who I am struggling to understand, but after this episode and maybe the finale, we might be getting more information on.
Malika, Alice, Dennis, and Davia are also dealing with their own stressful issues. Sumi makes an appearance, and she finds Meera and Alice in an awkward situation. Malika is trying to cope with her brothers' silent treatment, but it is definitely affecting her. Davia has to deal with Jeff who is persistent in trying to get her to move to Wisconsin, and she is considering the move. Dennis is in an intense divorce battle with his soon to be ex and this could eventually cause more problems for him with his Coterie friends.
This is a downer of an episode that is superbly directed but confusing and heartbreaking. There is one particular scene at the end of the episode that is shot beautifully, but I have to issue a warning here. Prepare for a gut punch from left field that might cause distress to some fans, it gave me a headache all weekend.
So there you have it, come back after the episode, and we can discuss.