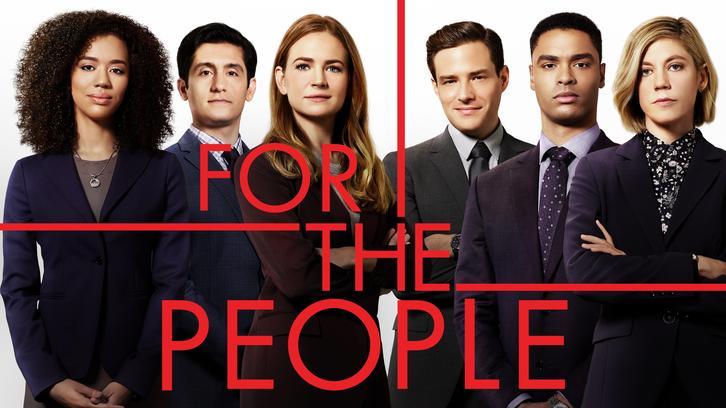 What's the opposite of charming?
Seth
For the People is back! And pulling no punches, once again we get complex cases, either fully in the gray, where there are no real winners, or cases where we get some wins, but we end up so emotionally destroyed by the reminder of how the world works and what's going on today that we can't fully enjoy them.

Our beloved characters are pinned against each other time and time again, and this only makes the ambivalence stronger. There are still a lot of fun back and forwards between these brilliant people, a few funny moments, and some that will just tear your heart out. One of the best news is the new recurring role by Charles Michael Davis (The Originals, Younger) which I'm sure will deliver so great scenes and who knows, perhaps a romance on the horizon.

I have to warn you to handle the watching of the second episode with care, make sure you're in comfortable company and have some tissues in hand, especially if the subject of immigration in the US affects you emotionally. There's a wonderful arc with Kate that gets completely overshadowed by the big case of the week, perhaps splitting them up would've been better, but then again, perhaps one full episode that doesn't let the intensity go for a second might be too hard to watch. In any case it is absolutely worth it.

No matter the ratings, I hope this show has many years ahead, I hope someone believes in it enough, because it is not just entertaining as hell, it challenges your beliefs over and over again, it does not let you get comfortable on one little side of a moral compass, this show is absolutely necessary and I can only hope the people that matter feel the same.


This is America

Season two of For the People will air THURSDAY, MARCH 7 (10:00-11:00 p.m. EST).