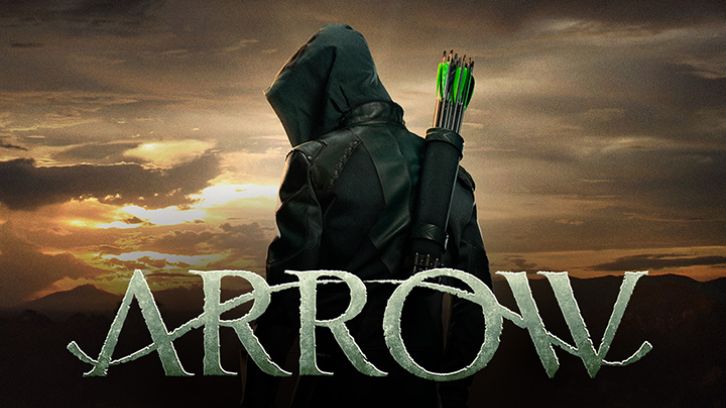 Arrow
"Star City Slayer" was written by the team of Beth Schwartz and Jill Blakenship and was directed by Gregory Smith. This episode wraps up – potentially – a couple of storylines and has a couple of somewhat obvious reveals. My biggest beef with the show right now is the future storyline. Why did we need a whole new show? And to that end, because no show can afford that many regular cast members, we see Echo Kellum (Curtis) leave the show. Now, I know I've been his harshest critic in the past, but I think this is an actor who was completely squandered by the show. Yes. His comedy was way, way over the top and I hated it, but when asked to do a dramatic scene, Kellum delivered every time.
One of the plotlines potentially wrapped up is the mysterious notes. Dinah (Juliana Harkavy), Diggle (David Ramsey) and Rene (Rick Gonzalez) all get them. I did like Dinah teaching Zoe (Eliza Faria) to fight. Eventually, the clues lead to a showdown with Stanley (Brendan Fletcher) – who is as crazy as we suspected. In the melee in his lair, Dinah has her throat slashed – and her life saved by Curtis' new tech. It also nicely explains the scar on her neck in the future.
Stanley ends up taking Oliver (Stephen Amell), Felicity (Emily Bett Rickards), and William (Jack Moore) hostage by paralyzing them with a nerve gas while they have dinner. I did like this scene – even with the excessive monologue-ing! We learn that Stanley is crazy because his father tortured him as a child. Stanley even killed his own older brother. In the end, Oliver, Felicity, and William manage to work together for Oliver to take out Stanley with a bottle just as the team arrives to save them.
Of course, the talk of fathers also speaks to the William storyline, which seems to be wrapping up in the present at least. Maybe that will allow Oliver to actually get back to being the Green Arrow? Unlikely, due to the future storyline seeming to take over the show… but that's another paragraph… Felicity and Oliver learn that William was expelled for fighting. William also takes Oliver to task for never asking the rest of the family for their opinion on what's going to happen in their own lives – he's not wrong, but he is just a kid. However, he's a kid who wants a normal life, and he takes steps to get it.
It's pretty ridiculous when Frank (Jake T Roberts) and Irene (Beverley Breuer) – William's grandparents – show up at the door. Felicity's brilliant security system can't deduce their DNA – they'd have a fair bit in common with William – nor is there a camera system or even a basic peephole to SEE who is actually on the other side of the door! Regardless, they are there because William has called them and wants to go live with them in Central City to have a normal life. They are prepared to take Oliver to court for custody.
In the end, Oliver lets William go – the family dinner disaster is kind of a case in point against William ever finding a normal life in Star City. Amell gets two good scenes with William. In the first, he finally gets mad at his son and tells him that he's felt every horrible thing that William has said to him. He tries to explain he only wants what's best for William, and William points out that things are always worse when Oliver is around.
After the attack, Oliver finally asks William what he wants and is ready to let him go. Oliver says goodbye to William – this is the second good scene – and tells him that William will always have a home with them and that he'll always be his Dad wherever William goes. He also asks William to promise to call if he ever needs anything. And then this pointless storyline would be done… except for the future storyline – which really doesn't line up. This scene doesn't seem to support William being ghosted.
We learn that Felicity is pregnant just before we learn in the future that Maya is actually Mia Smoak (Katherine McNamara) and Felicity's daughter – guess we know what Felicity is having! We also learn in this episode that Connor Hawke (Joseph David-Jones) is Diggle's son – was anybody surprised by any of this? It's Kid-Arrow Team. The bizzaro world continues as it's obvious that Star City and the Glades have really just switched places as the Glades is now the home of the privileged. There is quite a good fight scene in the future storyline. Mia reveals as well that Felicity is still alive. I'm dreading seeing her in the simply awful aging makeup.
We do get a nice final scene between Felicity and Curtis. He tells Diggle and then Felicity that he's taking the job in Washington to develop technology that will help people – you know, rather than weaponizing people to kill other people. He gives his half of Helix to Felicity – raising the question of whether Helix is even still a thing anymore. Now that the teams are back together for the most part and working with the police, there's only the need for one Overwatch after all. I wonder too if we've seen the last of Officer Anastas (Evan Roderick) – Curtis' boyfriend? At least adult William still checks the LGBQT box for the show…
All in all, while this episode had some good fight scenes and I did like the final faceoff with Stanley, the future storyline continues to distract and detract from the present for me. What did you think of the episode? Were you surprised by the reveals in the future? Sad to see Curtis go? Let me know your thoughts in the comments below!