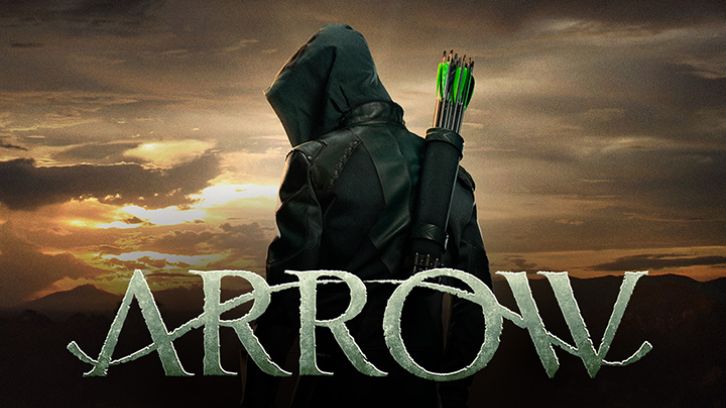 By now I'm assuming that most people have heard that
Arrow
will be ending after a short 10 episode run next year for season 8. For me, this news was bitter-sweet. It's no secret if you've been reading my reviews that I've felt the show has been in a steady decline for several years. This began for me, when the show started to veer away from its primary mission – a darker superhero show, centered on Oliver Queen (Stephen Amell). It's not that I don't think Amell and the rest of the cast can do comedy – they can – but that's not what I signed up for and fell in love with. So, I still miss those gritty first seasons, but I won't miss what the show has slowly morphed into.
This week's episode, "Brothers & Sisters" was written by the team of Rebecca Bellotto and Jeane Wong and was directed by Marcus Stokes, whose other credits include
The Flash
,
Station 19
, and
Criminal Minds
. The title works in both the present and future storyline, and once again, I found that the future storyline held little interest for me and merely meant less of the story I was interested in. Of course, even in the present, I'm not all that invested in the Emiko (Sea Shimooka) storyline. Actually, one of the issues I had with this episode is the sheer number of different things going on.
Rene (Rick Gonzalez) and Oliver try to help Emiko with her mission to find her mother's killer. Gonzalez continues to be the only addition to the cast that I think has managed to hold his own and really become a part of the story, and I really enjoy the scenes between him and Amell. Oliver initially oversteps in trying to help Emiko with her mission by trying to tell her how to go about it rather than listening to what she wants – and how she might like to be helped.
Oliver has Felicity (Emily Bett Rickards) run the bullet that Emiko had from her mother's murder and it leads to Andrew Thornton (Kyle Warren) – an arms dealer. In trying to protect Emiko, who is still an illegal vigilante, Oliver tries to shut her out of capturing Thornton. Naturally, she shows up anyway, but Oliver arrests him and won't let her interrogate him – protecting her from herself. In the end, and this was a decent scene, he comes to her and apologizes for bulldozing in. He gives her the interrogation records from Thornton's interrogation, and gains some trust from his sister. And yes. Still missing Thea here!
The main storyline involves the hunt for Dante (Adrian Paul). Diggle (David Ramsey) finally tells Oliver and Felicity the truth about the Ghost Initiative – and most importantly Diaz (Kirk Acevedo). This episode did feel like a decent course correction for Diggle's relationship with Oliver and Felicity. Initially, of course, Felicity is more than furious with Diggle over Diaz and rightly calls why Curtis left. She accuses Diggle of letting his friends down… again. Oliver, however, doubles down on his traditional trust of Diggle – the issue of trust is a nice through line between the storylines.
In one of the other plot lines, Felicity calls Laurel (Katie Cassidy Rodgers) to tell her about Diaz and plot his murder. Felicity has no trouble hacking into ARGUS and taking control of the bomb in Diaz's head. Interestingly, it seems that Laurel is less and less interested in a life of crime and more and more interested in being DA! She's also adorable when she figures out that Felicity is pregnant – and spends more time trying to get her to eat healthy than plotting to kill Diaz. But she actually seems to be being a good friend to Felicity – and I'm really hoping that's not going to turn out to be an act.
It turns out that once again the show has squandered some cool characters and an interesting storyline for a single plot point. Diaz is wanted by Virgil (Christopher Gerard) and Dante because he owes them for the use of the Longbow Hunters. The initial meeting with Virgil goes up in flames because someone tips him off, leading Diggle and Lyla (Audrey Marie Anderson) to reach out to Oliver for help. Felicity oks it, but she's coming too! I also liked that Oliver knows she's planning to kill Diaz. He tells her that there's a better way to deal with him, but in the end, whatever she decides to do, he will back her decision. Finally! I think Oliver really is getting it. And of course, part of my issue with the show is that the characters never seem to learn from their mistakes – Attention writers! There are always NEW mistakes that characters can make!
Naturally the set up to get Dante goes wrong quickly. He's at an event to meet Princess Noor (Parmiss Sehat) to help her with a coup. Director Bell (David Stuart) is there – and is clearly the mole in ARGUS. Diaz tells Dante it's a set up to pay his debt for the Longbow Hunters. Dante kills Bell and the Princess and both Dante and Diaz try to escape. Lyla tells everyone to go after Dante – NOT Diaz. Felicity ends up with Diaz at gunpoint. She tells him that she's stronger than he is, so she doesn't have to kill him – and then Diggle is there to back her up and knocks Diaz out – taking him into custody. Diggle tells Felicity he wasn't going to make the mistake of not putting his friends first again. He tells her that Dante was the objective – but he wasn't the priority for him.
Naturally, everything gets covered up. Another great team up is squandered as the Ghost Initiative seems to be disbanded – we did get that fun training scene – even if it was all with stunt doubles. Bell is getting a hero's funeral, and Lyla's job is still on the line. Diggle wants to take the fall for all of it. It will mean the end of his career – seemingly not just at ARGUS. However, this does open up the probability that Diggle will be back on team Arrow!
Once again, another character goes out with a whimper rather than a bang as they run out of things for Kirk Acevedo to do. Diaz is sent to Slabside and someone is able to put gas into the sprinkler system and then throw in a lit lighter to set him on fire. It's naturally possible that he will show up again with a lot of burn makeup, but hopefully for everyone's sake he's dead. Now, of course, the question is – who did it? Is it crazy Stanley? Or is it more than likely Laurel who really did want revenge and who has access to the justice system now? Bets?
I don't even want to be bothered to talk about the future storyline. I'm sick of Katherine McNamara's pouting Maya. She has a resting pouty face. I was really hoping for a decent storyline for Colton Haynes (Roy). The aging make up continues to suck. I will grudgingly admit that I am enjoying Ben Lewis as adult William – even if he is also a bit of a whiner. It's revealed that Connor Hawke (Joseph David-Jones) is actually Diggle's adopted son – when does this happen? It was fun to see William fire up the old tech of the lair. I also liked them finding the mini cassette tape in the rubic's cube and that the cube was something Felicity taught both her kids.
Felicity finally tells Oliver that she's pregnant – and Amell was so good in this scene – really, they both were. And then, of course, we also learn that Emiko is working with Dante. UGH! SO obvious!
I think that this episode might put some of the team back on track. I'd love to see the great relationship between Diggle, Oliver, and Felicity restored. My hope for the final season is to have the core team restored. Rene can stay – but did anyone miss Diana Harkavy in this episode? I sure didn't. What did you think of the episode? What did you think about the announcement that
Arrow
is coming to an end? Do you have an idea of how you'd like it to end? Let me know your thoughts in the comments below.