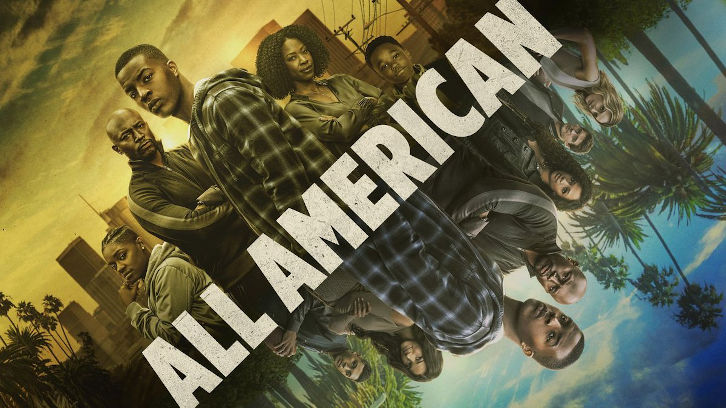 Legacy

Influences. That was the theme of this episode of All American. Spencer, Olivia, and Layla are have to write an essay for a class about their biggest influence in their lives. Some of their responses were surprising.

I was glad that the teacher made him rewrite the essay because it made him think about who really influenced him and shaped his life. Yes, Deion Sanders was a great player, but an essay about him didn't take much effort. I think this assignment shows that while Spencer is a great athlete, he is smart and has other options in case football doesn't work out.
Jordan didn't have to write an essay so he was busy spending time with Grandpa Willy and preparing for the football game this week. He tries to prove to his dad that he's ready, and luckily, he saves the game for Beverly. He really stepped up and helped the team win, and it was definitely needed since Spencer was preoccupied with his dad. I was glad Jordan got to have his moment and shine on the football field. I know that Grandpa Willy used Jordan for money earlier, but I think he's really helping Jordan get better. I just hope that having a relationship with his Grandpa doesn't hurt his relationship with Billy.
Regulate
I'm going to be honest: I didn't love this episode. I think I like it when the show focuses on the game of football, and this episode focused on drama. Corey's back, but Spencer doesn't want anything to do with him. He shows up to wish Dillon a happy birthday, but Spencer sends him away. Spencer spends the entire episode angry about his dad and finally confront Corey at the end. Spencer wants to know why Corey's back. Is he back because he knows Spencer's becoming a really successful football player? Or is he back to ruin Coach Baker and his mom's life since they had an affair?
Side note: Dillon is just so cute! He was adorable when he was smiling and dancing when Grace and Spencer sang happy birthday to him! His birthday party was definitely the highlight of the episode.
Spencer wasn't the only one with drama this week. Layla's house was robbed, and Spencer blamed Tyrone while Layla thought Asher was responsible. It turns out, the robber was someone that no one knew. I get why Layla blamed Asher (he brought all those people into her house), but I was irritated at Spencer for taking his anger out on Coop. I wasn't too impressed with this story. It felt like filler and just a way to create more issues. There were two good things that came out of it though: Olivia came over to check on Layla and keep her company; and Asher went back home to live with his dad. I hope Asher and his dad can get along better now.
Coach Baker is irritated that Jordan keeps spending time with Grandpa Willy. At the end of the episode Billy asks his dad how much it'll cost him to keep him out of Jordan's life. I don't think this is going to end well for anyone.
I hope we get more answers next week about why Corey's back in town and why he's back. I also hope the next episode is a little more exciting than this episode.
What did you think about "Legacy" and "Regulate"? Why do you think Corey's back in town? Do you think Coop can get away from Tyrone and the gang?