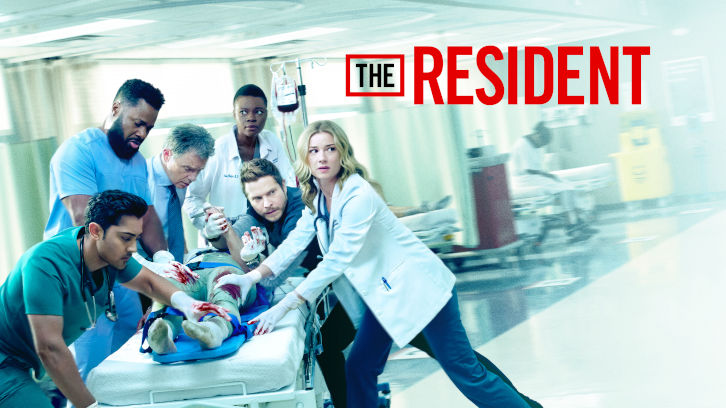 "Virtually Impossible" was another great episode for the medical drama, as the team worked together on the triple transplant of one of Dr. Austin's medical students. All aspects that make the show interesting were present in this episode. There was drama between Nic and her sister, mystery surrounding Julian's disappearance and kick-ass medical procedures in which many surgeons needed to work together. It was a great balance.

One of the many surprising aspects of the episode was Bell doing the right thing by the hospital's patients. He pulled the Quovadis valves from the Chastain despite what can fall down on him because of it. It's huge for him. It was one of the rare moments in which he acts in a selfless way.

In the beginning of the episode, Austin and Mina go to Bell asking him to remove the valves from Chastain operating rooms following the young surgeon's findings, but Bell being Bell, he doesn't oblige. He's not completely unbothered though, but he is not convinced. The duo tell him about the information they uncovered about Abe on the Dollars for Docs site, and Bell understands how screwed his is. He's stressed; this can be felt as the conversation unfolds. The site also documents his involvement with Gordon Page, he's going down with Quovadis. This was why I thought he would rather hide behind Gordon than confront him.


"You pulled the valves? Are you insane? Obviously there will be consequences. You'll regret this Dr. Bell." –Gordon Page
When he goes to confront the CEO of the medical device company, Gordon politely lets him know how he holds him by the balls, but that doesn't make Bell change his mind. In the end, the surgeon does the right thing. In a very "Superman vs Lex Luther" vibe Bell is told that he will regret it. The scene did a great job painting Gordon as the villain. Nothing makes me doubt that Gordon has something horrible in the works for Bell.
Also happening in this episode, one of AJ's medical students is getting a new pair of lungs. The young woman, suffering from cystic fibrosis, is able to attend her classes through virtual reality.
That's pretty cool.
Unfortunately after further testing, Vass and Conrad come to the conclusion that her liver and pancreas are also failing, a lung transplant would not help her. To save her, they will attempt to transplant all three organs at once, a surgery only once successful, in Canada. They will need a crazy surgeon to take this on. Naturally, they think of Austin. The man had been benched by Bell, but surprisingly, even if he was not happy about it, he had given up the high risk surgeries. His good intentions didn't last for very long, as he accepts to take on the surgery,
without needing very much convincing.
"This quarterback is getting off the bench" -AJ
Bell at first doesn't want to help on this one, but he ended up being the biggest surprise of all, as he told the ethics committee that they would be going ahead with the surgery. My jaw dropped. It was unexpected. I mean Bell in this episode was… something else. It was also a surprise to see him in the operation room with Austin, as they worked in parallel to harvest the organs. What's up with his tremor?
When the lungs end up not being usable, the surgery takes an even more complicated turn as they decide to harvest lobes from their patient's parents. Eloise asked them to film the operation so that her fellow med students could witness the once in a lifetime operation. It was a great moment, an intense series of moments, as everyone worked together. When I say everyone, I mean everyone. It was truly beautiful. Everything about the scene was great; the pace, the music, especially the music. It was a great song choice. It all worked perfectly together. At the end of the surgery, as they wanted to see if the operation had been successful, I was holding my breath. This is the testament of a well done scene.
"Virtually Impossible" also included some drama unrelated to medicine. All seemed great between the sisters in the beginning of the episode. Jessie is getting ready for her first job interview since rehab, and she is quite stressed out about it. It's easy to see. Nic is there to help her out, prepping her for the interview, giving her cues. Things seem to be looking up for Jessie, but when she shows up at the hospital to show off her costume change, Conrad sees that not everything is fine. Nic doesn't want to hear it though, and she dismissed his comment.
It's when she runs into the parents of one of Jessie's high school friends, dead from an opioid overdose, that Nic has a revelation. After being told by Lettie's father how he had lived in denial for a while, Nic realises she had been doing the same thing with her sister. She rushed back home to look for any pills Jessie might have hidden. Nic confronts her sister and gives her an ultimatum, if she doesn't go back to rehab, she has to leave her house. It was a big step for her, a powerful moment. We could see how hard it was for Nic to say it, we could feel it. She loves her sister, and maybe tough love is the way to go with Jessie. She leaves, as her sister is scrambling on the floor for her pills. It was intense, it was emotional. It was beautifully acted by both actresses.
"Then get out. I'm done Jess. I'm done trying to save you. I'm done enabling. I'm done worrying. It's enough. And if you die, I won't feel guilty. Because I gave you every chance."- Nic

Then, since this episode wasn't interesting enough already, there is also development in Julian's case. Her car is found by some birdwatchers in the river, but her body is nowhere found. After Conrad called Devon to let him know about the news, Devon jumps into action. He goes to her apartment, and cons her landlord into letting him inside.
Sneaky, sneaky.
I love the potential this storyline has. Devon grabs one of Julian's telephone bills, and retraces her call to the FDA, with that, he's one step closer to finding out what happened to her. As for the Nic and Conrad of it all, I feel like they forgot a scene in there somewhere. Now they're all good? Devon comes to them with the information about Julian's last calls, and they're all cozy on the coach. What the heck did I miss here?
I loved this episode even though it left me feeling perplexed. Some of the characters actions in "Virtually Impossible" were extremely surprising, in a good way. There was a lot going on, and every storyline managed to catch my attention. I enjoy this show more and more with every episode passing. I give this a solid 8.5/10. I'm taking of half a mark because of this whole Conrad ans Nic thing.

Side note: I want to know how Nic was as a youngling. I mean, blue hair?