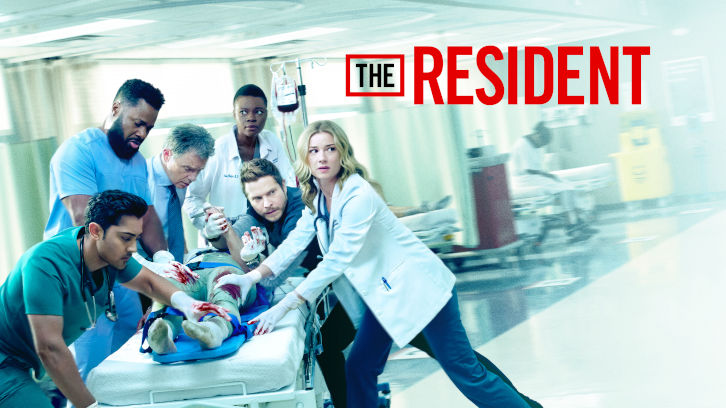 It was another great episode this week for "The Resident," as Mina calls in her mother for a consult on a surgery for one of her friends with breast cancer. It dove into more personal issues for the mostly closed off resident. Henry also comes back to the hospital when his mother suspects he is still having seizures. This made for an emotionally packed episode.

In "Queens," the much more private side of Mina comes to light, a side she's been keeping secret. Everyone seems to be swooning over her mother, a legend in her field. She had not wanted all the attention, and hadn't expected the welcome wagon to be greeting her mother. She had not even wanted her colleagues to know she was her mother, and it did come as a surprise to Bell and Austin. The doctor acts all bubbly in public, looks happy to see Mina, but there is more brewing underneath. It's easy to sense the tension between mother and daughter, when the fact that Adaku had refused the double mastectomy despite the recommendations from Mina is grounds for her mother to belittle her.


"I hate charming people. Their main goal is to make you like them. They are narcissists. Once you see through them, the charm disappears and they cut you and move on to the next." -AJ
Her relationship with her mother explains so much about Mina. She has been trying so hard to be her own person, her own legend. At the same time, she is trying to be the opposite of her mother. While Mina is a woman of a few words her mother is the exact opposite. I'm with Austin on this, it's annoying. He didn't understand why Mina didn't want their relationship public knowledge in the beginning, but he quickly catches on. Dr. Okeke likes to have all the attention on her, but more than that, she likes to be the victim.
My heart broke for Mina, as she had to deal with her narcissist of a mother. As AJ said, she is a gifted surgeon, but a problematic human being. He sees right through her, but he also sees right through Mina in that vulnerable time. He's there for her, and it was a heartbreaking, yet extremely touching moment between the two of them. The powerful scene was incredibly well played by Shaunette Renée Wilson who's got Mina's essence all figured out.
"My mother is not my mother, not really." -Mina
In regards to last week's cliff-hanger, it's casually mentioned in the beginning of the episode, that Mina has not made her decision about what to say to Micah's proposal, as she and Nic walk the halls, opening up about their respective relationships. Nic also acknowledges how she freaked out when Conrad asked her to move in with him, but I'm still mad we didn't get to see them make up. During "Queens," Nic is also put on the spot, by Henry, about her relationship with Conrad. Did she love him? The answer was without much hesitation yes, but the undertones still indicated that something was not quite right with them. Henry also talked with Nic about how he used to believe his mother would get together with Conrad, and I almost died from all that cuteness. Conrad was the one constant man in his life. He was the one that didn't leave, who wasn't scared away by his illness.
Henry, sweet boy, was back in the hospital in "Queens." He has some unexplained bruising, and his mother believes he may still be having seizures. At first, he acted as if everything was fine, but Conrad could sense that he was hiding something. In the end, he opens up to Conrad. The boy did not want to worry his mother, did not want her new boyfriend to leave because he was sick, just like his dad left. He broke my poor heart in this episode. Evan Whitten was amazing as Henry.
"Mom, I don't want to die." -Henry
When they finished the tests on Henry and could not see any signs of seizures, with pressure from Quovadis, Bell rushes them to discharge the poster boy for Quovadis' VNS device. Bell is not acting like the lap dog Gordon Page was expecting him to be; he does not seem very fond of the way Bell is dealing with things, but I certainly am. He can be influenced, but he's also shaping up to be a responsible human being. It's quite the flip.
Henry was skipping merrily in the hospital lobby when his heart stopped.
My heart might have stopped for a moment there too.
Luckily, Conrad was there, and managed to maintain cardiac rhythm until Henry's heart started back up. When the team realise it's the VNS device that is stopping his heart, it's a race against the clock. It was incredibly tense scene, incredibly fast paced; I was out of breath just watching them, hoping, praying for Conrad to get back in time. Finally, Conrad gets back with the wand and gets Henry's heart pumping again. Thank god.

"Chastain cannot continue to be in business with this company." –Conrad
Sorry about the delay on this one, but I've been really sick for the past few weeks. I really enjoyed the episode, one of my favorites, if not my favorite of the season, so wanted to post this review. All I have left to say is: It was awesome. I'm so excited about what's to come.
Anyone else?