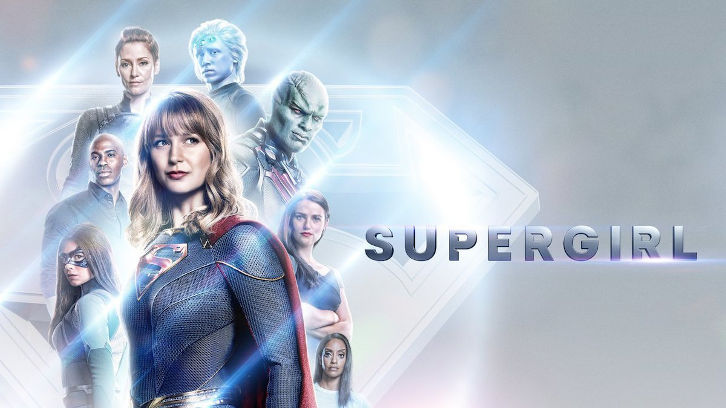 Welcome back Supergirl, from yet another short break. Supergirl will return this week to battle the Elite and I for one can't wait.

Previously on Supergirl Alex's memories had been wiped to save Kara and her super identity however this created some frostiness between Supergirl and Agent Danvers. Nia took Kara along on a trip home, but the unexpected death of Nia's mother raised old wounds within her family causing Kara to reveal her super identity to Nia to show her understanding.

In this week's episodes, its Valentines themed with an Alien arrival that literally takes the hearts of its victims leaving a trail of bodies in its wake. This furthering Agent Liberty's cause and even from behind bars he manages to manipulate the situation.

Tie that in with Brainy's hapless attempts to woo Nia and J'onn being a space dad to the Danvers sister's it gave us a well-rounded episode.

Some escaping jewel thieves just avoid a meteor but when they go to investigate, we can only imagine how it turns out when some type of snake-like Alien appears.


Meanwhile, Alex visits J'onn's office, to her it's the first time but we know she was there for the mind wipe. Kara clearly is enjoying having sister time but when Alex leaves to investigate a meteor landing Kara feel's depressed at not being able to work with her sister. She leaves as J'onn has a client, his Private Detective business really is going well.
Brainy ever the romantic goes to Nia to express his condolences over her mother's passing but saying he wants to train Nia, Nia explains it isn't the right time for her. She tells him of the Valentines party her housemate is throwing later and hopes he will attend. Yes, she is asking him on a date to make it clear. These two are so sweet together.
Ben Lockwood is still in prison and his family seems to be just as supportive of his goals his son in particular who Ben asks to continue to spread his word.
At the crash site seems one of the jewel thieves came to an abrupt end and was obviously attacked by whatever escaped from the rock, which isn't a rock but a disguised space ship. Colonel Haley is back from Washington where she has been the last few episodes.
Back at the DEO Brainy reveals judging by the shed skin the Alien is Snake like in appearance something that he has a phobia of.
I loved Brainy's reference to Indiana Jones and Raiders of the lost ark, I can to relate Brainy as to this day I won't watch that scene.
Colonel Haley comes in and wants them to keep it out of the press and stop it as soon as possible as two more victims have been discovered not far from the crash site. Both with their hearts missing like the first victim... yes Happy Valentine's day.
At Catco, J'onn says the place is looking like a newsroom. Yes, it is Catco seems less shiny and more businesslike since the Cat Grant days. I do miss the Pink Panthers though.
As its Valentine's Day, Lena seems lost in thought when James bring her's gift but her sudden need to escape the city raises suspicions. James agrees after all who wouldn't want their billionaire girlfriend to whisk them away.
J'onn's client has a missing husband, Mr. Stewart who was a big supporter of Alien rights and the director of Alien affairs, so his wife believes he has been kidnapped. J'onn playing space dad thinks Kara and can work alongside Alex on this one too.
When J'onn tries to get Alex involved, he is passed to Brainy. Brainy works out jewels are also missing from the victims and he and Alex wonder as well as the hearts if it's another source the Alien needs.
Brainy is looking for Valentine's gifts while trying to trace an Alie and asks Alex's advice and we learn of her hatred for Valentines.
At J'onn's office, Kara discovers a repeatedly called number from Stewart's phone. A diamond broker, female. Looks like the director for Alien affairs may not be missing at all but having an affair.
While Alex and Brainy are working on tracking down the Alien, Colonel Hayley visits Lena Luthor, the presidents' wants his soldiers to have the same capabilities as the aliens. He basically wants a breed of super soldiers and knows about Lena's research. Will she cross that line and work with the government? The news breaks the story of the heart eating Alien just as Hayley is there.
Ben Lockwood's son don's the mask and talks on the internet telling the Children of Liberty to rise up and find the Alien.
Kara and J'onn track down their missing person but all too late as both Stewart and his lover were victims of the same Alien. The DEO arrives as well, and Alex is surprised to find her sister there and two dead bodies. Kara and J'onn explain and Kara uses her x-ray vision to accidentally stumble on a hidden safe to reveal it to Alex. The lock has been burnt off, they take a sample and call Brainy who seems to be in a spot of bother at Nia's Valentine's party.
Guess they get to go to the party after all.
The President is clearly unhappy with Ben Lockwood's popularity and asks his aide to find a solution to the problem. We have only seen little snippets of the new President but I don't like what I have seen.
At the party Alex runs into someone she dated, well had a few drinks with and Kara and J'onn leave her to catch up while they try and track down Brainy.
Lena and James head off on their romantic trip to Paris but as Lena reveals about the government's interest things turn sour as James clearly thinks she shouldn't work with them. He supported her in the gray area before but government spells trouble in his eyes. Lena tells him they are over as clearly, she believes she should work with them and later calls Haley to confirm.
Kara and J'onn find Brainy hiding out from Nia's overzealous roommate while he processes the samples Kara has a heart to heart with Nia who is still reluctant to embrace her powers. Kara reveals about how Alex doesn't know the truth about her being Supergirl anymore. I really am enjoying the building of the friendship between these two this season and hope Nia sticks around.
Kara convinces Alex to let her tag along when Brainy learns some of the DNA is human and locates Pamela a jewel thief… as they arrive Brainy realizes the snake-like Alien is in fact merged with Pamela which she also confirms as she announces herself as Menagerie.
Brainy's cat-like jump up to the ceiling had me laughing but things turn sinister when Alex goes into a full panic when Kara gets bitten thankfully it scares off the Alien and Kara shakes it off as it missed only ripping her coat. Alex once again confirming Kara is the most important person to her. Kara agrees to lets J'onn take her home but back at J'onn's office she believes she is the reason Alex has been holding back from adopting and having a relationship. All Alex has been doing is looking after Kara since the kryptonite cloud.
Alex left agents at Pamela's apartment but when the children of liberty show up the agents are dead, and Pamela is still there angry her jewels have been taken. Whispering in her ear she heads for the charity valentines' ball.
Nia dreams Supergirl is in trouble when it appears on the news about attacks at the ball, she knows what she needs to do.
The Children of Liberty get in Alex's and the DEO's way, Supergirl takes Menagerie outside but gets overpowered, a little too easily by her snake symbionts. luckily Nia and a metal pole provide back up. Supergirl sends Nia inside to help Alex but the venom from the Alien temporary blinds her, knocking Menagerie back with her freeze breath giving the Children of liberty chance to take the Alien symbionts head off and Supergirl is shocked to discover its Ben Lockwood's son behind the mask.
As the DEO clear up and Hayley blames Supergirl it was nice to hear Alex defend her as Supergirl and Dreamer look on. Supergirl is grateful for the help but says she needs Nia to train.
Later on, as Brainy arrives back at Nia's apartment she asks him to train her.
Back at Home Alex visits Kara and we a treated to another touching Danvers sister couch scene. Alex realizes she has spent so much time taking care of everyone else she hasn't looked after herself. I can see adoption papers going in and maybe some dates in her future. Kara had sneakily gotten her the number of the girl at the party.
In a shock to all the President releases Ben Lockwood and I feel this will lead to more problems down the road.
In prison, Pamela gets a letter from Manchester Black and as her necks move, I get the feeling she isn't free of her Alien connection. Menagerie is very much alive.
This was a rich story episode, but a few things should have been included as to why Alex has a sudden hatred in Valentine's day when previously she didn't, could this be linked to Maggie and why not mention her. Too painful perhaps but it would have provided more depth to the current emotions Alex is feeling. The other thing I didnt like was Supergirl getting defeated easily by serpent Alien. I know it was because Nia aka Dreamer could come in, but she is Supergirl, stop making her less Super without an explanation. It was the weakest plot point of the episode and a continuing theme that annoys me.
We have a lot of ground to cover in the next few weeks from Ben Lockwood's return, Lena Luthor going mad scientist not to mention Red daughter and Lex Luthor waiting in the wings. Can they wrap it all up or will things spill over into next season and yes, Supergirl has been renewed for a fifth season.
So, what are your thought's?
Please comment below