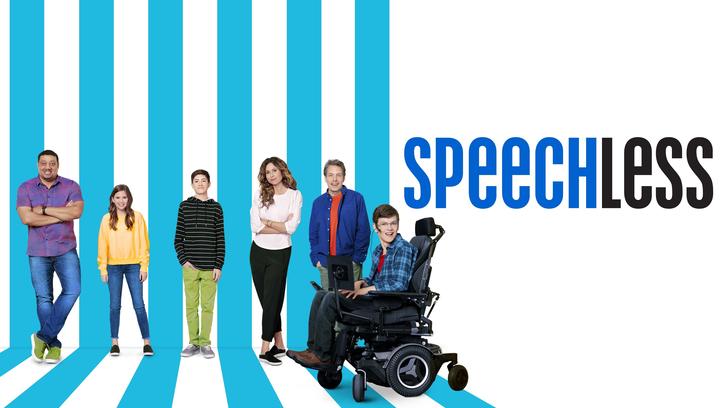 It's the season of love on Speechless this week and everyone is entangled in their own romantic dilemmas. Jimmy has to abstain from buying an exuberant gifts since the family is already struggling financially, JJ is trying to find some privacy regarding his relationship with Izzie, and Ray takes a surprising date on a love cruise.


ABC/John Fleenor
JJ has been waiting his whole life to have a Valentine and now that he finally does, he wants everything to be perfect. He enlists Kenneth to help him (a fact he is happy to rub in Maya's face) but they don't take into account how awkward it is to have Kenneth third-wheel. The night doesn't go the way JJ planned it to with Kenneth and Izzie failing to connect over well, anything. "We're both human and in this room. We both saw a white bird this week and we both know a guy named Frank."
Eventually, Izzie decides to leave early as she's clearly been made uncomfortable by Kenneth crashing their date.
Kenneth realizes he needs to let JJ figure out some things on his own, like love. He drives JJ to the dance so he can finally get some alone time with Izzie (plus Kenneth and Izzie both learn they have something else in common, they love a good mislead). They talk about their nerves and the fact Izzie has actually never been on a date before and they even almost share a kiss! (Until the moment is ruined by Maya).
ABC/John Fleenor
The other DiMeo siblings don't fare much better in the romance department. Once Dylan learns Ray has two tickets to a popular boat cruise, she hijacks his trip under the "guise" of wanting sibling bonding time. In reality, a guy she likes is on the cruise (Connor - a social media celebrity), and she had no intention of hanging out with Ray. Honestly, he should have seen that one coming.
But Ray isn't going to let Dylan have a nice date on
his
cruise so he makes everything sufficiently awkward by pretending to be her boyfriend, sending Collin running for the hills. Dylan retaliates by locking Ray in a closet. Seeking a second chance with Connor, she finds him in the middle of making a new video. This one about a quintuple date fail. Shocker that the social media celebrity turned out to be a colossal jerk!
ABC/John Fleenor
We get to see Ray punch someone though! Defending Dylan, Connor catches a mean right hook and Dylan throws his camera overboard. Before they can make a run for it, they get caught and thrown out in boat jail, turns out it really is a thing. And to cap off Valentine's Day, we get a genuine sweet bonding moment between Ray and Dylan. Although Ray ruins it before Dylan can reach the "I love you" part, it's still tender nonetheless.
Having as rocky a day as his kids are, Jimmy Valentine isn't being appreciated by Maya. He likes to show his love by showering Maya in extravagance (ugh they're so cute, absolute couple goals). She advises him not to his year but Jimmy can't help himself. He buys a bunch of roses and then Maya decides they should sell them back for twice the profit!
While the couple clearly has fun running their scam (including a humorous moment where Maya almost gets picked up by an old man) it becomes obvious this isn't the special night Jimmy wanted. Maya broke Jimmy Valentine by giving away his gifts. Realizing how much his special "love language" means to him, she announces over the intercom that he can take her on any extravagant date he would like and Jimmy takes to the skies - literally. He books a romantic helicopter ride! Which is perfect Maya since she can use those floodlights to spy on JJ. "Kenneth won't be our biggest problem." He tells Izzie rather ominously.
ABC/John Fleenor
Favorite Lines
Maya is described as: "Someone with no boundaries who paws her phone like a drunk gorilla." By JJ.
Dylan
: I love boats because there's no laws at sea.
Jimmy
: Would it help if I told you these are for my mistress?
Dylan
: It's stuff like this why mom's friends won't date you.
Kenneth
: Is this a sidebar about too many sidebars?!
Dylan
: Sometimes I think you got the wrong sister but I got the right brother.
A new episode of Speechless titled "G-A-- GAME N-I-- NIGHT" premieres February 22nd on ABC.