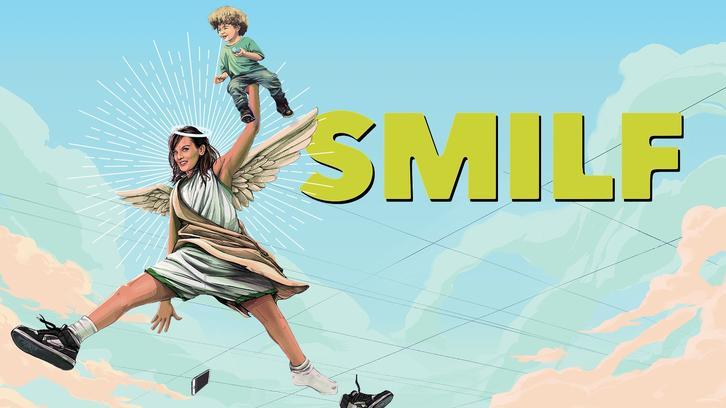 Anyone who has watched SMILF has probably wondered how Bridgette and Rafi came to be parents, and why they split up. Granted, I didn't have a burning desire to find out considering we know how the "family" turns out, but still.

The first few minutes of the episode are beautifully shot, with a kind of ethereal quality. They're followed by a montage of reactions from Bridgette's close ones when they learn she's pregnant. Tutu, surprisingly enough, is quite conservative about it and orders Bridgette to marry Rafi even though she hates him. I would never have pegged Tutu for a "marriage before children" kind of person, but it turns out she's surprisingly traditional. Eliza is baffled and offers to accompany Bridgette to a clinic, which would've been my stance all the way, but Bridgette declines (one wonders why, honestly. She and Rafi didn't seem like the stablest of couples even then, she didn't seem to have more of a stable job than she does now, so not really the best setting to bring a kid to the world). Aunt Jacquie keeps rambling about mixed kids being the most beautiful, which... probably best not to get into that.


Fast-forward a few months and Bridgette is about to give birth, and low and behold, she has decided to have a home birth. Now, I'm not American so I'm not sure if it's a cost thing since not everyone has medical insurance and maybe home births are cheaper without the hospital room, medical care, pain meds, etc. But there's no mention of any of this, just Bridgette working with a midwife and hoping to accelerate labor once it's started.
I'll admit home births baffle me, first of all because while I'm sure most of them are safe, what if something happens?! Also it just seems messy to have this happen at your place, let alone in your bed. I wouldn't want it associated with that, thank you very much. And why suffer through that kind of pain when you could have an epidural. It just seems miserable, and it's not like Bridgette lives in a mansion in the countryside, so the benefits escape me but whatever. I'm all with Tutu on this one, who insists for Bridgette to go to the hospital, but to no avail.
Bridgette storms off from the park where she and Rafi "bump into" Tutu (which was, it turns out, orchestrated by Rafi who has his concerns about the home birth, too. Who wouldn't.). While I'm lost in thought, wondering if the park is Boston Common and if I can get a glimpse of the lake, Bridgette gets carried up the stairs by a bunch of guys which is the only way to climb up stairs, really, so you go girl.
On her way home, Bridgette runs into some street merchandise for the Boston Bruins and we get an explanation for why the baby will be called Larry. Up until then, she and Rafi had been arguing about the name, with him insisting upon Adolfo. Bridgette rightly pointed out she didn't want her son have a name resembling Hitler, but Rafi insists about his heritage, etc. And sure, that's understandable but surely there are other options than Adolfo?! Anyway, Bridgette steals/gets offered a shirt and takes off and voila, l'enfant Larry is almost here.
During the exchanges with the midwife, who seems to double up as a therapist, we learn that Rafi kissed another woman while with Bridgette, so clearly things aren't perfect and we can easily imagine why they didn't work out, and why the baby didn't save their relationship (they never do). When the time comes, Tutu is allowed to be here (but quiet) and Bridgette is wearing a Planned Parenthood shirt to give birth, which seems appropriate. I've seen births on TV and let me tell you, maybe they aren't realistic but I'd rather keep it that way considering how excruciatingly disgusting this one is. I didn't need more arguments to not want kids you know, but thank you for providing me with visuals & sounds I'm immediately going to try and erase from my mind! And so, Larry Bird is finally born.
Whatever else this show is, it doesn't cut quarters and depicts a very (one might say too much, honestly) realistic version of what life can be. Who knows where the second half of the season will go, what are you guys hoping for? And what would you like to be called by your grandkids (the Tutu explanation was intriguing, I hope Tutu gets to go to Hawaii one day).
Tune in to find out next week!