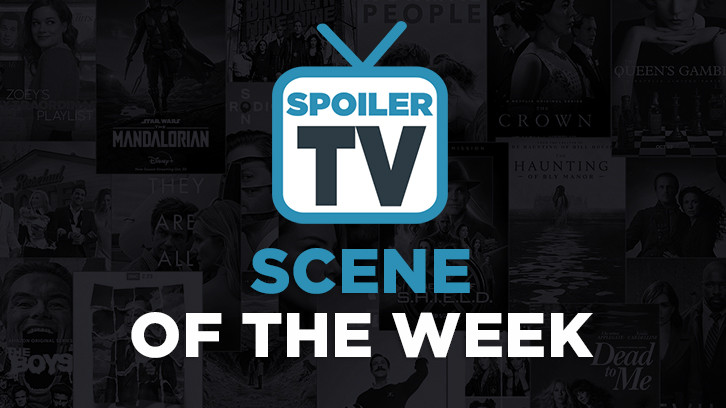 A weekly feature in which we're trying to find the most compelling, best acted, written, directed and just generally great, memorable scenes that we've seen in past seven days on TV.

A MILLION LITTLE THINGS, "Twelve Seconds", January 31, 2019, Actors: Stéphanie Szostak, Lizzy Greene and more, The Scene: Delilah reads Jon's final letter out to her kids (picked by DarkUFO)

ARROW, "Past Sins", January 28, 2019, Actors: Katie Cassidy Rodgers, Emily Bett Rickards, The Scene: E2 Laurel tells Felicity about her father's death
Justyna: It has been quite a journey since the first time we've met Black Siren. She's been both a villain and an unexpected friend of some of the main characters, but the part of her story that left the biggest impact on me was her relationship with E1 Quentin Lance. He inspired her to do better, to be the person he was hoping she could be and she's been trying to make him proud ever since. That's probably why this scene felt even more powerful than one could expect. We knew that E2 Laurel's father died a long time ago, killed by a drunk driver. This week Laurel comes face to face with the E1 version of the man and it hits her hard. She's finally ready to admit to Felicity exactly what happened on the night of her dad's death. It's clear she's been struggling with this memory and is not willing to forgive herself for her part in the events. That's when Felicity offers her support and reassures her that his death was not her fault. It's quite surprising how these two managed to become friends despite their history but I continue to really enjoy all their scenes together. This one was especially well done. Beautiful performance by Katie Cassidy Rodgers with the support of Emily Bett Rickards. I hope to see more of these two in the future. Kudos! Also picked by Marko

BLACK MONDAY, "364", January 27, 2019, Actors: Regina Hall, Don Cheadle
The Scene: Dawn demands a promotion from Maurice
Mads: I could watch Regina Hall's brash, unapologetic, hilarious turn as Dawn all day. This scene was Black Monday at its best. For all the show's unevenness, it was amazing to watch Cheadle and Hall go toe-to-toe with snappy, fast-paced banter as Dawn demanded her due.

CRAZY EX-GIRLFRIEND, "I Need A Break", February 1, 2019, Actors: Donna Lynne Champlin, Rachel Bloom, The Scene: Paula wakes up after her heart attack
Nikos: Paula wakes up after her heart attack and talks with Rebecca who makes her promise to take better care of herself and in return Rebecca agrees to take better care of her own health by exploring medication. In an episode that parallels taking care of your physical health as well as your mental health, we have these two amazingly strong women who have a lot to deal with but promise to put themselves first for each other's sake. Bloom and Champlin's chemistry has been off the charts since the pilot and their friendship is the true love story of Crazy Ex-Girlfriend.
Luana: After being so reluctant to do the work Rebecca is reminded that her diagnosis is not something that can be cured and forgotten for the rest of her life, she has to do the work if she wants to be healthy, and that is true for most things in life. I'm not surprised about this route they're taking towards the series finale but I'm happy about it. I just hope it doesn't mean she has to end up alone to be able to take care of herself.

DYNASTY, "Filthy Games", February 1, 2019, Actors: Elizabeth Gillies, Grant Show
The Scene: Fallon turns to Blake for help
Samantha: He hasn't always been the greatest father and she hasn't always been the most supportive daughter, but Fallon took a big step this week in recognising just how far she's fallen and turning to her father for help. It's not something that comes naturally to her, but I love whenever these two have scenes like this even if it's short because Elizabeth and Grant always bring it.

GOTHAM, "Pena Dura", January 31, 2019, Actors: Robin Lord Taylor, Cory Michael Smith, The Scene: Ed accuses Oswald of being responsible for his condition
Sam: Ed is fierce like a bullet just fired out of a gun when confronting Oswald, blaming him for the destruction of Haven and all Ed's been going through the last few weeks. Ed is a desperate, broken mess when he says that this is the worst thing Oswald has done to him. Then Oswald so sincerely comes back at him saying that he saved Ed, that he's his only friend left, and he wouldn't do this to him. Robin Lord Taylor and Cory Michael Smith are so great here, letting this friend/enemy relationship that's gone so back and forth for years culminate to this point.

GREY'S ANATOMY, "The Winner Takes It All", January 31, 2019, Actors: Ellen Pompeo, Jeff Perry, Caterina Scorsone, Debbie Allen and more, The Scenes: Thatcher's death & Catherine wakes up from the surgery & Amelia attends her AA meeting
Max: Meredith holds Thatcher and talks to him about his grandkids while he dies. This was one of the biggest open threads of the series (we haven't seen Thatcher in 8 years) and I'm thrilled that they wrapped it up so well. Despite all of the ways that he failed her as a father, Meredith and Thatcher were able to get closure before he died. It was amazing to see how much she's matured over the years, since the first time she rang his doorbell back in season 2 looking for answers.
Nikos: After finishing her surgery on Catherine, Amelia attends her AA meeting and looks back on her recovery and how good it feels to be present enough to experience all her life has to offer and allow her to give back by doing her job and saving people who need help. It's amazing to see how far this character has come and celebrate it, Caterina Scorsone absolutely nails the raw vulnerability and emotional weight of scenes like these.
Marko: Catherine wakes up from the surgery.

HOW TO GET AWAY WITH MURDER, "Be the Martyr", January 31, 2019, Actors: Charlie Weber, Liza Weil, The Scenes: Frank searches the house for Bonnie & Frank finds Bonnie in the car
Dahne: Frank searches the house for Bonnie. To be honest, I was torn between this scene and Frank stopping Bonnie from committing suicide earlier in the episode. Since that one was already nominated, I choose the more Frank-centered scene. If Bonnie's almost suicide was a tribute to Liza Weil, this scene is a tribute to Charlie Weber's acting skills. When Frank enters the house and realizes Bonnie is not downstairs where he left her, he starts to panic. Each room he goes through makes him even more sure that he's going to find her dead body. It all culminates in the bathroom, where he steels up his nerve to look in the shower and then breaks down in his relief that she's not there. When he finally hears her voice and realizes she has not tried to kill herself again, the viewer can let out a sigh of relief as well. Great acting and an intense scene.
Luana: Frank finds Bonnie in the car. The relationship between these two has been so sweet, it's absolutely understandable the way Bonnie feels, especially after we're reminded just how good Miller was to her, and the fact that it all could've been avoided if they weren't so quick to jump to conclusions just makes it all worse. I love that everyone's keeping an eye on her but her relationship with Frank will always be special, and to see her so vulnerable in his arms was heartbreaking.

I AM THE NIGHT, "Pilot", January 27, 2019, Actors: Chris Pine and more, The Scene: Jay sneaks into a morgue
Claire: Jay sneaks into a morgue to get exclusive pictures of a murdered woman. When he is almost caught, he ducks into one of the chambers that holds the bodies and gets locked in. In his desperation, he realizes that he has no way out and starts laughing, hysterically. It was so not a funny situation, but I couldn't help laughing, too. This scene tells us a lot about this character Jay Singletary. He is a reporter who has lost his way and we are privy to how far or how low he is willing to go. What a superb show from director Patty Jenkins.

LEGACIES, "What Was Hope Doing in Your Dreams?", January 31, 2019, Actors: Danielle Rose Russell and more, The Scene: Hope fights a dream demon
Mads: This was another strong episode for Legacies and actually had some genuinely terrifying scenes and special effects. After Landon pulls the demon back into reality, it emerges as a giant, winged beast that rampages the school. Hope is the one to fight it and her entrance is amazing. I loved the fact she was the protector while the boys were the ones she was fighting to protect instead of the other way around.

OUTLANDER, "Man of Worth", January 27, 2019, Actors: John Bell and more
The Scene: Young Ian becomes a member of the Mohawk tribe
Laura B: Of all the stereotypical melodrama that would be expected in an Outlander season finale, this was one of few better turnarounds after a rather sad departure from the Fraser clan. To see Ian's face light up, being accepted into tribe, made the episode for me.

PROJECT BLUE BOOK, "Operation Paperclip", January 29, 2019, Actors: Aidan Gillen and more
The Scene: Hynek comes face-to-face with an extraterrestrial
Mads: This is the moment that has been the most publicized about the show. The image of Hynek staring into an incubation tank with an alien floating in it has been used as the central promotional image for the show. The build-up to the scene was delightfully eerie. It creates a world of promise for things to come.

SINGLE PARENTS, "The Shed", January 30, 2019, Actors: Brad Garrett, Ella Allan, The Scene: Douglas reassures Amy that she is talented too
Dahne: Douglas can sometimes be a hard character to empathize with, which is what makes this scene all the more poignant. Not only did he leave his own award ceremony to help one of his daughters, but he makes an impassioned speech to his other daughter, Amy, convincing her that she may not be mathematically gifted like her sister but she is gifted in art and creativity. It was a beautiful scene of a father's love made all the more touching because it was from the father least likely to demonstrate that love in such a forthright way.

SIREN, "The Wolf at the Door", January 31, 2019, Actors: Fola Evans-Akingbola, Garcelle Beauvais, The Scene: Maddie's mum confronts her over her relationship with Ben
Samantha: As I said in my review, it would've been really easy for the writers to bring Maddie's mum back and make everything rosy, but they're not and it's giving both actresses some great material to work with. Granted her mum was completely wrong with her thoughts, but Maddie still made an excellent point that trust is earnt instead of just given out and I'm really looking forward to seeing how their relationship progresses.

STAR TREK: DISCOVERY, "Point of Light", January 31, 2019, Actors: Mary Wiseman, Anson Mount, The Scene: Tilly breaks down in front of Captain Pike
Laura B: There was a lot of setup, reveals, and turnarounds in this week's episode of Discovery and although I am grateful that the plots didn't all linger too long, I do wish we could have seen some of it last for an episode or so more. This scene with Tilly yelling at her pseudo-fictionalized-dead friend from childhood, making it look like to everyone else that she's just yelling at Pike was a great highlight and one of few funnier moments in the episode. I also kind of love the way Tilly has been made to look like she's going crazy, juxtaposing the mystery about Spock's disappearance at the psychiatric facility aboard a star base. Just brilliant writing there.

SUPERNATURAL, "Prophet and Loss", January 31, 2019, Actors: Jared Padalecki, Jensen Ackles, Misha Collins, The Scene: Sam convinces Dean not to go through with his plan
Justyna: First of all, congratulations to the cast & crew of the show on the recent news about season 15! It's absolutely incredible, but especially because I still find myself genuinely caring about these characters and (after recently rewatching a number of older episodes) I'm very much interested to see what's going to happen next. With a series as long as this one there will always be some parts that you might not necessarily enjoy as much as others, but there's so much to love about the show that I'm excited to see where it's all going. Reason number one on the list of things to love about Supernatural have to be scenes like this one. Dean's been struggling with his plan to stop Michael for a while now. It's clear how scared he is but he's determined to follow the only path that seems to be leading towards saving the world from an archangel locked in his mind. That is until Sam finds a way to break through to him. Sam is angry and heartbroken to see his brother give up and asks him to believe in them. His words made me think of another moment, from episode "Hello, Cruel World", back when Sam was struggling with hallucinations caused by Lucifer and it's Dean who's asking him to "Believe me!" Just another in a series of memorables scenes with these two. This week when it looks like Dean's almost ready to leave he embraces Sam after he hits him and the camera stays on his face for a few seconds, showing the exact moment when he decides to give it another chance, to believe in his family, to find another way. But if not, Dean asks Sam and Cass to promise they will stand by his plan if everything else fails before they all drive away to continue the fight. Beautiful performances by both Jared Padalecki and Jensen Ackles. Kudos!
Klutzy girl: Sam breaks and begs Dean not to go through with his plan to stop Michael. It was such an emotional moment between the brothers and I'm not over it. I'm not surprised that Sam falling apart - crying and punching Dean - is what convinced him to change his mind - this is the kid he raised after all. And then they hugged again! I loved it.

THE GOLDBERGS, "Major League'd", January 30, 2019, Actors: Wendi McLendon-Covey, Hayley Orrantia, Jeff Garlin, The Scene: Erica asks Beverly for help
Samantha: Erica asks Beverly to persuade Geoff's dad she's a good person, and Murray gives her home truths. This was an extremely amusing scene in an all round great episode. Erica turned to Beverly as a last resort to save her relationship, only for Murray to not so gently tell her she's a wreck. Best part was Eric's thanking Beverly for putting a nice spin on his critique.

TRUE DETECTIVE, "The Hour and the Day", January 27, 2019, Actors: Michael Greyeyes and more
The Scene: The end scene
DarkUFO: The end scene where the vigilante group approaches Woodard's house which is rigged with booby traps.

YOU'RE THE WORST, "What Money?", January 30, 2019, Actors: Chris Geere and more
The Scene: The Flashforward
Luana: I have no idea what it all means, but it sure threw me for a loop, I don't want to make any assumptions since it could be interpreted in many different ways, but after Gretchen thanked Jimmy for paying his mortgage meaning they could have a forever-home, seeing it on sale seemed ominous. I hope it isn't.

YOUNG SHELDON, "David, Goliath, and a Yoo-hoo from the Back", January 31, 2019, Actors: Zoe Perry, Annie Potts, The Scene: Connie tells Mary that she's a great mother
Dahne: While loving, the relationship between Connie and her daughter Mary can sometimes be a bit intense. They are very different people with opposite approaches to how best to raise children, which often leaves Mary feeling like the bad guy. After Mary thanks Connie for helping Missy see how awesome Mary is as a mother, Connie compliments Mary on what a great job she is doing with her kids. It is exactly what Mary needed to hear and Connie admits that moms don't get enough praise for all the hardwork they do for their families.