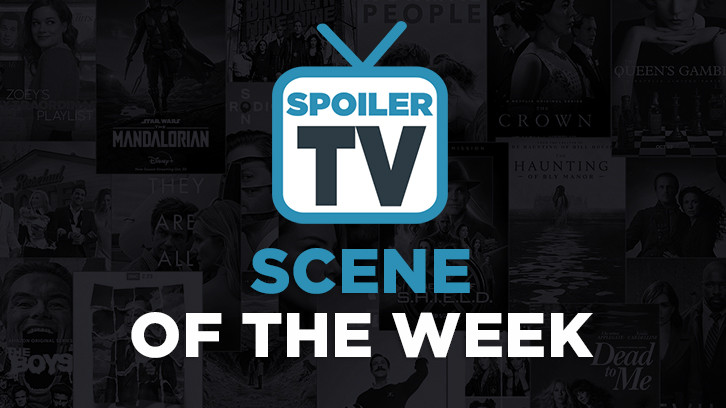 A weekly feature in which we're trying to find the most compelling, best acted, written, directed and just generally great, memorable scenes that we've seen in past seven days on TV.

A MILLION LITTLE THINGS, "The Rock", February 14, 2019, Actors: James Roday, Allison Miller, Grace Park and more, The Scenes: Katherine and Eddie ask Gary to be Theo's legal guardian & Gary finds out about Linda's death
Justyna: Throughout the season Gary has become the person that everyone contacts whenever they need help. He's the positive force that's supporting Maggie in her fight against cancer so of course he spends an entire day trying to get her to Plymouth Rock and cross off a wish from her Bucket List. But with every phone call from one of their friends they put their plan on hold and show up to help. Whether it's Delilah, unsure how to reach Danny after his first (apparently failed) date, or Rome and Regina asking to bring a mattress or deliver food to Katherine after her car accident. I loved the part when Gary insists that Maggie can't sit down or take down her coat when visiting Katherine and Eddie or they'll never leave on time to see Plymouth Rock, yet he ends up being the one sitting almost immediately when he notices Katherine's injuries. The smile of understanding on Maggie's face said it all. This is the kind of person that he is and I couldn't imagine it any other way. Which is exactly why Katherine asks him to become Theo's guardian in case anything happened to her and Eddie. He's certainly surprised by the question and doesn't feel like he's the best choice for such an important role but that's when he gets interrupted by Maggie. She uses the opportunity to make Gary realize how much he's done for her, she thanks him for saving her life and giving her the best possible chance to beat cancer when she was ready to say goodbye. Everything she says is absolutely true and beautiful, and a lot for Gary to take in. He's spent most of his life trying not to get too close to people and after seeing what he's been doing lately his past makes all the sense in the world. Because when he cares about people he's all in, he gives his full heart and takes care of the ones he loves. As afraid as he must be, regularly checking if his cancer isn't back, he does seem like a perfect choice for a possible guardian for Theo and is not able to say no to such request. Such a heartwarming, powerful moment. It hits even harder when thinking about the reveal of Linda's fate at the end of the hour. Being there for everyone is what Gary does. I hope when the time comes, they will all show up for him too. Kudos to all the actors & crew for such a wonderful work on the episode and the scene. Special shout-out to the always amazing James Roday and Allison Miller who continue to steal the show for me.
DarkUFO: Gary is crushed when he finds out one of his fellow cancer survivors has died.
Jamie: Same as above. This was such a powerful moment. Gary has always been the optimistic one and this was a real gut punch.

AMERICAN HOUSEWIFE, "Disconnected", February 12, 2019, Actors: Daniel DiMaggio, Diedrich Bader
The Scene: Oliver starts to see the hero he's been looking for
Claire: Oliver finally starts to see that the hero he's been looking for has been right under his nose the whole time. Oliver is starting to appreciate his dad and it's very sweet.

ARROW, "Star City Slayer", February 11, 2019, Actors: Katherine McNamara, Joseph David-Jones, Juliana Harkavy and more, The Scenes: Mia's identity is revealed & Dinah and Roy fight Mia and Connor
Jamie: Mia is revealed to be Felicity and Oliver's daughter. I saw the moment coming all the way through the episode but it was still really cool to see the reveal, especially right after the scene with the phone call. That said, I still have no clue what the writers are doing with these flashforwards.
Marko: Dinah & Roy fight Mia & Connor. One of the better-coordinated fights the show has seen in recent years. Gregory Smith did a great job directing it and the stunt crew did a spectacle worth watching. More, More.

COUNTERPART, "You to You", February 10, 2019, Actors: J. K. Simmons, Olivia Williams, The Scene: Prime Howard returns to his world
Kollin: Counterpart had quietly been one of the best TV shows on air. Its theme of identity is written with such raw emotion and profundity. This moment, when Prime Howard returns to his world was Counterpart at its finest. Both J.K. Simmons and Olivia Williams, as they had over the course of the show, put on incredibly affecting performances. We see a man who has gotten so used to living in the other world, so in love with the Emily over there, that the Emily in his world has become a stranger to him, even though not long ago he was sitting by her bedside during her coma reading her stories. His final words to the Other Emily was so emotional, especially when she tells him, "be kind to her," and then the sombre violin music before they share a passionate kiss. The contrast of that kiss with the half-hearted hug he gives his Emily, who he had once missed so much, was just so incredibly heartbreaking. There was also wonderful camera work in this scene as Howard stood between both worlds, looking at the two Emilys standing at the doorways on each end - already missing what is behind him and uncertain of what is ahead.

DEADLY CLASS, "Saudade", February 13, 2019, Actors: María Gabriela de Faría, Michel Duval, The Scene: Maria kills Chico
Mads: It was REALLY tough to pick just one scene from this episode. I was so impressed with all the actors and there were several incredible moments. Ultimately I chose this one because it is essentially the moment the whole episode is building towards. I've been hoping Chico would die, and specifically that Maria would be the one to kill him since the beginning. He is a monster and an abusive jerk. It was awesome to see her whip out her fan of knives and get the revenge she's been so desperately seeking.

DOOM PATROL, "Pilot", February 15, 2019, Actors: Diane Guerrero, Brendan Fraser and more, The Scenes: Jane meets Cliff & The end sequence
Mads: Jane meets Cliff. Guerrero is stellar as Jane. I can't wait to see more of her character in the future but I loved watching Hammerhead's volatile persona reign as she and Cliff butt heads. It's a great and somewhat misleading intro since by episode's end we see they have a real familial bond forming.
Marko: The end sequence. After we met the four protagonists all over again and were introduced to their flaws it was nice to see them stand by each other and face whatever is coming after them. They've become a family and they stick together.

GOTHAM, "13 Stitches", February 14, 2019, Actors: Ben McKenzie, Erin Richards and more
The Scene: Barbara tells Jim she's pregnant
Klutzy girl: It wasn't a surprising twist but this was a great scene, partially due to Harvey's reaction and his hesitant congratulations to Jim. I'm excited to see how exactly this sets up the series finale.

GREY'S ANATOMY, "I Walk the Line", February 14, 2019, Actors: Kim Raver, Greg Germann
The Scene: Teddy confesses her feelings for Tom
Diana: Teddy goes to Tom's hotel room and confesses her feelings; they kiss. Finally Teddy has found someone really fond of her, who truly loves and respects her for the woman she is. I hope they will get along, but with this show, you'll never know.

HOW TO GET AWAY WITH MURDER, "Where Are Your Parents?", February 14, 2019, Actors: Charlie Weber, Liza Weil, The Scene: Frank tells Bonnie he's there for her no matter what
Luana: I have never shipped these two but I have to say I'm tempted now, Bonnie is having a horrible time and it's almost a miracle she's still alive, mostly thanks to Frank, I hope she gets to be happy soon, if anyone in this show deserves it it's her.

LAW AND ORDER: SPECIAL VICTIMS UNIT, "Brothel", February 14, 2019, Actors: Ice-T and more
The Scene: Fin gets shut down by his former flame
Shirleena: Fin opens up his heart to his previous flame only to get shut down.

LETHAL WEAPON, "Coyote Ugly", February 12, 2019, Actors: Seann William Scott and more, The Scene: Cole's mother begs him not to go to West Point
Jennise: Cole is discovering that to have a relationship with his daughter he's having to reveal things about himself. You wouldn't think that asking about her grandmother would be such a painful question for him to answer, but it was. When his mother - a humanitarian photo journalist - discovers that he is going to attend West Point, she begged him not to. She would have preferred he join a cult. His mother's reaction to that decision was so strong that he can't help but wonder what she would have thought of him if she knew he was an assassin. The idea that he'd have been that level of a disappointment to her that he avoids thinking of her, talking about her and, it seems, looking at her work. There's a lot of baggage behind the addition of this character to the show and frankly, given my reaction to his comedic work, I didn't think I was going to like Seann William Scott in this role. He won me over. Granted Scott wasn't in this scene himself, but the depth that it added to the character was worth watching for me.

NEW AMSTERDAM, "The Blues", February 12, 2019, Actors: Janet Montgomery, Tyler Labine, Anupam Kher, The Scenes: Lauren admits she needs help & Vijay breaks down
Justyna: As much as I've been enjoying the show I was never a biggest fan of the plot involving Dr. Bloom's addiction. However, this episode made me really see both the character and the story from a new perspective and I couldn't help but feel for Lauren while getting to know more about her and her family. All her interactions with Iggy during the hour truly stole the show for me. It was a hard beginning, awkward conversation between colleagues who find themselves suddenly talking about deeply private matters. We got to see Iggy's work in a new light but even more than that, we finally got introduced to Dr. Lauren Bloom, her past, present and possible future self. After struggling to open up throughout the episode she finally breaks down and admits she needs help. She tells Iggy how much she blames herself for what happened to her little sister, how hard it is to accept that she couldn't save her, instead choosing to leave home and move as far away as she could. It's a heartbreaking truth and I'm glad Iggy was there to support her and help her realize there was nothing she could have done and how brave her choice really was. Janet Montgomery was incredible during the entire hour, as we watched Lauren barely keeping herself together when confronted with her past decisions and present consequences. The hits just kept on coming when she truly understood the impact of her addiction and found herself absolutely terrified of losing the one thing she loves. Beautifully written and wonderfully acted. Kudos to the actors & the crew!
Luana: Bloom opens up to Iggy. The fact that Bloom even functions after such a heartbreaking past is amazing, I would've never imagined this was her backstory. I really hoped we'd get to see her even if she's not in the hospital for a while but it seems due to her pregnancy that will not be the case, the show will miss her for sure.
DJRiter: After alienating both his son and his friend from the cafeteria, Kapoor went in search of his friend, Iggy who was tied up dealing with Bloom. His emotional breakdown and tears as he asked for help was a highlight of this growing bromance on the show. Tyler Labine and Anupam Kher are a delight to watch in their scenes together, another asset to this wonderful show.

PROVEN INNOCENT, "Pilot", February 15, 2019, Actors: Rachelle Lefevre, Russell Hornsby
The Scene: Easy accuses Maddie of continuing her vendetta
Dahne: Easy accuses Maddie of continuing her vendetta at the expense of their client. This was a well-written and acted scene. While I ultimately agreed with Easy, it was interesting to hear how both sides saw the argument. Maddie made a great point in that she was the only one who had the same experience as their client and it gave her a different point of view.

ROSWELL, NEW MEXICO, "Don't Speak", February 12, 2019, Actors: Jeanine Mason, Nathan Dean Parsons, Lily Cowles and more, The Scenes: Liz figures out the truth & Max finds out that Isobel made Liz leave 10 years ago
Naomi: After Max helps Liz escape from danger, she shows up to check on his gunshot wound. As they begin to have one of their heart to heart moments, Max says something about love making people do things they wouldn't normally do. Liz figures out that he isn't talking about her and begins to piece together the truth about what he has been hiding. Liz concludes that the love Max is speaking of is the love he has for his sister and that he has been covering up for her because she killed Rosa. Max confesses. This scene was very powerful because it showed the brilliance of Liz. I love seeing strong, smart female characters. In the same moment, she was also vulnerable. She does love Max, but she is not letting that get in the way of figuring out the truth.
Jennise: Max finds out that Isobel made Liz leave 10 years ago. This was another scene I was waiting to see. After Max and Michael rescue Isobel from the desert, she slips up and says that getting into Liz's head was harder than before. Max applies a little deductive reasoning (One of the ways these types of story points are usually kept hidden is by populating a show with characters who don't think. Happily, that wasn't the case here.) and figures out that Isobel made her leave 10 years ago. Max is devastated. The self-esteem hit he took, believing himself unworthy of even a goodbye, kept him from moving on. Now he finds out that the two people who kept him 'getting out of bed in the morning' betrayed him. I didn't expect this reveal until the end of the season at the earliest. I'm excited to see how things move forward.

SCHITT'S CREEK, "Rock On!", February 12, 2019, Actors: Daniel Levy, Annie Murphy, The Scene: Alexis talks to David about Patrick
Beth: Watching this moment occur is another shining example about how Alexis in season 1 and Alexis in season 5 are like night and day. She thoughtfully talked her brother off the metaphorical ledge he was teetering on after he encouraged Patrick to go out with the guy who asked for his number and now desperately wanted to take it back. Through her sage counsel, she helped give David some clarity that if a cute guy giving out his number can unravel his relationship, it is better to know now. This advice is not only true, but a testament to how much this character has grown since we met her.

SINGLE PARENTS, "A Cash-Grab Cooked Up By the Crepe Paper Industry", February 13, 2019, Actors: Taran Killam, Jake Choi, The Scene: Will and Miggy dance to Rhythm of the Night
Dahne: Throughout the night, Will treats Miggy pretty shabbily but he gets it right here. They are able to just let loose and geek out to 80's rock in a way that celebrates their bromance and makes me wish that the episode was more focused on them. It was the most pure fun moment on TV this week.
Marko: Such a sweet closure to a very strong outing. The bromance between Will and Miggy works really well. They compliment each other very well and their chemistry is really adorable.

SIREN, "Oil and Water", February 14, 2019, Actors: Alex Roe, Eline Powell, Fola Evans-Akingbola
The Scene: The end scene (picked by Samantha)

STAR TREK: DISCOVERY, "Saints of Imperfection", February 14, 2019, Actors: Wilson Cruz, Anthony Rapp, Mary Wiseman, Sonequa Martin-Green, The Scene: Culber can't return with Stamets, Tilly and Michael
Laura B: There were a lot things I really liked in this episode, including Pike's uneasiness with Section 31, but I chose this scene, despite that maybe it dragged on a little too long, because plenty of straight semi-tragic romances have gotten scenes just like this, but it's one of the first scenes like this in science-fiction TV series with Star Trek's first official gay couple, whom also happen to be inextricably linked to the shows bigger ongoing mythology! Anthony Rapp and Wilson Cruz I think just do such a wonderful job with the material, as Stamets in particular continues to develop his character through deeper sentiments and ultimately showing everyone that they're exactly like anybody else that's ever been in love, which is how it should be.

THE FLASH, "Cause and XS", February 12, 2019, Actors: Jessica Parker Kennedy, Grant Gustin, The Scene: Nora and Barry talk about time travel
Naomi: Nora reveals to Barry that she has time traveled 53 times to save everyone from Cicada. Barry then tells her the story that Jay Garrick told him about time traveling. He uses the same comparison of the broken coffee mug that shows Nora that no matter how hard you try to put the timeline back together, it will never be the way that it was originally. Though this scene was very low key, it sets us up for many things that are sure to be different in the future due to Nora's actions.

THE GIFTED, "calaMity", February 12, 2019, Actors: Jamie Chung, Blair Redford and more
The Scene: The ending
Luana: Whether Clarice is permanently dead or not, this scene was shocking and heartbreaking, the look on John's face and her own expression of utter shock, you can even see then history between them in those last few moments. Not much else can be said without knowing exactly what will happen next but the scene was intense and effective for sure.

THE KIDS ARE ALRIGHT, "Valentine's Day", February 12, 2019, Actors: Kennedy Lea Slocum, Caleb Foote, The Scene: Wendi and Eddie talk about harassment
Claire: Eddie sees a flasher harassing Wendi and wants to report him and protect his girlfriend, but Wendi laments that this type of thing happens all the time. TKAA is set in the 70's and I remember my mom, who worked full time outside of the home, telling me how bad the 1970's were for a woman in the workplace. It's nice to see a comedy also touch on some serious subjects, but without the heavy hand.

THE PASSAGE, "How You Gonna Outrun the End of the World?", February 11, 2019, Actors: Alain Uy and more, The Scene: Dr. Pet pays the price for his arrogance
Jennise: It was the comeuppance that I have been waiting for since the pilot when Dr. Pet refused to accept that his prisoners were vampires. Several people tried to tell him, but they were all just being melodramatic by blaming their nightmares on the "vegetables in the cages". The only reason he listened to Dr. Lear was because he was presenting scientific evidence of brain activity overnight. Even then, I don't think Dr. Pet accepted that it was because Fanning was communicating with the other vampires or other people on site. When the Deputy Director Gilder shows up looking for a way to control the vampires, Dr. Pet was certain his plan to do so would work. His tests were successful, right up until it was time to show the Deputy Director his genius. Of course, it didn't work. When Dr. Pet realized that, not only did he have no control over the vampire, but that the "vegetable" had control of his mind I couldn't help but cackle with glee. Pet's death by vampire was worth the wait.

TRUE DETECTIVE, "Hunters in the Dark", February 10, 2019, Actors: Scoot McNairy, Michael Graziadei, The Scene: Tom attacks Dan
Mads: The acting on this season has been stellar from every actor and McNairy is no exception. Tom has a rough week between being accused of killing his own kids and then coming to the conclusion Dan knows something. The vicious beatdown he gives was an intense and well-acted explosion from the tormented father.

UMBRELLA ACADEMY, "We Only See Each Other at Weddings and Funerals", February 15, 2019, Actors: Ellen Page, Tom Hopper, David Castañeda and more, The Scene: The family dances to "I Think We're Alone Now"
Beth: The family dances in separate rooms to 'I think we're alone now'. There are moments when starting a new show where you know it is going to work for you, this was that moment. The song choice was perfection and gave us a glimpse into how the Hargreeves children probably coped with a world and father who had been very cruel to them. More importantly, it was the first clue to me that this show was not going to be dark and broody the entire time like many in the genre.

WILL & GRACE, "The Scales of Justice", February 14, 2019, Actors: Debra Messing, Megan Mullally, Sean Hayes and more, The Scenes: Karen vs. Olivia & Grace and Jack fight over some croutons
Ellys: Karen vs. Olivia. Will proceeds over a mock trial where Karen and her stepdaughter Olivia (Aya Cash) argue over a diamond necklace. Olivia claims Karen gave it to her, and Karen insists she just lent it to her. Will rules in favor of Karen, acknowledging it has been in her family for generations. And Olivia has to admit that Karen never said outright it was a gift. Karen takes the necklace back, recounting how it's been passed down from mother to daughter for generations in her family, how it was a special gift from her mother. To which Olivia responds that she thought it was a gift from her mother i.e. Karen. This floors Karen, who never considered that Olivia saw her as a mother figure. Olivia shares how much she appreciated that Karen brought joy and glamour into her cheerless childhood. They each take responsibility for not reaching out after Karen divorced Olivia's father. It's a lovely heartfelt scene, with great performances from Cash and Megan Mullally.
Diana: Grace and Jack fight over some croutons. This scene was hilarious; 2 minutes of pure joy and laugh. When I saw it, I though "This is not Grace and Jack; those two are Debra Messing and Sean Hayes indeed!" because their off screen friendship came into the screen and it was so spontaneous.

YOU'RE THE WORST, "This Brief Fermata", February 13, 2019, Actors: Chris Geere, Aya Cash, The Scene: The final scene
Giulia: The final scene between Gretchen and Jimmy makes me worried about their future. It is a brief but pretty intense moment. Gretchen realizes that Jimmy might not be as committed as she thought. I've always known "You're The Worst" to be unpredictable, but this turn of events is scaring me. I'm rooting for the two to succeed, but life is unpredictable, and that's what the show has always wanted us to keep in mind. Chris Geere is fantastic as Jimmy, but Aya Cash is the treasure, the force of the show. She needs to be celebrated as the amazing actress that she is.