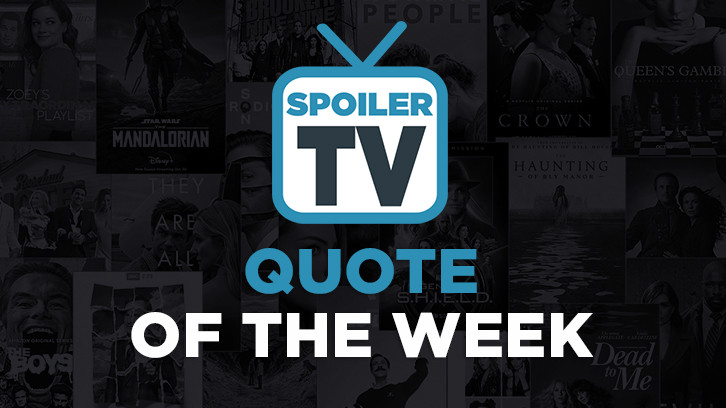 A weekly feature highlighting the best quotes on TV as picked by the Spoiler TV team. We'd love to hear your picks too so please sound off in the comments below.



The Big Bang Theory -
1. Stuart: "Whoa, whoa. You're not gonna cut open a meteor, are you? Have you not learned anything from comic books? Space viruses, pod people? I sell nothing but warnings."
2. Sheldon: "You know what we do with rule breakers?" Amy: "Complain about them to our spouse until she's ready to drive into oncoming traffic."
3. Sheldon: "I filled out the form and then realized that the unwritten rules of friendship are more important than the written rules of the city of Altadena's Zoning and Planning Department." (Dahne)
Brooklyn Nine-Nine -
1. Gina Linetti: Hey Craptain. You ready to get curbstomped?" Terry Jeffords: "What?" Gina Linetti: "At Chess." Captain Holt: "We have a weekly match. I'm teaching Gina to play, and she in turn is teaching me to trash talk. [to Gina] The hospital called. Your test results came back positive. You're a stage five dumbass." Gina Linetti: "You have come so far." (Sam Dinsmoor)
Fam -
1. Freddy: "Look, Clem may not always be the most fun, or any fun at all. Okay, she's the death of fun. But she's a good person with good judgment, unlike this woman who is terrible." Jolene: "Hey, you're also terrible." Freddy: "No one is arguing with that." Jolene: "Shannon, if you move in with me, I promise I won't tell you how to live your life. Come on. It's gonna be one nonstop party. We'll be like sisters." Freddy: "Shannon, that's the problem. You don't need a mom who's like a sister. You need a sister who's like a mom, and that's what you've got."
2. Jolene: "Well if you ask me, I say let her have some fun. I mean you're only 16 once, right?" Nick: "Yes, but we'd also like her to be 17 once."
3. Nick: "She wanted to drive all the way to Pennsylvania with a couple of girlfriends completely unsupervised for 4 days doing who knows what." Clem: "I know what. I did what, which is why we're not gonna let her do what." (Dahne)
How to Get Away with Murder -
1. Bonnie: "We don't know he did this, Nate." Nate: "Maybe you're right. Fine, but you were protecting me. That's all. So no matter what, whether I'm wrong about him or right, we both know this started with me." Bonnie: "No, I did it." Nate: "For me. So don't even think about leaving us. I couldn't live with that."
2. Annalise: "Nate, you are literally taking a shovel and digging your own grave." Nate: "Than that's the risk I got to take. Annalise: "No! You hear me? No! You want to be right here. Otherwise you feel that the guilt is going to kill you. I get it. You're human. You're right. But you can't force something to be true, just because you want it to be."
3. Asher: "What good does it do to make Bonnie hate herself even more than she already does?" Oliver: "Come here." Asher: "I'm fine." Oliver: "No, your not. Bring it in." (Dahne)
A Million Little Things -
1. Gina: "I don't think you should be off your antidepressants. I know you said you're fine, but since you've been off of them, I haven't been OK. You're not just taking those pills for you. You're taking them for both of us."
2. Gary: "He was deeply troubled, D. In ways we didn't even know about. He loved you, D. Even in his darkest hour he was thinking about taking care of you."
3. Ashley: "I was too late. I was 12 seconds too late." (DarkUFO)
NCIS: Los Angeles -
1. Kensi: "I'm Kensi. This is Deeks." Homeless Woman: "Those are weird names." Kensi: "Well, what's your name?" Homeless Woman: "I don't have to tell you my name. It's not weird though. It's a good name."
2. Fatima: "The Mashriq Army is more than a group. They're a feeling and feelings are contagious and hard to wipe out."
3. Deeks: "How's my girl?" Sam: "Just working out some issues." (Dahne)
Single Parents -
1. Douglas: "Do you realize that every project that you and your sister ever made started with your imagination? That's right." Amy: "When we're building things, it's like nothing else matters. But she's a genius now and I'm just a ding dong with the same face." Douglas: "No, no, you're not. Listen to me. You and your sister are special in two totally different ways and you make a great team together, and I'm gonna remind you of that."
2. Angie: "Okay, you're speaking like an Instagram caption, which is usually a clear sign you're mad."
3. Angie [about playdates]: "It is all of the worst parts of a first date with none of the alcohol." (Dahne)
True Detective -
1 Wayne Hays: "Would you have done it? Would you have shot one of them?" Roland West: "If I thought it was between him and me, then no, I could give a fuck what color he was." Wayne Hays: "You sure about that?" Roland West: "Fact that these were black folks probably gave me more pause. Mob of white people surrounds me, smashes up my ride, there'd be a lot less hesitation about what I'd do." Wayne Hays: "Can we say this was anonymous vandals?" Roland West: "We're not going with 'irate negroes'?"
2. Wayne Hays: "I found the spot they played in the woods. They were meeting somebody, the kids, out there. Somebody gave them toys. It's where the boy died." Amelia Reardon: "The way Will's body was... how he saved the toys... It's almost as if there was an element of affection in it, don't you think?" Wayne Hays: "People who hurt kids think of themselves as having an affection for the children... even up to the 'fuck 'em and murder 'em' part."
3. Roland West: [to Bobby] "I know we're a few weeks late here, but I wanted to wish you a happy 18th birthday." Wayne Hays: "The fellas pitched in and got you life in prison, with a good possibility of choking in the gas chamber, you fuckin' shitheel little twerp." (DarkUFO)
Young Sheldon -
1. Missy: "So I'm the reason she's a dud?" MeeMaw: "Your takeaway should be that you are the reason she's such a good mom, which she is, and the next time you hurt her feelings, which you will, you might remember how much you mean to her." Missy: "Now I feel bad." Meemaw: "Good."
2. Meemaw: "Mary, you need to know you're doing a fantastic job with those kids." Mary: "You really mean that." Meemaw: "I really do." Mary: "Thanks. I can't remember the last time someone said I was a good mom." Meemaw: "It's not a job that gets a lot of compliments." (Dahne)