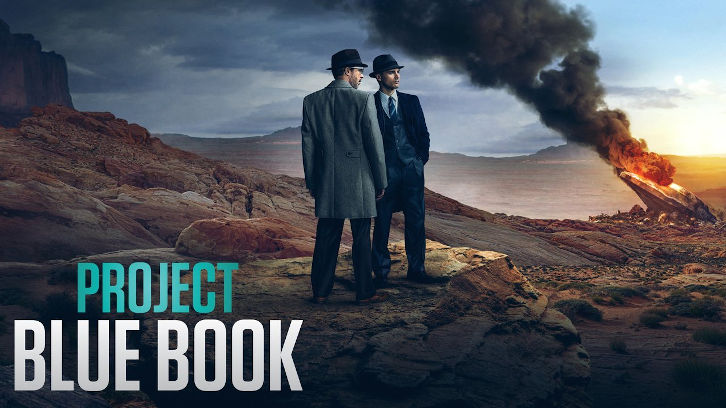 Project Blue Book
"The Scoutmaster" was written by the team of Aaron Rapke and Stewart Kaye and was directed by Thomas Carter whose many other credits include,
The Strain
,
Bosch
,
Colony
, and
Damages
. I was happy to see two more Canadians guest star: Graham Greene and Ty Olsson – especially Greene who is always a delight to watch. This case is our first real hoax. I was surprised that we really didn't get any news on the home front at all – I mean, what is happening with that body???
Michael Malarkey (Quinn) gets special mention for his performance in this episode as we get a lot of background to fill in his character that really helps to also fill in how and why he's been playing the character as he has. I was hoping to see Quinn and Hynek (Aiden Gillen) forge a strong partnership, but it seems as if that is not in the cards. Both men continue to keep important information from the other in this episode.
As usual, the episode begins with the case of the week. We pick up in Bowling Green, Ohio with a troop of scouts camping in the woods. When they see mysterious lights, Scoutmaster Emmett York (Kevin Christy) goes to investigate, and when things go south, one of the older scouts, Brian (Ari Dalbert), gets the younger boys out of there.
Four hours later, there is a search party looking for York – and Hynek is already on the scene! Hynek is immediately suspicious that Sheriff Donnelly (Ty Olsson) immediately called Project Blue Book – even though Donnelly seems to be doubtful about Brian's report – he's got quite the imagination according to Donnelly. They find a very precise controlled burn in the woods. They also find York's hat – and his camera, sitting under it – it's too staged – and you can tell by Gillen's delivery of the line that that is exactly what Hynek is thinking too.
As Hynek develops the photos, we hear a voice over of Hynek and Quinn. Hynek says there was some evidence at the scene and wants to know when Quinn can get there. Quinn tells him that he can't come – but lies about why. He tells him he's meeting with Harding (Neal McDonough), but says it's "nothing" and just "paper-work stuff." Hynek manages to develop one photo, which he dubs "impossible" as it seems to show York with some kind of craft behind him. Truthfully, the picture quality isn't great and it's really hard to see what it is.
Quinn is with Harding. Harding wants to know where Hynek is and Quinn tells him he's on a case – and that he didn't tell Hynek where he is. We aren't told either. Harding tells Quinn they let turn Rizzuto (Michael Imperioli) go in the hopes of trailing him to his contacts. However, once he was gone, they discovered a sensitive piece of material had gone missing from the base – he doesn't tell him what it is. Harding wants Quinn to "use his skills" to find it and bring it back.
Quinn goes into Rizzuto's apartment and punches him out. Rizzuto wakes up to good cop as Quinn makes him breakfast. Imperioli and Malarkey are terrific in these scenes as they play cat and mouse. Quinn has left his gun fully visible in the middle of the table. Rizzuto clearly sees it – and ignores it, assuming it's not loaded. Rizzuto complains about the burnt bacon, and Quinn tells him about bacon he ate while stationed in Spain that is aged for 4 years before it's eaten. It's a nice metaphor for patience.
Quinn goads Rizzuto into reaching over the gun for the salt – and Rizzuto comments that it's empty. Quinn comments on the trust they've built. Rizzuto also clearly knows what Quinn is doing – the first rule of interrogation is get them talking. Rizzuto knows all about Quinn – in addition to what he's doing – and he tells Quinn that he's way out of his league. Quinn has some doubts which Malarkey clearly shows on his face. There's a nice transition between scenes here as we hear Brian saying, "he shouldn't have gone in their alone" while still on Quinn's face before the scene shifts back to Bowling Green.
Hynek questions the scouts as the Sheriff looks on. Also a nice parallel to the last scene as this also takes place in a kitchen and involves building trust. It turns out that Brian has wanted to be an astronomer since he was seven and is really impressed by Hynek – the other kids wonder why he doesn't wear a uniform if he's in the Air Force! Hynek tells Brian he was seven when he got interested in the stars too. Hynek uses this information to underscore how important it is for them to tell him exactly what they saw.
Brian follows Hynek out of the meeting and tells him about the local legend: the Story of the Star People. It's apparently a local Indian legend, and Brian takes Hynek to a cave with cave paintings. Brian said he didn't really believe the legend until Emmett disappeared. Hynek stresses that it's important to let the facts tell the story. The cave paintings show the "ship" they saw that night, and that is identical to picture that Emmett took, but more importantly, there is also a cave drawing of the symbol that Hynek has been chasing.
Meanwhile, Rizzuto brings up "Fellow Travellers" with Quinn. How quickly he's turned the tables! Rizzuto tells Quinn that real patriots fight for a cause – not outdated ideals like Quinn believes in. He tells Quinn that communism is the future. Quinn tells him that he enjoys breaking traitors. But Rizzuto gives us some real insight into Quinn – and proves who the master interrogator at the table is. He asks Quinn if he really enjoys the torture or whether he really enjoys "pleasing the brass." We've had lots of evidence of Quinn jumping to a snappy salute and doing everything he can to please Harding and Valentine. Rizzuto hammers home that Quinn is not getting the respect he deserves – Project Blue Book is just a joke – and he goes on about the lasting effects of turning someone into a torturer.
As Rizzuto goes in for the kill – they can take care of Quinn if he has information for them – Quinn drives his fork into Rizzuto's hand! I loved that Rizzuto is relatively non-plussed about it. He's clearly in pain, but mainly just matter-of-factly pulls it out! Quinn clears the table and tells Rizzuto they're going to play a little game.
The Sheriff takes Hynek to David (Graham Greene). While Hynek's body posture didn't seem particularly respectful, he doesn't talk down to David – and he has clearly assessed the room when he sat down – he's noticed that among the artifacts in David's office there are also modern science books. David tells him that he's learned from the science books that as little as he knows, science knows even less. Science never considers faith as an answer to the unexplained. David tells them that he's seen the lights in the woods – right where Emmett went missing.
Quinn's game involves Quinn asking questions. When Rizzuto refuses to – or can't – answer Quinn pulls the trigger on his gun – in a Russian roulette type game. On the second round, Rizzuto sees the bullet go into the chamber, and then he jumps up and starts calling out that Quinn is trying to kill him – to those – Harding – listening in. And Quinn knows exactly what's going on – and he's not happy.
Hynek goes to the burn site with David and the Sheriff. He lays his hand on the ground – he already knows that the ground should feel like it's been dealt a heavy blow – information from the second episode nicely woven in here! Hynek then asks if there's a swamp close by – he can smell it. The swamp is full of methane and Sulphur. David tells him even the animals steer clear of the swamp.
The town has called a meeting, and Hynek addresses the crowd and tells them that the lights they've seen are the result of swamp gas. The town don't want to believe it. The gas couldn't have burnt the trees. The meeting is interrupted by the return of Emmett. The crowd gathers around while Hynek looks on – clearly pretty disgusted.
Hynek dutifully visits Emmett in hospital and takes careful notes on his experience. I loved Gillen's face in this scene! Hynek tells Emmett that no is denying you "thought" you say an unidentified flying object. Emmett tells him that he shot at the creature that came out – and that it played mind games with him. Also a nice parallel to Quinn's storyline in this episode.
Harding shows up at Rizzuto's and tells him that he didn't do what they'd asked. Quinn has taken off and not returned – except he does turn up and listens outside the door – as Harding assures Rizzuto that Quinn was never going to kill him. He's trained not to kill… unless Harding tells him to! As Quinn bursts in and looks for the bug, for the first time ever, he ignores Harding – until he tells him to go outside – as an order. Rizzuto gets in a cheap shot as Quinn goes to leave.
Harding has to tell Quinn several times to stop. And again, in a really nice call back to previous episodes, Quinn does stop walking – but he doesn't stop smoking. I'm thinking of him almost choking on his smoke instead of exhaling in front of Fairchild in the previous episode. Harding lays the compliments on Quinn thick – he's tougher than he thought. Quinn now has his admiration. Quinn has already figured out that Rizzuto is now a double agent.
Quinn avoids eye contact with Harding until he asks if he was the one being interrogated. Harding says that something did go missing (and WE know what!). Quinn is rightfully furious that Harding could have suspected him of being a traitor. Harding, foolishly, says he couldn't suspect Hynek! LOL! But Quinn is clearly not so sure. Quinn is still not happy that Harding could have suspected him of being a fellow traveler – but Harding again turns the conversation. He tells him that now that he knows who Quinn really is, doors will open for him. He confirms that he was listening by underscoring the bacon remark – sometimes the finer things just take time. Of course, he's also really confirming that the information and insight that Rizzuto had on Quinn came from Harding. Harding knows that patting Quinn on the head will keep him in line – or at least, that's what he's counting on.
Emmett takes them back to the burn – almost exactly where they found his hat – and digs up an oddly shaped skull. Again, I loved the look on Hynek's face. It's just all too convenient – why didn't they find it the last time they searched there? Hynek tests to see if the skull is bone or acrylic. Brian tells us it's not shining – we can't see it because it is a prop and likely made of acrylic! Hynek cautions them not to say anything because it will cause dangerous levels of panic in the general population. Emmett pushes to tell everyone – and Brian supports Hynek.
Quinn is back at his desk – having a drink. Hynek calls and tells Quinn about the remains – he needs to see him as soon as possible. Quinn tells Hynek that he needs to see him as soon as possible too.
Hynek is a lot happier to see Quinn than Quinn is to see Hynek. Quinn tells Hynek that his mission is still on-going. Clearly, he's not blindly following Harding anymore. But he's also not happy that Hynek lied to him. David interrupts them before Quinn can say more, and asks if he should be worried that Hynek brought the army – people there have complicated feelings about the army – which we also get from the mother whisking her child away from playing ball with Quinn. I like that the show doesn't veer away from this unpleasant bit of history either. Hynek shows David the skull – and he's not happy that he has it.
Hynek's colleague in Anthropology at the university told Hynek that David would likely have the answer. David explains the process of head binding – to shape the skull into something holy. David tells them it's nothing more than a custom that is no longer practiced. It's proof positive that the entire case is based on grave robbing and a hoax.
Hynek exposes the hoax to Emmett and his wife (April Telek). The photograph was created two weeks earlier (no shadow from the full moon on the night of the attack) and using double exposure. The Sheriff is the one who dug up and hid the skull – and we get a flash of Hynek looking at the Sheriff's dirty hands during the discovery. Brian becomes an important witness as he works in the telegram office – and knows about a Hollywood offer that started before Emmett was even found. Quinn tells them they'll be charged with filing a false report with federal authorities.
Quinn follows Hynek out and asks him to tell the truth. He asks if he stole the sensitive material from White Forest. We don't get Hynek's answer, but it sure looks like he's about to lie. In the final shot, we see Hynek hide the object in his car – and it blow out his taillight…
I really liked how much background we got on Quinn in this episode. I'm still hopeful that Quinn and Hynek will end up working more in tandem and less at odds. I also have to give another shout out to the excellent writing on this show. I loved how so many little nuances came back from previous episodes in this one. What did you think of the episode? Let me know your thoughts in the comments below!