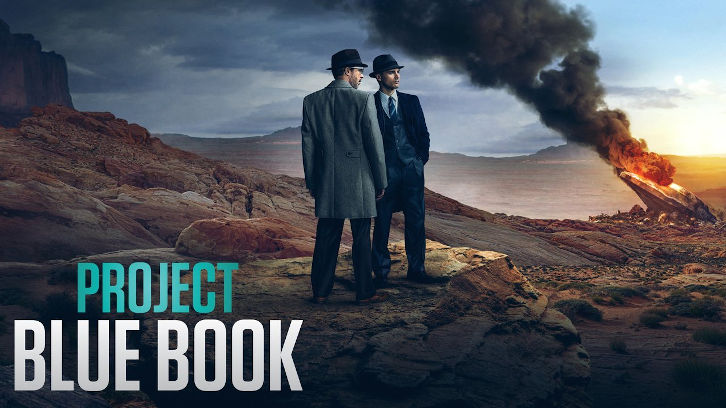 Project Blue Book
"The Scoutmaster" was written by the team of Aaron Rapke and Stewart Kaye and was directed by Thomas Carter, whose many other credits include,
The Strain
,
Bosch
,
Colony
, and
Damages
. Look for Canadians Graham Greene and Ty Olsson to guest star.
The case of the week involves a group of scouts camping in the woods outside Bowling Green, Ohio. This week the lights appear to be red.
Hynek (Aiden Gillen) is on the scene within four hours. Quinn (Michael Malarkey) is absent and evasive. We learn that Hynek has another skill. In fact, Harding (Neal McDonough) has something special for Quinn to do. We see a new side to Quinn – and he makes breakfast… for Rizzuto (Michael Imperioli)! Quinn is faced with some truths he'd rather not think about. Quinn sticks it to someone.
Hynek finds the mysterious symbol in a most surprising place. Hynek consults with David – played by the ever wonderful Graham Greene! Hynek drops in to a town hall meeting. Hynek is given something difficult to explain.
Hynek is glad to see Quinn when he finally makes it to Bowling Green. Quinn has things to discuss with Hynek – and a question to ask him.
Not much happens on the home front this episode, but there's definitely more layers and intrigue about who is working for whom and everyone's motives.
Don't forget to tune in to
History on Tuesday at 10pm!
And just a few dialogue teasers…..
That's his hat.
You said he wouldn't kill me!
If they already have the material, we're sunk.
It's like a controlled burn.
What do you know about my fears.
Four years to wait for bacon!
Real patriots fight for a cause.
What do you need me to do?
You are way out of your league, right now.
Dirty hands don't make me a grave robber.
I've wanted to be an astronomer since I was 7.
The story of the star people.
Why? We're all friends now.
Sometimes the finer things just take time.
I need an honest answer like I was asking an Eagle scout.
Folklore and myth can have a strong psychological effect.