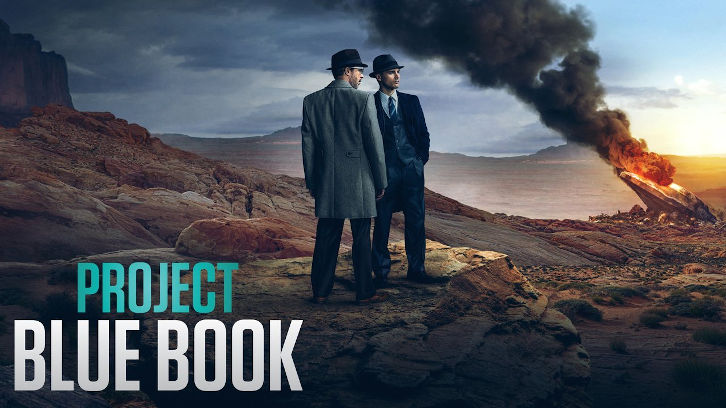 Project Blue Book
"The Green Fireballs" was written by Harley Peyton and was directed by Norma Bailey. There are more great guest stars in this episode – Michael Imperioli (Rizzuto) and Ian Tracey.
Hynek (Aiden Gillen) isn't sleeping well and is struggling to deal with Fuller's death. Mimi (Laura Menell) is concerned. Hynek wants everyone to feel safe and plans to use science to do it. Hynek and Quinn (Michael Malarkey) head to Nevada. Quinn has a new "sportier" look. Fairchild (Robert John Burke) makes a surprise visit and is more interested in talking to Hynek. Quinn is not happy.
Canter's Delicatessen does have the best pastrami sandwiches.
Quinn finds a smoking cigarette where it shouldn't be. Quinn proves that he is an excellent interrogator. Hynek and Quinn split up to follow separate leads. Hynek is not a great typist. Quinn is better at following orders. Hynek goes to church and receives a gift. He also forms a new partnership.
Susie (Ksenia Solo) runs into someone at the botanical gardens. Susie convinces Mimi to do something she wouldn't do otherwise. Susie gets a particularly distasteful assignment.
Don't forget to tune in tonight at 10pm on History!
And just a few dialogue teases….
Halt or I'll shoot!
How deep in the shit am I?
They're not from Mars.
What am I supposed to do?
That kind of war leads to collateral damage.
I see nothing of value here.
We need to talk.
What the hell do you need me for?
Could you speak to me in plain English for once!
So how do these things work?
If they're just going to blow them up, why do they need faces?