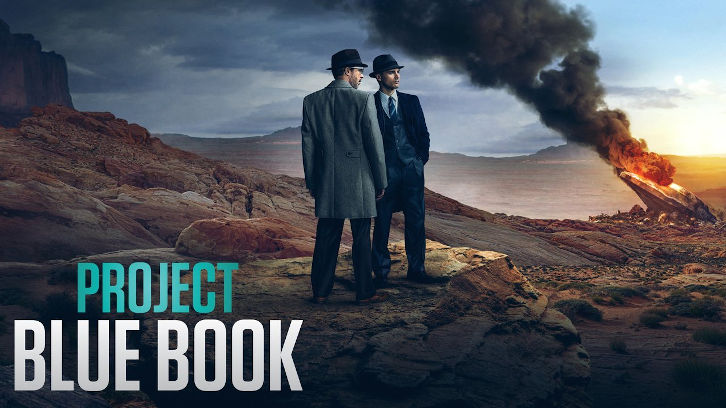 Project Blue Book
"Foo Fighters" was directed by Norma Bailey, whose other credits include
Outlander
,
Reign
, and
Mary Kills People
. The episode was written by Emily Brochin. Look for one of my favorite Canadian actors to guest star – Patrick Gallagher, playing Randall Kavanagh.
The episode begins at the WCQU Radio Tower in Terre Haute, Indiana. Hynek (Aiden Gillen) and Mimi (Laura Mennell) get a visit from both General Valentine (Michael Harney) and General Harding (Neal McDonough).
Hynek deciphers what Fuller (Matt Bellefleur) was trying to say. Quinn (Michael Malarkey) pays Susie (Ksenia Solo) a visit. Her superiors aren't happy. Susie puts a new plan in motion.
Hynek follows his clue to a surprising destination and yet another photographer (Nadine Lewington). Fairchild (Robert John Burke) is not happy with Harding, and makes him desperate.
Hynek and Quinn follow a lead to Missouri and don't get a warm reception. They meet yet another interested group. Hynek gets a new perspective on what's really going on. We learn what that strange symbol means.
Mimi has a visit from Donna (Heather Doerksen). She brings cookies – and something else that's not quite as pleasant.
Don't forget to tune in to
History on Tuesday at 10pm!
And just a few dialogue teases….
They're… very provocative.
Something's not sitting right.
It's a little early for that.
Most important thing now is you remain quiet.
I'm as confused as you are.
This isn't normal, Allen.
Don't they work for the enemy.
I had every right to defend myself.
Guess we'd just be doing our jobs, then.
Said the guys who just tied me to a chair.
The last guy they sent me needed to lose 20 pounds.