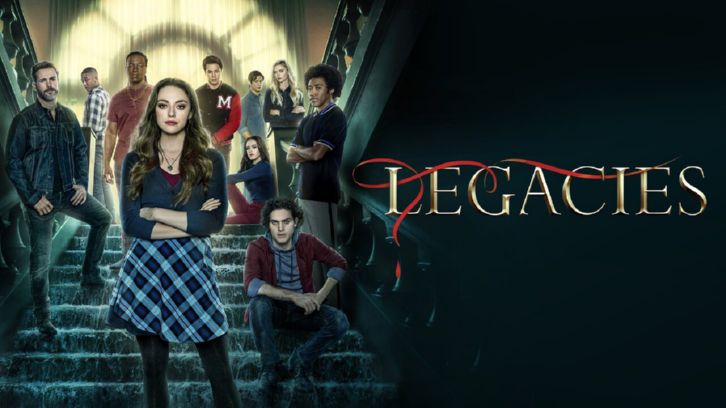 This week on Legacies the Salvatore school was plagued by a monster that can hurt you in your dreams. Fun. It played on everyone's biggest fears in the hopes of finding the next Malivore artifact, of which only Hope knew the location. It made Rafael realize he may like Hope as more than just a friend. MG is still struggling with control. Hope and Alaric manage to kill the monster. The new bad guy is snooping around Landon and Rafael's foster parents.

I'm conflicted, but only a little: I haven't checked the "what did you think?" post yet, but I think I have a pretty good idea of what the reactions were to Hope and Rafael's interactions. Not good. Can someone please explain to me why writers find it so difficult to write platonic male/female relationships. I've watched a lot of shows, yet I could count the number of truly platonic male/female relationships on 1 hand. There's a tiny part of me that sort of ships it, but knowing the mess it would cause… just, can we not go there. We've already got the triangle with Josie and Lizzie, we really don't need more people in there. Plus I really enjoyed the friendship that was growing between Hope and Rafael, and now that's ruined because he's trying to keep his distance. I felt really bad for her, he's one of her only friends and now he's pushing her away without telling her why. I feel like this show needs to tone down the romance drama just a little.

Lucky bastard
: Was anyone else jealous of how generic Landon's nightmares were? Everyone else was having nightmares about mass murder and being brainwashed. But all Landon dreamed about was going to school in your underwear and being trapped in a small space. Even I've had worse than that. I'm going to take this as a sign that he's not all screwed up yet, despite everything. Even his reaction to Hope keeping secrets was shockingly normal. Though on this show, this probably won't last.
Remember when you died? Alaric has some serious issues that need to be addressed asap. His dream (or nightmare) was actually really interesting because it showed that he's aware of his need to always save the day. And he's aware of how it's affecting his kids but he just can't seem to help himself. And yes, he has been doing this a lot longer than the rest of them, but am I the only one who yelled at my screen "Yes, and, remind me, how many times have you died again?"? I don't believe there's anyone in the TVD universe who has died more than this guy. They even had a storyline dedicated to how it was turning him into a psychopath (it passed). Alaric is too much in denial and the twins don't seem to have it in them to confront him. At this point, the only person who seems to call him out on it is Hope (yes, it was a dream version in this episode but you just know real Hope as done it before). Tough, judging from next week's storyline, I think we'll get that confrontation soon.
Awesome plan: How has no one ever died at that school? They know danger is coming and their plan is voluntary evacuations. Like, you can evacuate if you want to, but you don't have to. But the most important part is that you still take your exams. Priorities, people. You have an entire school full of people with magic. You could probably build magical defenses so strong they'd rival Hogwarts. Which reminds me, was the Salvatore school responsible for Landon and Rafael's foster parent's inability to tell the new bad guy (I think) where they went? Because that sure seemed like compulsion. Or was that something else?
Best quotes: Hope: "Isn't it safer if only one of us knows where it is." Alaric: "Well, then that one of us should be the adult." Hope: "Funny, because I thought it should be the one of us with high-level superpowers."
Landon: "Hope's MIA." Rafael: "Yeah, she's probably suiting up into battle armor, the girl is basically Wonder Woman."
Landon: "What was Hope doing in your dream?" Rafael: "The usual, being a badass." Hope comes flying in with the monster. Rafael: "Pretty much like that."
That's it for this week. Check in again next week for an all-new review and let me know in the comments what you thought of this week's episode.
Please be respectful in the comments, any unnecessary rudeness isn't welcome.