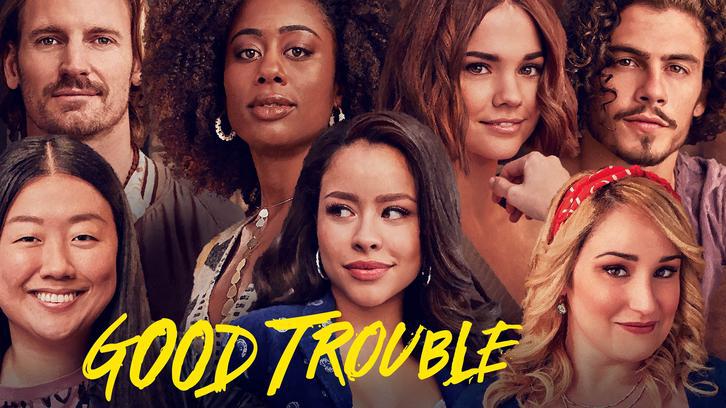 This week on Good Trouble:
So this episode of Good Trouble was a really interesting and quite fun one. Mariana, Davia, Alice and Malika decide to set up dates for each other using a dating app which honestly just sounds really fun to me. The outcome of these dates have various different degrees of success but it does make for a fun and interesting episode.

Davia's date Paul is not someone she would usually go out with but when she finds out that Jeff lied to her about not going to LA this weekend, she decides to have revenge sex with Paul. She later tells Malika and Mariana that she's officially done with Jeff.
Alice really gets on with her date and they have a very good time until Sumi shows up at The Coterie heartbroken because she and Meera got into a huge fight and called off the wedding so Sumi needs Alice's support. The next day Meera calls Sumi and they get back together and I just feel so sorry for Alice because she's too nice and doesn't deserve to be treated the way that Sumi treats her.


Mariana has a date with the shallowest guy you could imagine. I honestly could not stop laughing because it was just ridiculous how much this guy loved himself. Anyways, Mariana actually ends up with another guy and his girlfriend at their place where she hangs out with them and they end up having a threesome. I did not expect that to happen but I kind of understood when Mariana explained to Callie afterwards why she decided to have a threesome. The guy that Malika wanted to date didn't end up liking her picture back on the app, but he did show up to the bar where the girls were all having their dates and Malika works. He tries to flirt with her but she shoots him down and then tells him that she doesn't want a guy that would write her off without a thought. He does apologies and make it up to her, and they end up having a great night.
Callie and Gael decides to not see each other during the weekend because Gael needs to work on his art and Callie needs to study for the bar since Rebecca just passed it. This not seeing each other doesn't go to well for Callie and Gael and they end up in a fight. By the end of the episode they decide that maybe they should stop seeing each other. I honestly don't know how to feel about this because I know that their situations is so complicated but I also see how much they do care about each other so it's quite difficult for me to decide what I want. I really like Callie with Jamie too so I don't know what I want for her right now but I do think it's good that she wants to focus on passing the bar because as viewers and fans of especially The Fosters, we know how important Callie's career is to her.
Favorite character:
I really enjoyed a lot of the characters this week but I do have to say Malika here because she really showed Isaac that there's a lot more to a person than just the things you see in a picture. I'm not really a fan of all of these dating apps because I do think it's really shallow and also I can't really decide if I find someone attractive or not purely by looking at a picture. I need to see how that person acts, moves and talks etc. to really form an opinion about attractiveness so I really liked how Malika handled that situation.
Favorite scene:
I absolutely loved the end scene where Alice called her date live on the radio to apologies and ask for a second chance. I just felt so bad for Alice that everybody else had a memorable night and got laid but she didn't because she's too nice and just wanted to be there for Sumi who just takes her for granted. So I really loved that Alice built up the courage to call up her date live on air.
Favorite quotes:
Gael to Callie: "So no superman? Clark Kent? Jamie?"
Callie: "He does not look like Clark Kent"
Gael: "Just picture him with glasses on"
Callie: "Okay, maybe a little."
Callie to Mariana: "I warned you about that dress"
What did you think about this episode of Good Trouble? Please, let me know your thoughts in the comments below.