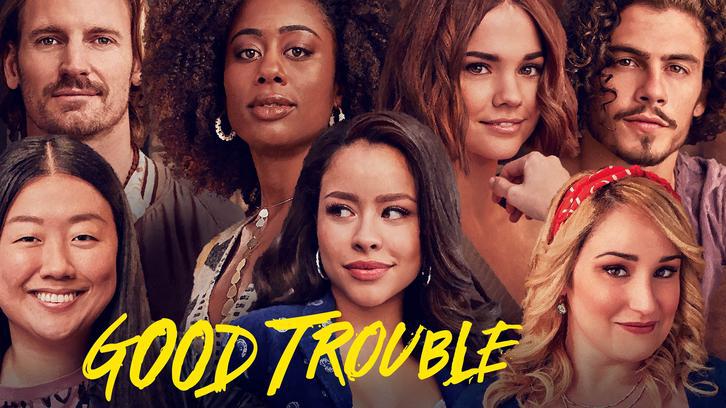 Correction: Troian Bellisario did not direct last week's episode, the shows IMDB has changed the director of "imposter" to Geoff Haley.

Good Trouble airs Tuesday nights at 8:00PM ET on FREEFORM

There's no reason to recap past episodes of this show because every week they bring it in every possible way. Mariana and Callie's adulting are not necessarily the only issues going on which is why Good Trouble works. Our Good trouble gang will be swiping left and right in this episode, and it is amusing. There's also territory that has not been explored before but the writers go there with Mariana, and it is interesting.

Callie is hoping to study for the bar, but there's too much distraction via Gael, who also needs to focus on his art which if you ask me I don't know what it means. Does anyone know why they even tell us he is an artist? The duo agrees to stay away from each other and work on their separate things, and it doesn't end as well as they expected. I don't care much for "ships," but on this show I kind of have preferences. So, there is a foreshadowing on how the Gael and Callie romance will end, and the funny thing is, it comes from utterly unexpected quarters. Here is the thing Gael and Callie spend a majority of their time together having sex and nothing else. So it's time they realize they are just sex buddies and keep it moving.


Mariana gets a huge storyline in this episode, and I wonder if they will keep at it or it's a one time thing. I have already seen many comments about what might happen with Mariana as well as questions on if the show is working on revealing something about her. Without spoiling too much, I would like to note that some people enjoy all kinds of experiences so as you watch tonight be cautious of your own expectations. Anyway, the girls decide to go on dates since as it is they are all single in Los Angeles. Also, this is a gigantic dating app infomercial that might annoy some people, but it serves its purpose for the episode. Mariana's date doesn't turn out as expected, and we get entertained by what ensues as the nights go on. Davia ends up having one of the most fun nights but also manages to maybe move on from her married boyfriend. We will see if she succeeds to actually stay away from him primarily because he is toying with her emotions.
There is a lot of Malika in this episode that made me very happy. Having said that, she hooks up with someone who I didn't expect to see on this show, and my hate for his character on insecure made it less enjoyable to watch, but I digress. Also, he swiped left – SPOILER ALERT. I loved that we get to meet some of her friends that don't live in the coterie plus we also get to see what black girls experience when they are on dating apps. I have talked about Alice and how much I love her character, but she frustrates me so much when it comes to her association with Sumi. I get it, she adores the girl but this episode my level of annoyance with Alice went up ten notches. At the end of this episode, she redeems herself a little, and it is so cute it will make you burst inside.
This is a lovely episode with a lot of surprising twists that will leave you wanting more, this is the second episode directed by Geoff Haley, and it's terrific.
Questions? Ask away.