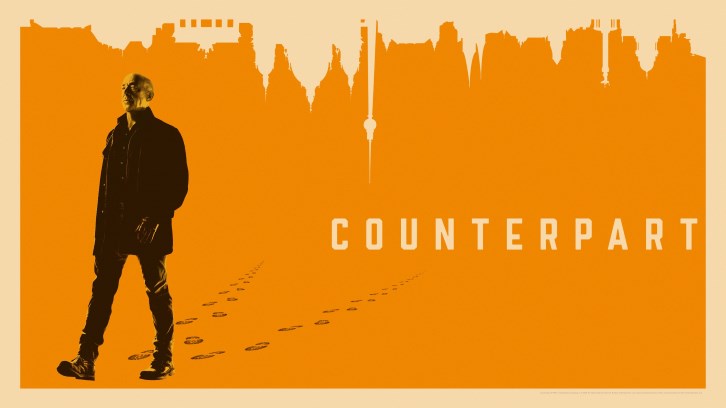 I'm going to miss this beautiful show. It needed so much more than its short two season run, bu at least we can take solace in the fact that there is still one more episode to go. Whether it may end on a cliffhanger never to be resolved or not, Counterpart's penultimate hour set up a whole host of possibilities and ticked off a few exciting checkboxes along the way. Mira and Yanek were brought in by Ian Shaw, but Mira was able to get under Ian's skin and manipulative him using his ex as bait to get him to release Mira. It put Ian in a tough dilemma and I'm kind of disappointed that he released Mira, but then again, the plot has to go somewhere. Mira dealt with her management problem in a quick and brutal way that took all of them out in one fell swoop. Yanek protested her course of actions, arguing that he was closer to getting them to shut the crossing, but at the same time, he didn't do anything to stop them either. It was a harsh reminder that nobody in this world is safe, and - should the show have been renewed - it would have opened up a lot of possibilities for Season Three with management out of the window, and the restructuring of both worlds. But that said, there's still one more hour, one more vital hour of Counterpart to go where just about anything could happen, especially if the writers were aware that there was a good chance this could be the final episode.

Elsewhere, forced out of Emily Alpha's home and running out of options, Howard Prime turned to Baldwin for help. After sharing a one-sided breakfast together the two decide that their best course of action would be to help Clare, who has turned herself into Nadia with the help of Peter. Peter doesn't want to see her put in any danger but Nadia sees the only way that they can go about this without having both characters turn themselves properly is have Clare find out what she can from Spencer, the adult Spencer that is. Clare believes that Peter doesn't know that Peter knows his son his named after her childhood friend and lover, but Nadia knows enough about Peter to know that he knows. She tells Clare that Peter was willing to give his life during his failed escape, and just as Peter's escape failed, so too does Clare's attempt to escape undetected during her meeting with Nadia. Luckily for Clare, Howard Prime and Baldwin show up to help as she's being escorted out of the building by Spencer.

One of the most emotional moments of the series was seeing Howard Alpha finally return to his world. He'd gotten used to time with Emily Prime but after that conversation between both Emilys - shockingly only the first time these two counterparts had met over the course of the show - they revealed that Emily Alpha was in fact the one responsible, indirectly, for giving motive for Indigo and an entire generation of assassins. She found out the proof that meant her world was responsible for the crimes against Emily Prime's world, but rather than get the information out there, she kept it hidden, or did her best to, on behalf of management who wanted nothing to do with it. Emily Prime was able to get the confrontation that she needed with Emily Alpha about why she was intervening in her life with her child, and this eventually leads to Emily Alpha offering a deal that would ensure Howard Alpha's return to her world.

The beautifully shot sequence where we saw Howard Alpha kiss Emily Prime before heading back down to Emily Alpha was heartbreaking, and effectively so. Howard Alpha's going back to his world where something could go very badly wrong. It hurts to see the two say goodbye especially as they've operated well together in the past, with arguably, Howard Alpha better suited to Emily Prime, but it was never going to be a permanent solution. He must come in from the cold.

And now there are two Howards in one world, and anything could happen. The stage is set then, for what regrettably - must be the series finale of Counterpart, the show that deserved the world.