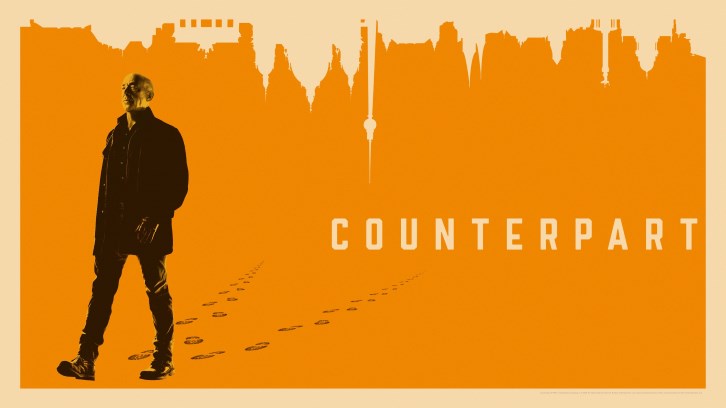 Counterpart 2.06 "Twin Cities" - Review:

Counterpart's Twin Cities promised so much, and it more than delivered, offering a window into Yanek's past. It was essentially an origin story, presented in a Stephen King-like way that cuts away from the main arc just after something vital happens in the storyline, echoing the structure of Castle Rock which aired last year on Hulu. Here we see life during the Cold War and the secrets that come to life during Yanek's investigation, where he's posing as a double agent inside Communist East Berlin. It was the best episode of the season so far - and quite possibly the series, starring little of any of the characters that we've come to know over the course of the series in favour of a clean break.

The episode works as a good entry for newcomers to understand the world of the series and the complex nature that it inhabits. Point of Departure was the episode title for the fourth episode of Season two but it could have easily applied here, as we learnt how one small difference - not giving Mira the new tape for the band that she loved - changed everything. The escalation of changing of opinions between the two Yaneks unfolded like dominoes as a result of this decision, and the extended flashbacks really paved way for it to be given the time that it deserved.

Samuel Roukin delivers a great performance of both Yanek Prime and Yanek Alpha, with their first meeting between the two being more than memorable as their worlds collide. Both characters are initially shocked, but after all, they're keen to learn, keen to discover more about each other, and it works as as a way into how things can be changed simply by observing them. Directed as well as written by creator Justin Marks, Twin Cities explores the ups and downs of meeting someone who is an exact double of you and gets to grips with the psychological effect that it might have on a person. Sure, we've heard Yanek talk about this before, but to see it play out in person is another matter entirely.

At first both worlds start out as identical on the surface. When exploring their other worlds, Yanek can't tell the difference between one and another. The show wisely fits in with the narrative about the Cold War by giving both Yaneks a ticking clock - they know that they should leave East Berlin and defect to the west to protect their families, but their work that they've just discovered is far too important to let it fall into the wrong hands, so the best possible decision is to expand and take in new recruits, people that they trust, on both sides. But the decision must be unanimous between every scientist - and every doppelganger, if they are to continue.

Emile Neumeister plays the younger Mira as a teenager well here and it's interesting to see how both versions of her are affected by the decision of whether or not to give her a tape. It's such a small change that on the paper shouldn't affect matters much, but Yanek soon finds himself in trouble and it spirals out into a larger disaster. With the tape, Mira was not able to come to the aid of her anti-Soviet brother so he was killed in a scuffle with the soldiers sent to capture him, whereas the Mira on Yanek Alpha's world was able to intervene. Its effectiveness is punctuated by a split-screen narrative.

Twin Cities then, only spirals out of control from there. Yanek Alpha sinks deeper and deeper into depression as he becomes more and more unhinged. This episode is very much a discovery of how grief can affect a person and plays with the consequences of their actions - and seeing how it affects Yanek Alpha's character is reminiscent of Doctor Who's incredible Turn Left, where we see a world where Donna doesn't meet The Doctor and turns left rather than right, meaning that as a result, The Doctor dies in this reality meaning every event that he would have prevented doesn't happen and things just get worse and worse as they go on.

It started with good intentions. It always did. The flaws in the two of them always agreeing on what they're doing is that there is no contingency plan, no fallback. There's no difference between the two at first, but the snowball effect escalate until a Yanek is killed at the hands of his double - his counterpart - whilst the other Mira watches. It's a pitch-perfect origin story that we learn more about the nature of the present-day relationship between Mira and the Yanek that she's working with - the Yanek who killed her father - and we learn more about their goals for the future of society. They want to shut down the connection between worlds for good, which on the surface, is not a bad idea, even if their methods are a bit morally questionable. They want Management on both sides to meet.

Justin Marks has crafted an incredible accomplishment that perfectly executes the idea of an origin story, using the coming together of two worlds as a way to test and poke at characters and explore how they'd do things differently were they presented with different situations in a way that the show hasn't before. It's fresh, different and a welcome break from the core narrative, which often feels a little too plot-heavy at times, and by allowing characters to breath, Twin Cities is a perfect example of what happens when the full potential of the show is deployed.

Counterpart 2.07 - "No Strings Attached" - Review:

The follow episode focused the attention back on the regular cast as the pieces were put in place for the meeting between management, with the tension ramping up on both sides of the border. After the break that came with Twin Cities we're thrust back into the show's world with the usual tension where nobody is above suspicion. The main thread connecting Twin Cities with this episode was the reunion of Mira and the other Yanek, as this episode also managed to spend time with both Harold Alpha and Emily Prime trying to investigate why Yanek was so important, and we're forced to examine his actions in an entirely new light.

Ian Shaw is not one of the most well-developed characters on the show and No Strings Attached set out to change that, with his backstory having been too scattered in the past. He had been living as Wesley Pierce in the Alpha world, but after the harsh and unnecessary death of the person closest to him, he's forced back into working as Ian in the Prime world. It's clear that he has no choice and if things go south once again for him, it will lead to the deaths of everyone he cares about. Is the show telegraphing that the future does not bode well for Emily Prime? It put me on edge for the whole episode, which made that final climatic showdown incredibly tense as a result.

Clare is starting to question everything that she knows, in a real change from her personality in Season 1 as the devout believer. It took her reuniting with her childhood fiends and Spencer for her to see that she's no longer as a devout follower of the Cause as her friends are, who believe that it is an honour to meet her. Clare's killing of her other, tossing her aside as though she was nothing so she can embed into Peter's life, is taking its toll, and especially now with her daughter in mind, she may be forced to choose between one Spencer and another. Nazanin Boniadi has been fantastic at giving depth to this character and maximising the script to get the best out of her, and it's totally believable when she decides to join Peter and run away from the whole thing at the end of the episode. It's a tough choice - but then without characters having to make hard choices, this show would be very different.

It was also good to see Naya (who continues to be an excellent addition to Season 2) shutting down the defence of Peter from Clare's father too, especially after his actions in 2.05, it made no sense to even entertain the idea of someone as compromised as Peter being in the same room anymore. Peter has never been one to handle pressure well, but he was actually able to think for himself here and decide to quit, seeking a new life away from the constraints of his old one, and is willing to do it without Clare - but he must have the baby and would much rather she was there with him. They do end up going on the run, with Clare taking Peter back to his world's version of the Indigo school, but what fate lies in store for them is - as ever - unclear. Howard Silk bringing Peter Prime back into the picture after he survives the prison shootout suggests that Peter Alpha is not in the clear just yet. But one thing is clear - Howard Alpha has been shaped from his experiences in Earth Prime and is done being pushed around.

Just like everyone on Counterpart in this episode, Howard's predicament has gone from bad to worse. He's nobody here, not the chosen one, not the person destined to save two worlds. He's a man in the wrong place at the wrong time who just wants to get back to his world and his life. But fate is determined to keep both Howards away from their world for a little longer, and Howard has widened up in the prison, taking a life, he no longer wants to be pushed around. Much of the first half of Season two has been about finding what it would take for Howard Alpha to embrace the tendencies of his Prime version, and now that he's reached that point, he isn't going to be as easy to take down as it first might appear.

And it'll be interesting to see what happens with Mira and Yanek. Mira may want more for the Alpha World than she's letting on, a retribution for what happened to the Prime world. Bringing all of Mira's enemies together could be a game-changing move if pulled off correctly, and everyone is going to watch their backs. Management have little choice but to play right into Mira's hands, but will they have a contingency planned for her? It seems hard to imagine that they wouldn't. It all comes down to who is smarter, and at this point it doesn't look like there are many people capable of stopping Mira and her organization. At this point, Naya seems like the best hope that these characters have, having been in control from the word go.

Emily Alpha begins to learn more about the identity of Shadow knowing that it's someone close to Peter, it has to be, of course, and she's brought in by Naya to help investigate, unknowingly being put in the crosshairs with Howard Prime. She believes that Howard - not knowing that he cannot be trusted - is the only person left who she can trust. Everyone else has abandoned her. It's going to be devastating when she gets to that revelation that's coming. No secret is kept forever on television, and in a show that loves to use them, we know it's only a matter of time. Whoever can unlock Emily Alpha's memory first gets the answers. It's just that she was put on a kill list for a reason, and if she works out what that reason is, then she becomes a target again.

No Strings Attached concluded in an exciting way. The show is as unpredictable as ever, and as we enter the second half of the season, things are only going to escalate. And maybe, just maybe - not everyone is going to make it out alive.