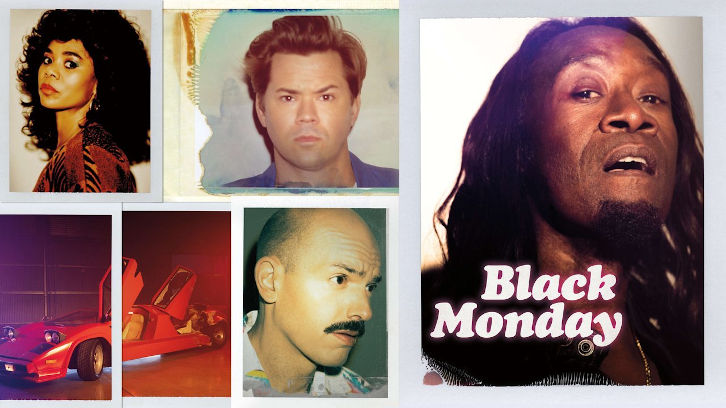 With Tiff and Blair broken up, Blair is letting loose all over the city. Drugs, alcohol, late-night clubbing, you name it. Mo and Dawn are the ringleaders of his excursions, believing that if he is able to get it out of his system he'll eventually start missing Tiff. Remember how important it is for them to have Georgina fashion empire money lining their pockets.


Erin Simkin/SHOWTIME
When the party doesn't appear to be stopping anytime soon, Mo and Dawn change tactics. First they try to entice Blair to pursue Tiff by talking about love and how important it is. Still, Blair is unmoved. Tiff was a nightmare and he's enjoying his freedom. At least he is until Mo slams down a few photos of Tiff smooching a handsome new man. Motivated by jealousy, Blair is ready to get back in the ring.
Now working as a team, the trio decides to try Operation Honeypot. For the honeypot to work, Blair will take Dawn as his date to the Manhattan Pageant. A pageant that is less of a pageant and more of a fundraiser for the Mahajeen soldiers (and in a bit of very dark, off-color, humor, one soldier says they're re-branding. They ask Mo for his opinion on the "Taliban".) Mo has been asked to emcee the event and is able to secure an invitation for the pair. As it is a society event, Tiff is there with Jackson.
Erin Simkin/SHOWTIME
Blair and Dawn hit it off better than anyone might have anticipated and their plan succeeds in making Tiff envious. Except it appears the two may now have real feelings for each other. Although that doesn't stop Tiff from running back into Blair's arms the moment she sees him and Dawn in a lip-lock.
Initially it appeared the romance was one-sided on Dawn's behalf, but it becomes apparent by episode's end that isn't the case. Tiff isn't the only one affected by the honeypot, Mo is too. It reminds him of his prior romance with Dawn and clearly that fire is still burning. He invites her to visit him at Cedar Tavern later that night. If she shows, then maybe there is hope for them, if not, well, he'll live. And Dawn does wind up going there but Mo is a no-show.
Erin Simkin/SHOWTIME
And why is Mo a no-show? He gets tracked down by the Yakuza after not delivering on the money he owes. Or, Wayne doesn't deliver. A series of miscommunication and baton passing puts Wayne with the precious cargo and Wayne foolishly bids all of it on cattle feeder stock. At first it appears the stock is plummeting so Wayne makes amends with his impending death by making a string of vicious phone calls to tell the people in his life how he really feels about them.
The Yakuza are intent on making Mo pay a little interest, in the form of a pinky. And he has to cut it off himself! He is saved only by the sudden outbreak of mad cow disease across the country. Zombie cows means massive beef recall, massive beef recall means farmers have to get new product quickly, which means new cows and lots of cattle feeder! Wayne has somehow pulled off the LaGuardia Spread and gotten back the Yakuza money and then some, getting them all off the hook. Well, sort of, since Mo promises to fuck up Wayne, Keith, and Yassir for putting him in the hands of angry murderers.
So back at the Cedar Tavern, with Mo not there, Dawn gets hammered and Blair shows up with Tiff in tow. But while Tiff is in the restroom, Blair and Dawn share a sudden impulsive kiss. Clearly, the romantic feelings are mutual. Poor Mo, after finally making it to the tavern after narrowly avoiding getting his pinky cut off, he is helpless to do anything about it as he watches forlornly through the window.
Tracking the emerald tie pin
: Tiff gives Mo the tie pin by episode's end.
Erin Simkin/SHOWTIME
Favorite Lines
Dawn
: Ethnic food, it gets old fast. Except falafels, now those fuckers are built to last. Like! True love.
Blair
: I'm sorry is Tiff the limp-dick doctor in this scenario?
Mo
: Word on the street is this guy is hung like a hose.
Dawn
: You mean horse.
Mo
: No I do not.
Dawn
: Enjoy f**king Kyle.
Mo
: Jealous.
Mo
:
[to Kyle]
You can't take that kind of shit to heart Kyle, just let it roll off your back.
Mo
: You just save it for the Yakuza that I'm sending to your house to get their money outta the fillings in your children's goddamn teeth!
Keith
: That's pretty dark. You're Rachel's godfather.
Dawn
: All robocide aside, but we've got bigger issues.
Yassir
: This chick Geena I've been mackin' on beeped me 69-1-1. That's an oral emergency.
Mo
: Jesus Christ kid, did you ask this many questions when you watched
Hogan's Heroes
?
Blair
: Yeah... it's a sitcom that takes place in a Nazi concentration camp.
Mo
: That's fair.
Blair
: Oh god. I haven't acted since college. And the UPenn Gazette called my performance as Otto Frank the worst thing to happen to Anne Frank.
Blair
: Is it just me or was that movie about racism really,
really
racist?
Dawn
: Uh, like every movie.
Tiff
: That bow makes you look skinny.
Dawn
: Oh, thank you. You should get one.
A new episode of Black Monday titled "243" premieres February 24th on Showtime.