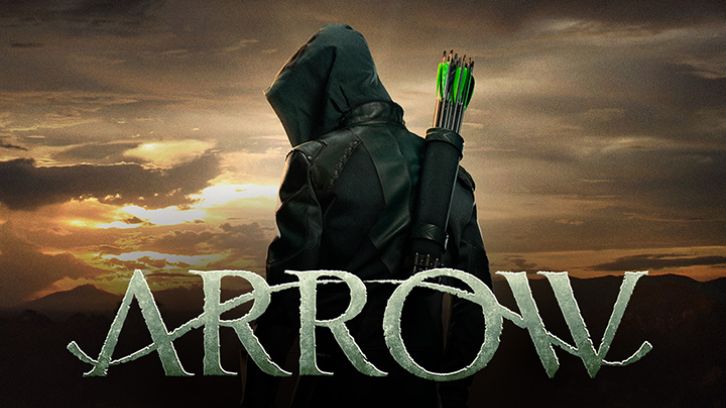 Arrow
"Past Sins" was written by the team of Onalee Hunter Hughes and Tonya Kong and was directed by none other than David Ramsey – our very own Diggle! This was Ramsey's directorial debut and he certainly did a great job. There was nothing flashy or distracting about the cinematography, which for me is a bonus in a new director. The story had good flow, and he did a fine job with the fight scenes – and the reveal of Curtis' (Echo Kellum) clever plan.
I did like how this episode was structured with a bit of book-ending. Oliver (Stephen Amell) and Laurel (Katie Cassidy Rodgers) are guests on Rich Kannon's (Nelson Wong) show at the beginning and then Oliver returns at the end after he's saved Kannon from Sam Hackett (Luke Camilleri). We also see Oliver with Emiko (Sea Shimooka) at the beginning and end of the episode. I still don't find that Shimooka is bringing anything to the show. However, she does at least appreciate the efforts that Oliver is making to be transparent. I did like him promising not to hide and to always be on the side of the law – at least going forward!
I actually liked Curtis growing a backbone and telling off Diggle and Lyla (Audrey Marie Anderson) about bringing back the Suicide Sq…. – Ghost Initiative! Because we all know the CW can't even say it! Argh! Anyway, besides being inhuman, it's just plain stupid. The new team will be Diaz (Kirk Acevedo), China White (Kelly Hu), Carrie Cutter (Amy Gumenick), and Kane Wolfman (Liam Hall).
I did like Curtis' clever fake out of Diaz with a virtual reality program, but it says something about how much faith I've lost in the show that I really thought that Curtis was stupid enough to let Diaz get the drop on him and then go after him with a tiny club – good dead face though! Of course, we also know that Curtis is part of the tattoo group in the future… I do wonder what Curtis meant by not blindly following someone else's orders anymore. Is he done with ARGUS? Definitely Kellum's best performance for a long time – mainly because he wasn't acting like a buffoon.
The Hackett plotline was a bit belabored. Why wouldn't Oliver have at least told him that his father died on the raft – even if not how? Also, did we ever get to the bottom of who leaked the transcripts of Oliver's sessions from the DA's office? I did love the trick net arrow that saved Kannon from plummeting to his death even if there's no way a giant net like that could fit in an arrow…. Just once I want to see Oliver pull out the exactly wrong trick arrow!
The storyline that I really liked in this episode was Felicity (Emily Bett Rickards) and Laurel's budding friendship. The two actors are great together and the scene in which Laurel confesses that she felt responsible for her father's death and Felicity tells her that it wasn't her fault was great. I also liked Cassidy's reaction when Oliver complimented Laurel in the interview. I have to wonder if the Brett Collins (Peter Graham-Gaudreau) threat is really over. I do hope that they aren't angling to have a Dinah (Juliana Harkavy)/Felicity/Laurel storyline, though it seems likely with the episode ending with Dinah also getting a threatening note. Why must the shoehorn Harkavy into every storyline? And is it just me, or is she really just taking over Quentin's role? I really miss Paul Blackthorne. Another really good actor that the show let get away.
All in all, I thought this wasn't a bad episode. The Ghost Initiative storyline felt thin – but no doubt setting up for more with them in the future as neither Lyla nor Diggle is backing away from this morally corrupt idea. I was happy to see very little of Emiko and a lot more of Oliver, Felicity, and Laurel. What did you think of the episode? Let me know your thoughts in the comments below!