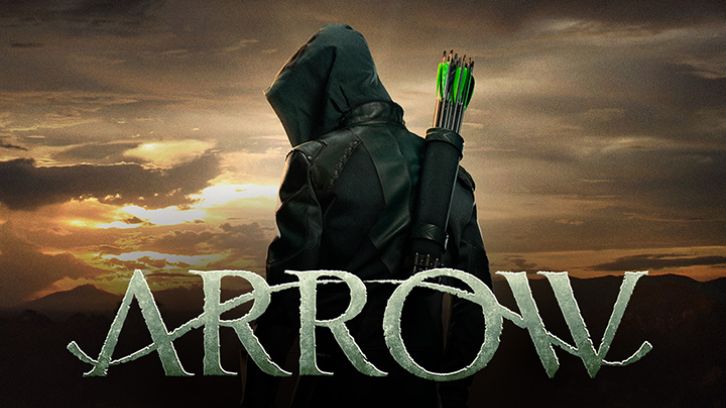 Arrow
hit its 150th episode milestone with "Emerald Archer" written by the team of Marc Guggenheim and Emilio Ortega Aldrich and directed by Glen Winter. The title is a nice play on Green Arrow. The gimmick of the episode is, of course, the documentary that gives us a chance to have a bit of a retrospective while still keeping the story in the present and moving it forward. It was nice to see at least a few old friends drop in for cameos. It was also a nice touch to have the "villain" of the episode circle us back to the beginning of the series.
Starting with Paul Blackthorne as Quentin Lance was truly bittersweet. I loved getting to see him back – but it just made it even harder that Dinah (Juliana Harkavy) has really just taken his place – and she'll never be even remotely the same caliber of actor. I really liked all the hand held camera work, and I loved the animations and opening sequence of the Emerald Archer documentary. It was a fun way to include a bunch of old footage too. Also great having Willa Holland back as Thea and hearing her call Tommy her brother too. Fun to have Caity Lotz back as Sara and paying tribute to her dad. Quite a coup getting Kelsey Grammer to narrate the documentary too. Another nice surprise was seeing Bex Taylor-Klaus as Sin.
William (Jack Moore) seems to show up unexpectedly from school – funny how I was just wondering why the poor kid was still in limbo. Not only has he grown out of Oliver (Stephen Amell) calling him kiddo, he's also grown into a total dick. He's sulky teen – and I'm done with him already.
Back to the documentary – I loved Felicity (Emily Bett Rickards) objecting to the term "vigilante" and suggesting that everyone just call them heroes. Even better is the interview with Diggle (David Ramsey) from 2012 in which he denies Oliver having anything to do with Adam Hunt – and then in the present we end up at Adam Hunt's building.
I did not like Oliver talking about not being leader material. Oliver and the SCPD go after a vigilante and find Rene (Rick Gonzalez) shot and Emiko (Sea Shimooka) taken. I loved Oliver objecting to Rene calling her NGA. Rene definitely wasn't wrong to call Dinah on not giving badges to anyone else – and of course they all get them by the end of the episode. The Mayor (Laara Sadiq) is not happy about the turn of events and calls a townhall about vigilantes, initially to try to get Oliver to quit.
William has a tantrum about the virus on his tablet – and is unforgivably rude to Felicity. Emily Bett Rickards is excellent in both her scenes with William.
Oliver goes to Diggle for help in finding Emiko – and one of my other favorite things about this episode was the scenes between these two – which are a real rarity these days. Diggle is initially pissed that Oliver didn't tell him about Emiko, but Oliver points out that he wasn't keeping it from him – they just don't see each other as much these days. Diggle is about to come clean about Diaz (Kirk Acevedo) when they are interrupted by Curtis (Echo Kellum).
Oliver and Diggle use the Black Watch Satellites to locate Emiko and find a typical villain lair – and the villain has been collecting hero masks. They find Rory's (Joe Dinicol), Rene's, Helena's and Emiko's. The two figure the guy is hunting vigilantes – but they never find out if Rory and Helena are safe – plot hole?
Laurel (Katie Cassidy Rodgers) gives a very negative interview on vigilantes – who hide behind masks because they know what they do is wrong. It was nice to get even a tiny scene with Joe Dinicol – and maybe we can infer that the vigilante hunter – who Curtis calls Chimera – took his mask because he wasn't using it anymore anyway? It's always great to see Grant Guston as Barry. Poor Barry had to try to keep his own identity secret too!
Oliver recognizes the address as Adam Hunt's building immediately. The documentary sequence of Oliver chasing and fighting Chimera felt completely like the Supernatural episode "Ghostfacers." The do find Emiko, who is injured, but doesn't stay in hospital long.
William drops in to see Zoe (Eliza Faria), and I loved Rene getting all "Dad" – when he finds out that the two have been texting. He tells them they can have the living room – he'll be in the next room… cleaning his gun! Zoe recognizes that something is bothering William, but he won't tell her what it really is.
Rene checks up on Emiko when she leaves the hospital, and she tells him that she's Oliver's half sister. She also pretty much admits that she likes partnering up with him – and she didn't want to put that in danger by telling him about Oliver. Meanwhile, Oliver also tells Dinah the truth about Emiko.
Diggle has a plan to catch Chimera by having Team Arrow back Oliver up at the townhall. Oliver maintains Team Arrow doesn't exist anymore and even if it did he wouldn't risk all of them going to prison for them. And finally, we get a classic Diggle scene! He tells Oliver that they still follow him and that as they get older, they get better – and wiser. He manages to convince Oliver.
Felicity is hilariously happy to be back as Overwatch – working from ARGUS and tapping into the wifi of the documentary crew! We get some fun fight scenes and pyrotechnics. The team comes to Oliver's aid when it looks like Chimera has him, and Dinah saves the mayor with her canary scream. Pollard shows up right after they take down Chimera and takes everyone into custody.
Nick (Evan Roderick) tells Laurel and Oliver that Chimera has been obsessed with vigilantes since the Hood saved his life seven years ago – he just wanted the masks because he's a fan! Laurel tells Curtis, Diggle and Rene that she can decline to press charges – but she doesn't have a lot of good options. None of them regret it – it felt good to be part of a team again.
Felicity calls William on lying to her. In fact, she finds out he didn't take his midterms – and he finally confesses that he got expelled. And what school wouldn't contact the parents when the child is expelled? Especially a boarding school!
Dinah tries to resign and Oliver says the Mayor will have to put him back in jail too. The Mayor doesn't change her mind – but she does cave enough to let Dinah deputize the others.
Oliver takes the documentary team back to the ruined Lair. He tells them that they are going to rebuild and make it better. And it's this footage that acts as a transition to the future where Maya (Katherine McNamara) is watching it. She calls it pro-vigilante garbage but says it will be useful. She's figured out where the lair is and takes Connor Hawke (Joseph David-Jones) – yet another Green Arrow – with her. Maya tells us that vigilantes were the death of Star City and got exactly what they deserved. This last scene felt desperately tacked on to the rest of the episode – likely written by Schwartz to try to give more relevance to the floundering future storyline. Unfortunately, this little taste of the past seasons of
Arrow
really just helped to underscore what's lacking in it currently.
I wish the episode had ended on a better note. Yes, Team Arrow may have been at least somewhat saved and we may finally be getting back to the lair but it's taken too long to get here. Harkavy will never take Blackthorne's place. And neither Shimooka nor McNamara will take Willa Holland or Caity Lotz's. As a 150th episode, there was a lot to love in this episode, but even though we also learned that the show's been renewed for an 8th season, I'm not sure that I'm going to be sticking around to see it. What did you think of the episode? Are you happy about season 8? Would you like to see a return to previous seasons or a continuation to this incredibly bleak future where Oliver and Felicity are clearly dead? Let me know your thoughts in the comments below!