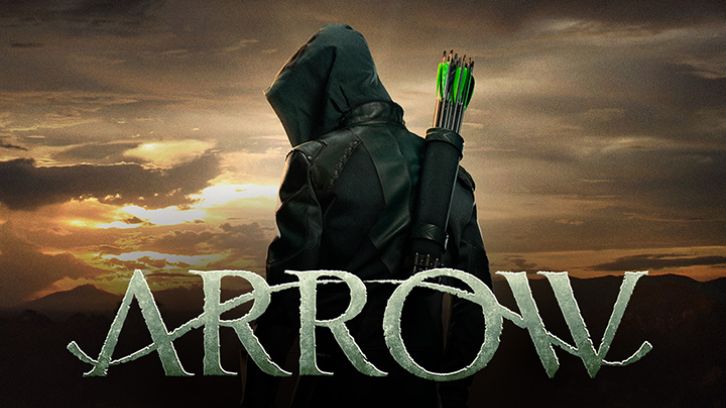 Arrow
"Emerald Archer" was written by the team of Marc Guggenheim and Emilio Ortega Aldrich and was directed by Glen Winter. It is the 150th episode of the series, so of course, they've done something a little special with the episode. There are some great guest stars – but of course, I can't tell you who! There's also a great reveal at the end of the episode… but I can't tell you about them either!
The episode is shot like a documentary. There's some great use of graphics and different cameral techniques. Look for lots of flashback footage and interviews. Lots of hand held camera work to lend authenticity.
There is still a bit of story going forward too as William (Jack Moore) finally makes it home from school. Rene (Rick Gozalez) runs into a little trouble. Emily Bett Rickards has two great scenes with William – who has a surprise for her. Oliver goes to Diggle (David Ramsey) for help – and it's always great when they have a chance to work together. There's actually a terrific scene with Diggle dispensing some Diggle-wisdom!
Look for a circle back to the very beginning of the series. Rene gets to play Dad. As always, there are some great fight and action sequences. There is a villain of the week…
Don't forget to tune in Monday night at 8 on the CW!
And just a few dialogue teases….
You really shouldn't be in here with us.
Sorry guys. Private party.
Take them into custody.
You promised me full access!
It takes everything from them.
They're not heroes; they're criminals.
Consider this your chance to prove me right.
I enjoyed that.
Obviously, this particular comment didn't age too well.
No one should have to lose their family or anyone they love.
There's worse things out there than anarchy.
Turn that off.
You shouldn't have sent me away.
If the police can't protect the people, then the people need to learn to protect themselves.