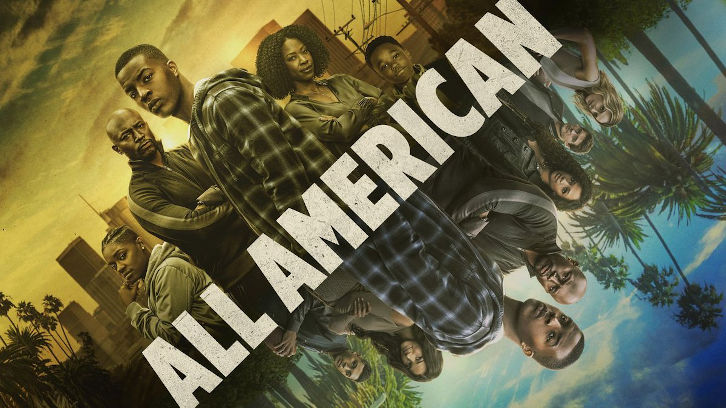 An all new episode of All American airs tonight, and we need to discuss the last two episodes. I enjoyed both "All Eyez on Me" and "Back in the Day" but they were very different. One revolved around football, and the other focused on relationships.

All Eyez on Me

This episode of All American focused on football, and I have to say it was nice to get away from the gang story lines we've had the last few weeks. In "All Eyez on Me" the players from Beverly Hills and Crenshaw compete at a combine and the goal is to make the showcase on the last day. Coaches and recruiters from Angela Southern are at the combine, and Spencer decides he needs to get a scholarship at the end of the day to help his mom.

Spencer tells Coach Baker about the envelope filled with cash, and Coach says he'll handle it. Unfortunately it doesn't go well, and not only does Coach Baker lose his job offer at Angela Southern, Spencer gets benched from the showcase.
While Spencer impressed everyone at the combine, Jordan struggled. He does get an invite to the showcase, but Chris basically says that he only got invited because he's the coach's son. I understand that Chris was upset, and while I don't think it was quite fair to blame Jordan for not getting an invite (he can't help that his dad is the coach), Chris's words really upset him. He's also told by the Angela Southern coach that he hesitates under pressure and needs to figure out what's holding him back.
The showcase begins, and Jordan continues to struggle. He's convinced he only got the spot because he's the coach's son, but Spencer tells him to go take his opportunity. Coach Baker then decides that Spencer's going to play. He tells the Angela Southern coach that if he he has a problem with it then he'll go to the NCAA.
Spencer goes into the game, and Jordan throws to him. Spencer catches it! A video of the catch gets posted to a recruiting site, and ends up having thousands of views. And while the catch was great and Jordan was excited about it, Grandpa Willy tells him it wasn't a great throw. Jordan reluctantly agrees, and asks his Grandpa for help to get better at football.
After the showcase, Grace informs her kids she's decided to go back to school. I'm really glad that she's doing this. She is trying to better herself and her family, and both Dillon and Spencer are so willing to help. They are a great family.
Other Thoughts:
- I'm really liking Olivia and Chris together. I'm glad they had an honest conversation, and she apologized for not seeing how upset he was. I'm also glad that he understood why she's helping Asher.
- While I'm glad Asher is getting his life back on track, I don't see his currently living situation working out. Spencer said he trusts Layla, but I definitely think he's going to have some issues.
As I mentioned at the beginning, it was refreshing to have an episode about football (since that is the main focus of the show), and I think we all needed a week off from the violence.
Back in the Day
This episode revolved around Olivia and her struggle with addiction. The episode has numerous flashbacks that help us learn about Olivia's past as well as Spencer's.
Olivia tries to talk to parents, but they're busy. She finally confides to Layla about finding the pills. Everyday she makes an active choice to stay sober, but today she's struggling. I loved that Layla was there for her friend, and she encourages Olivia to talk to her parents.
While Layla's friendship with Olivia seems to be better than ever, her relationship with Spencer starts to deteriorate. Layla breaks their date to spend time with Olivia, and Spencer thinks she is spending time with Asher. He has a heart-to-heart with him mom, and she tells him that he's responsible for his actions and what happens next. He thinks his whole life is a fight thanks to his dad, and this time we see a flashback to when Grace called Billy asking him for help. She asks Billy to offer Spencer a spot on his team so he could be at a place that didn't remind him of his father.
Luckily Jordan isn't mad, and actually apologizes to her for not ratting her out. He knew she was using drugs and didn't say anything. He then congratulates her on making on year sober and they hug. I loved this moment between these two. I love brother and sister relationships and while Jordan and Olivia have struggled, it's clear they truly care about each other and are working to become close again.
Jordan goes to a meeting where Olivia gets her pin for being one year sober. During the meeting we see where Jordan found Olivia after the party at their parents. It was a very powerful scene, and it was heartbreaking watching her try to revive her. I'm glad we learned what happened, and this helps us see how Olivia's addiction affected not only her but Jordan, too.
I'm so glad Olivia's parents showed up to support her at the ceremony. This family has been through so much, but they're willing to learn from their mistakes and become a stronger family. I loved the family hug at the end.
Layla and Spencer mend their relationship, too, after an honest talk about their feelings. She says that he's an easy person to love, and he loves her, too. I'm still not a big fan of this couple, but it's good that Spencer is trying to work through his trust issues.
Other Thoughts:
- I'm really looking forward to Spencer and Asher working together to create new plays for the team. Hopefully, this will help the team forgive Asher for his mistakes. I really want to like Asher because I don't think he's a bad guy, but trust is earned and he's going to have to work hard to earn that trust back from his team.
I loved "Back in the Day" because it featured Olivia and both her and Jordan had some major character development. I hope the show continues the excellent story lines for these two. I'm also wondering what will happen now that Jordan knows his dad rigged his drug test.
What did you think about these two episodes? Are you excited about where this show is headed? What would you like to see happen during the remainder of this season? Discuss below in the comments section.