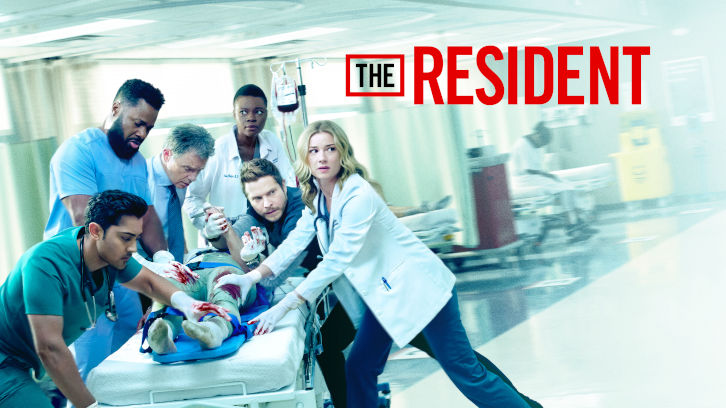 "Operator Error" was once again a strong episode for the medical drama. The show continues to deliver strong storylines and develop characters we want to root for. It plays well on the relationships that unify the group of medical professionals, even in times of great loss for one of their own.

This new year is not beginning well for Devon: a failed (failed to begin) marriage, a missing crush and now a dead best friend. This week's episode was especially hard on him. So hard, it made me forget that I loathed him for what happened between him and Julian, so that's great. Bradley is transported by ambulance to Chastain, with Bell, after suffering from heart failure during a presentation for Quovadis. Once at the hospital, Devon was the one to take the lead on his Bradley's care in the emergency room. He is not giving up on him. Bradley has been down for more than 30minutes, but his friends still humour him, even Bell, to some extent, which I found admirable. It was a great scene for the ensemble. Nic pushes some epi, Mina checks for pulse and Conrad gives Bradley a heart echo. Finally, seeing no cardiac activity, Devon must come to terms that his friend is gone, and that there is nothing he can do to save him.


It was great to see the comradery between Conrad and Devon in "Operator Error." He was doing what was in his power to support Devon. Just like Devon had done for him in "After The Fall," Conrad hands him over a patient, hoping it will take his mind off of Bradley's death. I loved how their relationship was portrayed in this episode. He wants to help him through his grief. Devon treats a woman with a history of abdominal pain. He is mostly going solo on the case, but Conrad is there for him, and periodically checks up on him, showing his support. I adored how they simply showed Conrad and Devon walking down the hall together. He's there for him, you can feel it in that moment.
Valve failure is the first thing that pops into Conrad's mind after Bradley's death. It's also what pops up on the autopsy report. With that information, Bell is stuck between the hospital board and Quovadis. While operator error could be possible in a case like that, it's very unlikely. Gordon is all kinds of shady. Still, Austin is to take the fall for Bradley's death, and he is not taking it very well. At first, he react quite violently to the accusation. In my mind, there is no doubt that the valve failed. Of course the valve failed, but slowly, Austin begins to doubt himself. From Julian's notes, it is brought to his attention that he had at first manipulated the valve upside down. He would not listen to the medical device rep. He was cocky, overconfident.
Side note: I know that Devon has other things to worry about than Julian, but he gave up on her pretty quickly.
"You are great, but you're not invincible. No one is. Your God complex has always been your Achilles' heel."
Austin goes to his mentor, who only makes him doubt himself even more. He is told to own up to his mistakes. But, as he usually does, The Raptor takes it to the extreme. He benches himself until further notice; he will not put another life at risk until he learns humility. Mina tries, in vain, to get him back in the OR, but he is stubborn. She believes in him. I love how protective she is of the people she cares about; she really is a great character. Throughout the episode, Mina is on Austin's side. She even rips a new one to Bell who should have taken his surgeon's side in this ordeal. She is on a mission to find out what Bell is hiding. I have no doubt she will follow through on that treat.
Also in this episode, Zoe and Henry meet up with Conrad at the hospital. After Bradley's death, Conrad wanted to see Henry. He admitted that to Nic at the end of the episode, and when I heard that, alarm bells went off in my mind. This was not good for their relationship that in a time of crisis he wanted to see Zoe and Henry. But, after thinking it through, I now believe it has more to do with the Quovadis medical device implanted in the boy's head, than the need to be comforted by them.
Whew.
When Conrad and Zoe witness the boy doing involuntary head motions, they take him up to neurology to see if there is anything more. Thankfully, they are not seizures, only tics, common in kids his age. A little later, when Henry went to go show his trophy to Nic, it makes for quite an awkward scene. After working together on the case of grandfather and her shy granddaughter, Alec had asked Nic out to dinner moments before, unaware that she was with Conrad. He excuses himself shortly after.
"To Bradley." –Everyone
Nic and Conrad meet up with Mina and Devon at Mina's apartment. It's important to not be alone in a time of grief. I thought it was a great way to
(almost)
finish off the episode. The music was on point for the emotion it was trying to portray. Once again, "The Resident" gives us a stunning episode. For what it's worth,
(which is nothing)
I give out an
8.5/10.