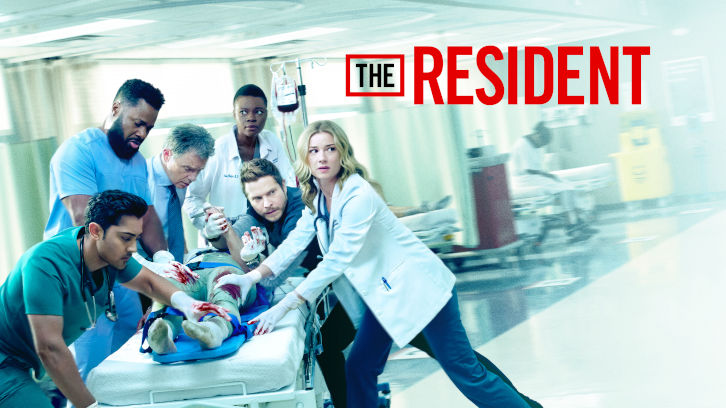 In this week's episode of "The Resident," the fates of several characters were drawn, some characters who's life held by a thread at the end of the last episode. I found "After the Fall" great. It was intense without being too heavy. It was heartfelt without being too sappy. The show has really been able to balance its large cast with interesting storylines all around. There were enough subplots, but not too much that it would seem like everything was stretched thin.

By the end of the fall finale, Marshall was in a critical state, in the operating room, where Bell was in charge. Things were not looking great for him, and he was living through the one thing he had asked his son not to happen. He wanted no Bell. Upon hearing of the news, still all dressed up, Mina, Nic and Conrad all rush to the OR. Mina hurries to scrub in, to help Bell. She's not one to show it, but it's in actions like this that you can really feel they are a tight knit group. I loved how intensely she was scrubbing, how quickly she got to the OR. It was a great testament to their friendship.

All feared for the worst, as did we. It was a long and difficult surgery, and Bell does not have the cleanest track record. In the end, Marshall pulled through. While it was touch and go for a while, forcing Conrad to deal with the feelings he has for his father, Marshall woke up. Conrad is starting to get closer to his father emotionally, and he is not ready to let him go. They did not have time to sort through their issues and they both want things to be better between them. It was a touching moment.


"I spent half my life without a father."- Conrad
We also got to witness some character growth within Mina in this episode when it came to Devon, who is wifeless, and homeless. She has been adamant all season that she does not support his actions, she was the one to call him out, the one who rolled her eyes when she saw him and Julian together. She had no pity for him, he made his own bed. She basically mirrored the feelings the audience had towards this storyline. She thought better of him. But, he doesn't have a bed anymore, he is sleeping at the hospital. She decides to help him out. If Mina get past it, I guess the audience can too.
Devon is going full psycho on Julian, who is not answering his calls. He does not know why that is, yet. They spend a large portion of the episode showing Quovadis covering their tracks, but is she really dead though? Without a body it's still fair game to say that she's still alive, and maybe in hiding. It's Tv law, right? One thing we know for sure is that Gordan Page is really a bad apple. It was an awesomely evil thing to do than to stick the police on Devon, but how is Gordon going to explain to the cops that he is in possession of her phone? This seems like an incredibly stupid move.
Speaking of bad people, Bell posts Lane's bail and gets her out of prison. This is not making the patients she's harmed happy, and Bell neither. Lane is holding him by the balls and she isn't letting go until she's gotten everything she can out of him. She's a great villain. While Bell is jumping at the idea of helping her, it has more to do with how it will reflect on him than on the fact that it's plain wrong.
"You're done when I say you're done." –Lane
She had her lawyer dig up information on him, and found out about his past with the law. His arrest was bound to come bite him in the ass sooner or later, and Lane was the one to bring it up. Even with this against him, there are some things that even Bell won't do. I've said it, I'll say it again, I really enjoy his character, not because I don't think he's bad, but because he's unpredictable, and that's great in a television show. He's also one of the luckiest people at Chastain. Talk about timing here, he was moments away from ending his career.
The ending took me by surprise, but she absolutely had it coming for her. At her release from prison, there was a protest where we get to see more of the patients she unnecessarily treated. It was interesting to see other people who's lives were ruined because of Lane. We knew of Lily, but that was pretty much the extent of it. Seeing all these people really put the idea of grandeur to Lane's actions. It really puts in perspective the monster she is.
One woman ends up in the ER at Chastain, after a fall at the protest. Her bones and heart were weakened by the extensive chemotherapy she endured. Lane gave Natalie chemotherapy and she did not even have cancer. This woman deserved a win, and Mina, working with both her mentors on this case, managed to give her her life back.
Nic was the one to bring Lane down, the one that made Lane's arrest possible. I feel like it's always something the show overlooks, but I do remember Nic. During the episode, Nic is running her own operation. She is trying to find her unicorn, a doctor to work in the free clinic. At first, the doctor she sets their eyes on he gives her a hard no, but she decides to spend the day with him in the hopes of swaying him which, in the end he does. I like the new doctor, and his energy, but I really hope the show surprises me and doesn't take it where I think they will be taking it with his and Nic's relationship. Men and women can, in fact, be just friends.
I really loved the episode. The ending was incredible, it totally caught me by surprise, and the shot of Lane lying there, dying, seemed poetic and graceful. She deserved to die. I give it a solid 9/10.