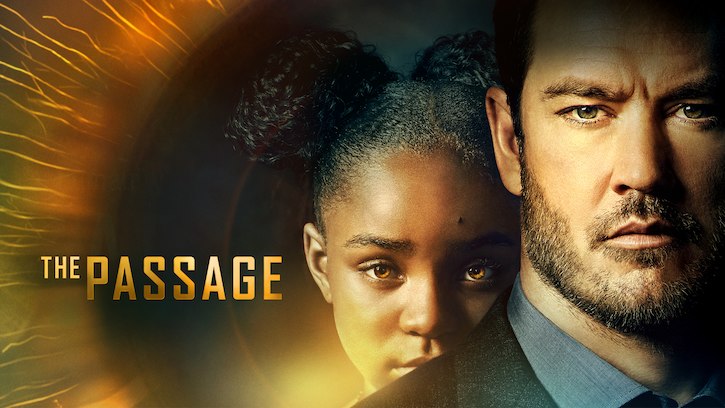 The second episode of The Passage,'You Owe Me a Unicorn,' takes a line from arguably the best scene of the episode when Amy scorns Brad for almost dying and thus breaking a promise that he would never leave her. That scene drove home what has really defined this young series so far - the unbreakable bond between Brad Wolgast and Amy Bellafonte.

Saniyya Sidney continued to shine in this episode. Her growing love for Brad can truly be felt and her feistiness and strength is both humorous, to see in such a young girl, but also very spiriting.


With regards to Wolgast, we still don't know exactly what happened to his daughter and I don't think we really need to. What we do know is that he blames himself for her death and Amy is a second chance to redeem himself. He can't let her go like he did his daughter, and this makes for a very empathetic character that Gosselaar portrays wonderfully.
Emmanuel Chriqui as Wolgast's ex-wife Lila Kyle still is without much of a purpose. The show would not miss a beat if she did not exist, but nevertheless, she's at least a very likeable character - an intelligent and resourceful woman and someone who seems to be very forgiving and supportive of Brad. In ways she is his rock, giving him the strength to go on and assuring him this is the right path he's on.
Outside our main leads,'Unicorn' also gave some much needed time exploring Henry Ian Cusick's Dr Jonas Lear, whose motivation in looking for this ageless 'vampire,' we find out was out of finding a cure for his wife's early-onset Alzheimers.
In the flashback, when Lear delivers the news to Tim Fanning, the future patient zero seemed to be quite distraught at the news with tears coming to his eyes, hinting at possibly some kind of affection for his friend's wife. This would, in fact, become a subplot in the books, one I hope we do not see or at least spend too much time on in the flashbacks as it would just kill the momentum this show has been on.
Regardless, I like how they are portraying Lear. I don't think he was given a lot of time in the books, but in this episode, we see that he has quite the conscious. This work using humans as lab rats is something he does not entirely support, but his love for his wife, who we see is in a home, keeps him on this pathway in his attempt to find a cure for Alzheimer's. In the book, Lear's wife dies from cancer, which would not have worked for the TV series, as that would've killed any motivation he'd have in continuing his work.
It looks like next week all these characters will intersect at Project Noah, which is exciting. This show does not waste time to get things going, while still finding time to flesh out its characters. The horror elements have been amped up too - Shauna Babcock and Tim Fanning are menacing villains as we see when Babcock feeds on the asshole maintenance worker in a very gratifying scene, and then as she and Fanning showing up in Carter's dreams.
The Passage
is thoroughly engrossing two episodes in and things are only just getting started.
8/10
What did you think of 'You Owe Me a Unicorn'? Leave your thoughts in the comments below!