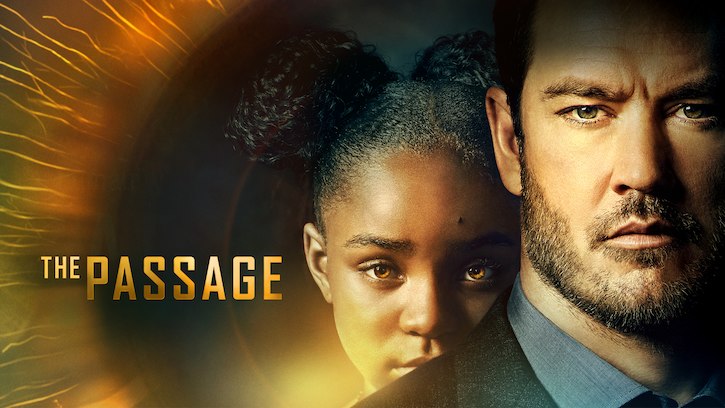 You know you have a special show on hand when the two leads can develop an undeniable chemistry within their first couple of interactions.

The Passage is loosely based off the 2010 Justin Cronin post-apocalyptic novel of the same name, taking a more linear approach than the book, and changing up the characters quite a bit. I hope readers aren't too perturbed by the changes because I think the more straightforward approach that showrunner Liz Heldens took with this Fox pilot works perfectly for the small screen.

The episode does not get bogged down in the clunkiness of setting up a story and its characters, as many pilots are guilty of, and it gets going from the start and does not let up, in what was a riveting, yet heartfelt hour of television.


Both of the protagonists are played superbly by Mark Paul Gosselar as Brad Wolgast, and Saniyya Sidney as Amy Bellafonte. The young actress especially has a bright future ahead of her as she essentially carried this episode starting and ending with a narrative that brought us into her world. Sidney's portrayal of this tough child with a hidden vulnerability was wonderful to watch. Her performance was at times amusing and adorable, and in other moments profoundly heartbreaking, especially when she opened up about her mom in that moving scene by the river. Child actors are always a bit of a gamble, but the casting crew really hit the jackpot with Saniyya Sidney.
This is not to take away from Gosselar who really made viewers feel Wolgast's fatherly love for Amy. From the first interaction when he smiled admirably at the fiercely independent Amy trying to escape to their time at the carnival, we see his care for her progressively grow. I love the scene when he cheered, like any proud dad would, at her amazing marksmen skills, that is when things really began to turn. The episode showed us a man traumatized by a past not yet dug into, and feeling guilt by the loss of a daughter, only to find a new chance in life through Amy.
The story is also setup quickly, no time is wasted, while the tired vampire mythos is made fresh with its more medical and scientific perspective, while still maintaining the creepiness and otherworldy-ness of the ancient creatures.
We get the sense right away that these vamps will not be held captive by the scientists for too long, as we see them infiltrating the dreams of workers nearby. This sets up a dread and a suspense that kept things very engaging and tense.
Other side characters did not have as much to work with in the pilot, but there was some solid foundation laid.
The opening narrative by Amy reveals that one of the lead scientists of project NOAH, Dr. Jonas Lear (Henry Ian Cusick), is lifelong friends with Dr. Tim Fanning (Jamie McShane), patient zero and the first turned vampire after their encounter with the original creature in Bolivia. I'm sure there will be a lot more conflict between the old friends in future episodes.
Emmanuelle Chriqui did not have much screen time as the ex-wife of Wolgast, though the episode did a good job introducing her as a headstrong, reasonable, and quick on her feet scientist. Another interesting addition was Brianne Howey as Shauna Babcock, the sexy vampire of the series and the one that was most human of all the vampires. The scene that saw her staring a hole through Richards and then drinking the blood was creepy as hell, heightened later on when she showed up in his nightmare.
Less interesting of all the characters so far was Dr. Sykes (Caroline Chekezie) who we see has a bit of consciousness in abducting a little girl to experiment on, and her lover, another head of project NOAH, Dr. Clark Richards (Vincent Piazza), who was more willing to cast aside emotions and do what it takes to get the mission done.
Evidently, there are a lot of characters to know and a lot of story to be told, but the pilot did a great job laying the foundation and setting the tone of the series, without ever slowing down, all while making us care deeply about our two main protagonists, portrayed fantastically by Gosselar and Sidney. An excellent start to
The Passage
adaptation.
9/10
What did you guys think? Leave your comments and vote in the poll below!