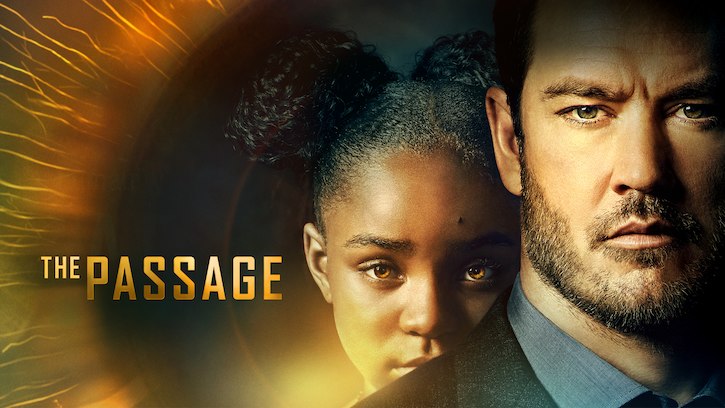 FOX is attempting its own shot at the vampire genre tied up with the elements of a medical thriller in its new series The Passage. From the first episode alone, I'm impressed.

For starters, the pilot episode does not feel like a pilot episode at all. Gone is the clunkiness and awkward adjustment period that often plague the beginning of new dramas, and in its place is an emotional yet riveting hour of television that truly feels like the opening chapter of a long, exhilarating, journey ahead.

The heart of the show is the touching relationship between Brad Wolgast and Amy Bellafonte. Brad is instructed to pick up Amy after she is selected as the next text subject for a new drug trial being run by the clandestine Project NOAH. Their goal is to create a vaccine to fight against an impending flu epidemic and they need a child to begin fielding the next dosage.


Pictured (l-r): Saniyya Sidney as Amy Bellafonte and Mark-Paul Gosselaar as Brad Wolgast -- Credit: Steve Dietl/FOX
But after Brad meets Amy, his original goal becomes an increasingly distant thought and a new one takes its place.
Mark-Paul Gosselaar and Saniyya Sidney, who star as Brad and Amy respectively, are fantastic, especially young Saniyya Sidney who has previously been seen on FX's
American Horror Story
.
I always enjoyed seeing Emmanuelle Chriqui back on my television as Brad's ex-wife Lila, she doesn't have much to do in the first episode but I imagine she will have a bigger role to play as the season progresses.
There have been countless vampire-based television shows in the past but
The Passage
attempts to add some originality back into the realm of supernatural lore and horror. For starters, the creation of these vampires is medically-induced, although there does seem to be some otherworldly phenomenon occurring as well.
Pictured: Jamie McShane as Dr. Tim Fanning -- Credit: FOX
I'm fascinated by the science and medical aspect of this story and it makes me hungry to see how the mythos of this show develops.
The Passage
is based on the best-selling Passage Trilogy written by Justin Cronin.
The cast includes: Mark-Paul Gosselaar as Brad Wolgast, Saniyya Sidney as Amy Bellafonte, Jamie McShane as Tim Fanning, Caroline Chikezie as Major Nichole Sykes, Emmanuelle Chriqui as Dr. Lila Kyle, Brianne Howey as Shauna Babcock, McKinley Belcher III as Anthony Carter, Henry Ian Cusick as Dr. Jonas Lear and Vincent Piazza as Clark Richards.
Guest starring this episode is Jason Fuchs as Lawrence Grey and Zach Appelman as Agent Phil Doyle.
DIALOGUE TEASES
"This is how the world ends."

"He wants to go home. Says he wants to take me with him."

"You and me were made for each other. But you shouldn't have lied to me."

"It was a terrible thing that happened, but it wasn't your fault."

"Whatever was coming, we would face it together."
MUSICAL TEASE:
Astral Plane by Valerie June
The hunt for the most important girl in the world begins on an all-new series premiere of The Passage, Monday, January 14th on FOX.