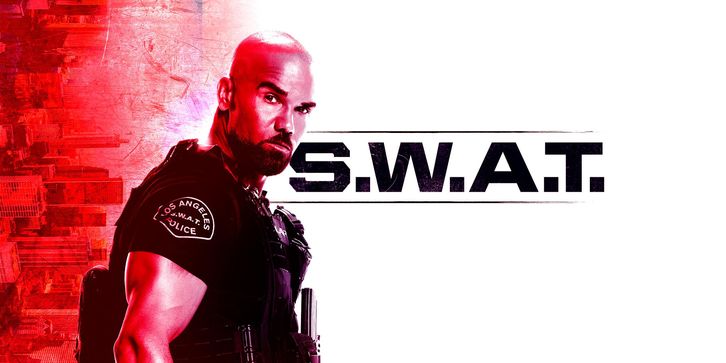 This week's S.W.A.T is one of the more powerful hours of television the show has delivered. While S.W.A.T is always topical, this particular episode touched on a subject debated on a lot, but with little resolution. Instead of romanticizing school shootings, instead of focusing on the shooter, or writing the episode for shock or entertainment value, S.W.A.T went deeper and delivered an episode striving to help put an end to school violence.

'School' opens in January 2013. It's the start of another school day at River Hill. Two students, Lila and Kensi, are conversing about their futures as they walk the halls, we get glimpses of more intimate relationships as the girls tease a couple of teachers, and all these little, normal, daily interactions create emotional connections between the viewers and these people starting what should be another ordinary day.
This day, however, will be devastating and deadly.

Gunshots punctuate their conversation, and the mood switches from carefree to terrified as the kids in the classroom find cover where they can.


The scene shifts, to SWAT, but it's not the SWAT we know today. This is a younger version of the team under Buck's command and missing a few familiar faces (Street, Chris, Tan). The team are discussing Annie's due date and teasing Deacon about raising a daughter when the call about the school shooting comes through. The team sobers, and as Luca drives them to the scene all they can do is listen as shots ring out through the live 911 call that has been patched through to them.
At the school, we fast forward a little in time, to find out that one shooter was taken alive and one was not. It's up to Hicks to inform a mother, Ainsley, that her son was one of the shooters – and he didn't survive.
We jump to present day, and Ainsley is in the middle of a TV interview, speaking about how she didn't see the warning signs. She is there to remind every parent, every caregiver, to not be afraid to dig deeper into their children's lives, and maybe stop these events before they are allowed to occur. It's also a reminder of what is left behind long after a shooting takes place.
How can we stop school shootings? One hope for less of these attacks starts in the home. There is a repeated answer from those who have committed such crimes, that if their behavior had been noticed, if it had been reported, or if someone had only listened, they might not have done it.
At home, Ainsley opens mail containing threats of a copycat shooting and she quickly takes it to SWAT. With memories of River Hill replaying in their minds, the team disperses with determination to avoid a repeat. Doctor Wendy Hughes returns, and she works with the team to confirm that this is a credible threat.
It would have been easy for SWAT to ignore the surviving shooter from the 2013 attack, but in utilizing this character they allow for moments of reflection and regret. It's clear that this episode of SWAT isn't just seeking to show us the horrors of school shootings but is actively working to try and stop these events occurring. The 2013 shooter isn't there for us to feel sorry for him or to understand why he did it. Instead, he is speaking to those who need to hear his words, who need a reason not to follow through in such an attack.
"In that moment they realized that everything they thought couldn't be fixed in their life was fixable – except for having just jumped. Some things you can't ever take back."
Both the present day and the 2013 school scenes are devoid of music. Without Robert Duncan's score, the sounds of the chaos become palpable. Screaming. Yelling. Sirens. Gun shots. Helicopters. A missed call from a worried mother. The realism of the sounds without the score forces the viewers to connect even deeper emotionally.
There's nothing about this episode that's easy to watch, but one of the more heart-breaking moments, when Luca and Deacon find a male student downed by a gunshot wound, hits home how these events affect every one involved. Every person who survives lives with this day the rest of their lives, whether they are a teacher, a student, or one of the officers who answered the call.
'School'
takes great care not to reveal the present-day shooter's face. We see him from the shoulders down, from behind, or blurred as he turns a corner. His face is not a focus. He is not a focus. It's something the media could learn from when reporting on these attacks. The victims, the officers, the innocents, they are the ones we should focus on. I have chosen not to name the shooters in this review for the same reason.
After the present-day shooter kills his own mother, his sister gives the team background on her brother and they soon realize they've been guarding the wrong school.
Before joining SWAT, Chris worked with the K-9 Unit. In 2013 we see Chris working with a dog, and it's Champ, who is mentioned in the pilot as having been recently retired. She arrives at the school and works with SWAT. This is Chris' first introduction to Hicks, and she makes a good impression. Flash forward to the present, and we see how respected Chris is by her peers and it's another moving moment in an emotional episode.
In the present, SWAT works together to restrain the shooter, and, with the students all safe in the gym, this time not a single life is lost.
At home that night, Deacon tells his daughter, Lila, a bedtime story about how she got her name, ensuring any dry eyes don't stay that way a second longer. The teenage Lila, the student we met at the beginning of the episode in 2013, did not survive the attack.
Episodes like this one are why I watch TV. I don't necessarily watch to be entertained. I don't like to shut my brain off and watch just any old show. I watch TV to be moved, to think, to be inspired to help make change happen, and to learn.
And the PSA at the end of this episode is something that every parent should show their child, and that everybody should absorb and consider:
"Every child has the right to feel safe. It's up to all of us to help end school violence.
In eighty percent of school shootings at least one other person knew about the attacker's plan in advance.
And ninety-three percent of the time, school shooters will engage in troubling behavior long before they attack.
If you're a parent, stay involved in your children's lives. Seek early help from school administrators, or, if necessary, from local law enforcement.
If you're a student, show your classmates kindness wherever you can. Often times the kids least likely to ask for help are the ones who need it the most.
Don't be afraid to go to an adult if you suspect something. You can be the generation that ends school violence."