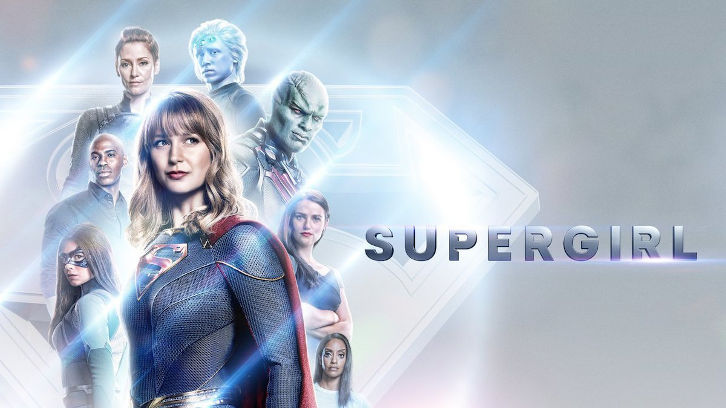 Supergirl 410 and 411


Suspicious Minds


We are back and a little later than intended with my review for last week's episode that had fans reaching for tissues by the end. As always, the true heart of this show is the relationship between the Danvers sisters and it's threatened in a way none of us could have foreseen by the actions of Colonel Haley.

Supergirl after her dismissal from the DEO isn't going to stop helping and of course, this means crossing paths with the DEO. When some soldiers on a ship get attacked by an unknown Alien Supergirl coming to there aid causes Hayley to go on a crusade thinking someone in the DEO must know who Supergirl is. Let's be honest the amount of times Kara has been there, Supergirl has been near death and Alex's reactions let's say I was surprised it was just a handful. I was also gutted we did get to see a return of Agent Vasquez but as fans may know the actress is very busy with other projects.

This episode kicks off with a glimpse of the Red daughter in training, they want to control her, and they seem to have an idea how.
Back in National city, we see Kara and Lena spending a bit of time together it's the first chance they have had to chat about James. Lena and he are still on shaky ground after she helped him out with the DA, Kara advises Lena to talk to James. James and Lena reconcile after James recent actions with the Agents of Liberty it opened his eyes a little. Lena later lets James in on her intentions of making humans super which I can see might not end well. Why do I get the feeling James might offer himself to be tested?

J'onn is still very much the space dad in this episode he even has a picture with the two girls in his new office. J'onn has gone into the PI business, a perfect fit for him. Brainy trying to hire him to help Supergirl was amusing as you know he will always be there for her.

At the DEO the investigation to what happened on the ship hits a bit of a dead end, however, J'onn has kept some old files which though heavily redacted seem to have some answers. It emerges the Morai are targeting people responsible for their training. Alien children with the ability to become invisible are raised to be assassins. The president with the current climate towards aliens ordered them to be killed which of course backfired. The Morai are now on the hunt for those responsible and Colonel Haley is a target. Thankfully due to Supergirl's x-ray vision, she can just see a shimmer but as she isn't allowed in the DEO Brainy comes up with a plan . Alex talks with Kara as it seems Haley isn't the type of person Alex wants to work for but they agree to have each other's backs and Alex can keep an eye on things from the inside. The DEO prepares but Alex's calls her sister knowing she will back her up , plan S. In the meantime, Haley interrogations tactics have revealed Supergirl's identity. Supergirl saves Haley and the DEO but Haley still threatens to expose her if she doesn't toe the line. I think we all cheered when Alex hit Haley.
A powerful return to form in this episode and it seemed to be more focused on relationships rather than the big bad. It also has given Alex more storyline something that has been lacking and let's hope it continues. In Elseworlds, Kara didn't like the fact she was in a world where Alex didn't know her as she stated in this episode so you can only imagine the impact this will have. Alex will remember Kara is her sister but so much of Kara and Supergirl are intertwined you know it's going to be a rocky road ahead.
Blood Memory
It's all about those family relationships, especially siblings and expectations. We have Kara and Alex, Nia and her sister Maeve and the drug dealer and his.
You can also see a shift from Kara mentor to a friend and yes in a way surrogate sister to Nia and I love how this friendship has developed on screen and the handling of Nia's character.
Its games night at Kara's and at first glance the sisters seem just as in sync. The Danvers sisters pair up has them winning as they know each other so well but a little slip like Alex not knowing Kara's favorite movie (we all know this one Wizard of Oz) has Kara worried and she expresses her concerns to J'onn. The movie relates to her alien side something Alex has forgotten. I liked the fact Nia is now included along with Brainy to the super friends is a nice addition and Nia talks about going home for a festival and how her town embraces Aliens and humans living together.
Meanwhile, we see Red daughter training and her collapse and while they are attempting to revive her a strange purple energy travels and zaps a mobile home thousands of miles away! not affecting the occupants but some pills they have concocted. We soon learn the effects turn humans very angry and almost alien in appearance. A frat party becomes violent after some frat boys take them. (later we learn its gamma rays…. Yes, they went all hulk I did snigger to myself but guessing as Hulk is marvel no reference was made. Where is Winn when you need a good pop culture reference).
Alex isn't happy when Supergirl arrives to stop the supposed Aliens and insists she calls her Director Danvers leaving Kara to head to the doughnuts and seeking James advice the next day.
After overhearing a conversation with Nia and her sister and how she cannot make it home to the festival, Kara offers to drive Nia home for the weekend, due to her sleep condition she didn't want her falling asleep at the wheel.
Alex feels off but can't explain it as she fails to go all badass Alex on the frat boys and asks J'onn to read her mind thinking Haley's alien mind probing might have caused her problems. J'onn lies to put her mind at ease. Thankfully Haley isn't around but I don't think she will be missing for long. This gives Alex the chance to be in charge of the DEO as she should be.
On their road trip, Nia and Kara have a chance to talk about Nia's home life how she adores her older sister and how supportive her family is, she is half Alien, her father is human. Nia also confides in Kara she is trans feeling she always should be a she. Kara as always is accepting and understanding, thanking Nia for sharing with her. It's a lovely little scene and you can see Nia bracing herself to tell Kara.
While you can't say Maeve is the favorite it comes across that her mother perceives her to be the next dreamer and Maeve has devoted her life to it reading all the books about dream interpretation and learning from her mother, staying in their small town. Nia always wanted to move to the big city and see the world. Over a family dinner, we learn she read Cat Grants biography repeatedly. Kara can see why Nia is reluctant to confide in her family but encourages her to talk to her mother. However, when her mother unexpectedly dies after being bitten by a spider, Nia berates herself for not realizing her dream in the car on the way there was, in fact, a warning about her mother's death but not in the way she believed. Nia is in her mother's dreamscape and her mother embraces the fact Nia has the gift and apologizes for being so blinkered in her thinking.
Back at the DEO, Alex and Brainy are on the trail of the drug dealers, two young guys, one only wanting to provide for his sister but when they get a big cash offer, they end up in trouble as the children of liberty want the drug for themselves. Yes, these followers of Agent Liberty are still around and want to cause trouble at a festival in town where aliens and humans mix. However, the festival is now a memorial for Nia's mother. Nia's father gives her a gift that her mother told him to give her in a dream.
With everyone gathered in the barn, Nia gets a flash of what's about to happen. Nia saves her sister before the event revealing her gift which angers her sister. Alex and Supergirl face off when Alex is about to shoot an Alien who believes it has a child of liberty but in fact, it's the younger sister of one of the drug dealers who took a pill to avenge her brother.
Heading back to National City Kara tires to comfort Nia with tears in her own eyes after recent events which prompts her to pull over and reveal her secret to Nia. Nia's gift from her mother was a suit and we might get to see another hero very soon.
Alex hangs out with Kara and starts to moan about Supergirl until J'onn changes the subject seeing Kara's discomfort, we still have the Danvers sisters but Supergirl has lost her.
While the main focus was Nia's story, we also got to see James bury a story that could impact on Lena.
So many secrets things are bound to come out soon affecting all there relationships.
The Red daughter who caused this latest blip is still unconscious they have someone they want to call and we can probably guess who that might be.
Another great episode showing the complex sibling relationships. We knew the mind wipe would have an effect and, in a sense, Kara has lost part of Alex which I can see have strong repercussions in the future I just hope something triggers her memories to come back. However, this episode provided some wonderful scenes and a look into the character of Nia Nal who is quickly becoming a fan favorite. This really gave Nicole Maines chance to shine and I can't get over the fact this is her first major role.
I can not wait to see more
So, what were your thoughts on this week's episode?
How do you think the mind wipe has and will affect the Danvers sister relationships both Super and none?