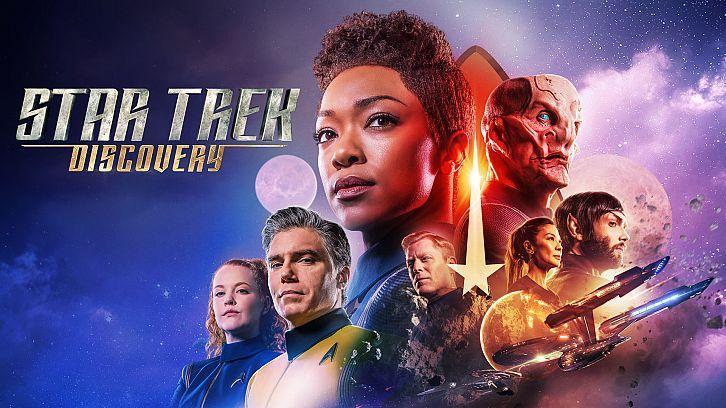 After delivering the best first season in any Star Trek show ever, Star Trek: Discovery finally returned to our screens with a confident, exciting start that hit the ground running, introducing us to the latest actor to play Christopher Pike in style, Hell on Wheels' awesome Anson Mount. Mount's Pike is almost the complete opposite of the cunning and manipulative Lorca, with much of the show's premier going out of its way to showcase the differences between the two. In his office, Lorca forces people to stand so face-to-face conversation is minimal, but Pike prefers to have chairs in his. He also doesn't mind any private details coming to light when Tilly accidentally brings up his file on the screen in front of every person on the Discovery's bridge to see, even pointing out his failures.

It's a welcome contrast to Lorca, and this episode was as much about dealing of the impact that he left behind as opposed to moving on. The crew are reluctant to trust Pike at first especially when he arrives at the Discovery without notification, but it's soon clear that he decided to tell them first hand. The Enterprise wasn't involved in the war due to its five year mission - and that Starfleet decided to keep it only as a last resort. It wouldn't have made it back in time to aid in the war effort, but that doesn't stop some of the crew members of the Enterprise being resentful for not getting their chance to fight, and that includes Spock, Michael Burnham's foster brother. After a cold beginning where the young Spock shuts Burnham out of his room when they are first introduced, it's clear that the Enterprise making contact with the Discovery means that Spock's going to be nearby. But Pike is reluctant for them to meet at first, and it is only towards the end of the episode when we learn that Spock is not actually on the Enterprise in the first place, having accumulated a whole host of leave meaning he could be gone for months. It's interesting to see that Spock's presence here reminds me of how The Force Awakens dealt with Luke Skywalker - keeping him in the background for long enough to not detract the storyline from the main characters but also making his presence relevant.

The premiere, if anything, feels more like a traditional second season premiere than a Star Trek premiere. Most Star Trek premieres have been the conclusions of stories that began in the previous season. Not so with Brother (unless you count the arrival of the Enterprise as a cliffhanger, and even then, it's still clearly a different story than Season 1), which spends time getting us up to speed with the characters and their new locations. With Culber gone, Stamets is being haunted by him everywhere he goes and wants to transfer away from the ship. Not wanting to lose anyone who she's friends with, Tilly does her best to convince him to stay, but Stamets reminds her that she cares too much. It would make Tilly a great captain, but there's seemingly no convincing Stamets at this stage what his course of action would be.

The main mission here is a simple one, and it involves the rescue of a crashed Starfleet ship named Hiawatha. Pike and Burnham, joined by a red-shirt in all but name, board high-speed landing pods for a daring rescue mission that maintains the highspeed energy that you might find in either Star Trek, Into Darkness or Beyond. It's fun, exciting and tension-filled to the very last minute, making excellent use of the special effects which almost look like it could be movie quality. One thing that's striking about this premiere is just how well done the visual elements are, with director Alex Kurtzman - the new showrunner, stepping into replace the previous showrunners. Kurtzman has had a mixed success rate in the past responsible for co-writing duds like The Amazing Spider-Man 2 and Into Darkness, but also co-wrote the first Star Trek reboot in 2009 and has experience on both Sleepy Hollow and Alias. It'll be interesting to see what Kurtzman can bring to the table in his role behind the scenes, as this show heads in its new direction.

The starship Hiawatha plays host to Chief Engineer Jet Reno, played by Tig Notaro, who brings some black humour to the situation in style. Initially confused as to why the war is over and then surprised that it ended with a peace treaty at the Paris Accords, she quickly works with Burnham and Pike in order to save her fellow injured crew members, one of whom is injured badly enough to have his heart stored outside his body. The action remains exciting throughout, with Burnham being left behind at the last minute when Pike and Notaro are able to teleport out. But in the end, everything is fine, with Pike coming to the rescue. However the rock that Burnham tried to bring back was unable to be transported directly, due to the containment of Non-Baryonic Matter.

Brother was a fun, energetic and lively roller-coaster from start to finish that hit the ground running. It was self-contained and managed to set up intriguing mysteries for the rest of the season (#WhereisSpock?) whilst giving a heavy dosage of nostalgia and Easter eggs for fans of the franchise to keep an eye out for. Its balance of well-executed humour, science, maths ("This is the Power of Math, people"!) and action pays off spectacularly, almost serving as a course-correction for those who didn't like Season 1. But for those of you who did, don't worry, as the show is on fine form. Regardless of what side of the fence you fell on, audiences should be in for an interesting journey down the rabbit hole.

Catch the next episode of the series on January 24 as director and fan favourite Jonathan Frakes steps in to direct.