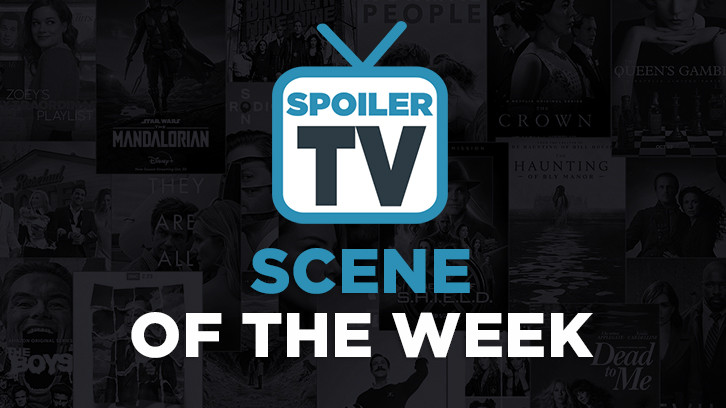 A weekly feature in which we're trying to find the most compelling, best acted, written, directed and just generally great, memorable scenes that we've seen in past seven days on TV.

A MILLION LITTLE THINGS, "Secrets and Lies", January 17, 2019, Actors: Allison Miller, James Roday, Romany Malco and more, The Scene: Maggie completes the race with the help of her friends
Justyna: After Maggie realizes she's not going to be able to finish the race she stays behind and breaks down away from her friends. Luckily Gary finds her and does his best to lift her spirits. He understands what she's going through and reminds her of the strong and brilliant person that she is, using the same words she did when she was trying to comfort him before. Also knowing what this race meant for her, Gary helps her stand up and walks with her to the finish line. When it seems they won't be able to make it before the organizers end the race all their friends show up to create a distraction and make sure she gets to complete it. Their support means the world to her and she finds the strength in herself to run once again at the very end. It's such a beautiful moment of support, really shows the power the friendship can have on people's lives. Maggie's fight with cancer hasn't been easy and it's clear that there's still a long journey ahead of her, but knowing that there's so many people rooting for her, standing by her side when she feels weak and broken, that's the strength she needs to keep going. Another wonderful performance by Allison Miller, James Roday and the rest of the cast. Kudos! Also picked by DarkUFO

ALL AMERICAN, "Keep Ya Head Up", January 16, 2019, Actors: Daniel Ezra and more, The Scene: Spencer learns Shawn was his guardian angel
Luana: As much as I liked Spencer's speech, this revelation broke me. After hearing Shawn say so many times "Spencer always got somewhere better to be", Spencer learns this was his former friend's way of keeping him out of a life he was never able to leave himself. He knew Spencer could have a better future and made sure no one messed that up. I love how complex this character was, he went from a seemingly bad guy to a human being who was just trying to do his best in a matter of episodes, showing perfectly how your perspective on something can change if you just look closely enough.

CRAZY EX-GIRLFRIEND, "I Can Work With You", January 18, 2019, Actors: Rachel Bloom and more
The Scene: Rebecca sings "Hello, nice to meet you" to the baby
Luana: This moment was so sweet because it represented Rebecca's growth, she wasn't only facing her fears but in a way forgiving herself for the mistakes of the past and for being human.

DIRTY JOHN, "This Young Woman Fought Like Hell", January 13, 2019, Actors: Joelle Carter, Julia Garner, The Scene: Denise tells Terra how happy she is she's alive
Mads: This was a phenomenal and emotional finale that delivered fantastic performances from every actress on this show but this scene was one of the most compelling for me, although it was hard to pick just one. John's sister, Denise, visits Terra in the hospital after the attack and lets her know none of this was her fault and she's happy Terra lived. John brought all of this on himself and even though Terra is concerned about his family and the people he left behind, Denise says it best when she tells her "the fact that you're worried about that says everything." None of these women deserved the trauma John put them through but they all survived and they have each other to lean on, that's what matters most.

FRESH OFF THE BOAT, "Driver's Eddie 2: Orlando Drift", January 18, 2019, Actors: Hudson Yang, Constance Wu, The Scene: Eddie apologizes for taking Jessica for granted
Dahne: After Eddie complains that Evan is not grateful for all he's done for him that week, Evan calls out Eddie for being ungrateful for all Jessica has done for him for his whole life. Eddie realizes how hard Jessica works to give him a good life and apologizes for taking her for granted. I love this scene because it shows character growth in Eddie. Originally he was my least favorite character but he has really developed this season. It was nice to see a son, even if it is a fictional character, being grateful to his mom for all she's done for him.

GREY'S ANATOMY, "Shelter from the Storm", January 17, 2019, Actors: Justin Chambers, Chandra Wilson, Ellen Pompeo and more, The Scenes: Alex comforts Bailey & DeLuca flirts with Meredith in the elevator
Mads: Alex comforts Bailey. As a long-time fan of Grey's, it was so nice to see Alex hugging Bailey and supporting her even though moments before he was losing his temper. Seeing her in distress put things in perspective and he realized how much Bailey is struggling with her anxiety and stress. Alex being able to put aside his ego when a friend is in need (as he has done time and time again over the years) prove what a loyal friend he is and how much he has grown since the beginning of the show. Also picked by Max
Nikos: DeLuca approaches Meredith in the elevator by flirting in Italian and when he leans in she reveals she took Italian in college and can understand every sweet nothing he's been whispering. Reason for choice: The explosive chemistry between the two.

NCIS: NEW ORLEANS, "Vindicta", January 15, 2019, Actors: Scott Bakula, Jason Alan Carvell, The Scene: Pride tells Jimmy that they are family
Dahne: While standing over their father's dead body, Jimmy tells Pride that he still feels like the secret love child and not a real part of his father's life. Pride counters that Jimmy was the best thing that his father ever did for him because now he has a brother and no official document could make them more family than they already are. I'm a sucker for brother stories and I love how Jimmy and Pride's relationship is developing.

OUTLANDER, "If Not For Hope", January 13, 2019, Actors: Sophie Skelton, David Berry, The Scene: Brianna asks Lord John for a big favor
Justyna: I haven't been watching the show regularly in the past few years but I found myself following the recent episodes with a new interest in the story. This week the strongest part of the hour for me were the interactions between Brianna and Lord John. This particular moment starts with Bree asking him to marry her, then threatening to reveal his secret until both of them find themselves apologizing for what's been said. Lord John not only doesn't hold Brianna's threat against her but he also offers her hope, advises to stay strong and have faith that her parents can bring Roger back to her. I think it says volumes about their connection when Brianna is able to open up to him and admit the whole truth about what happened to her and just how tragic her circumstances appear to be. Her confession makes him understand her better and ends up being the reason why he announces their engagement a moment later. There's a true kindness in his actions and it's hard not to be thankful for his support. He's the best chance that Brianna has right now to continue to wait for Roger's safe return. He gives her hope and it means the world to her. Both actors are absolutely wonderful in all their scenes during the hour and I'm looking forward to more brilliant moments like this one. Kudos!
Laura B: Brianna asks Lord John for a big favor, and they talk. I wasn't sure how much I would enjoy this season, being afraid that not enough screen time would be given to certain characters and presuming it would fixate too much on Jamie and Claire, but with scenes like this between Brianna trying to convince Lord John to marry her, for the sake of not having to marry someone else, was wonderfully awkward and beautifully juxtaposed to Outlander's previous and earlier events. Getting to see characters like Lord John and Brianna finally getting to interact (not to mention Maria Doyle Kennedy who is also doing a wonderful job as Jocasta MacKenzie Cameron) has been so delightful, because of the very talented cast that plays them all!

RIVERDALE, "Chapter Forty-Four: No Exit", January 16, 2019, Actors: Madelaine Petsch, Vanessa Morgan, The Scene: Cheryl and Toni say I love you
Mads: This was a great episode all around for me and my ships and I had a tough time choosing between this scene and Veronica and Reggie finally kissing but ultimately I went with the Choni scene because they're my favorite couple on the show and this scene was so cute and I loved their cat burglar outfits and the pile of money they chose to make out in, it was the perfect aesthetic for their relationship. Toni and Cheryl have become such an important couple to me and I'm glad they got to be happy for a while amidst the chaos of Riverdale.

STAR TREK DISCOVERY, "Brother", January 17, 2019, Actors: Anson Mount and more
The Scene: Pike's file is exposed
Milo: This episode was a fantastic introduction to Pike and seeing him have to prove his identity was a good callback after everything that Lorca had put the crew through - of course they wouldn't be as trusting of another captain. Anson Mount has charisma in spades and really nailed the role here, showing the whole crew his file without anything to hide, even going so far as to point out his flaws.

THE CONNERS, "Don't Shoot the Piano Teacher", January 15, 2019, Actors: John Goodman, Laurie Metcalf, Lecy Goranson, The Scene: Jackie tries to convince Becky to let Emilio be involved in the baby's life
Klutzy girl: When trying to convince Becky to let Emilio be involved in their baby's life, Jackie talks about all the "guys that have frolicked in her garden" and how he's willing to stick around to raise the "flower". After considering it, Becky manages to burn her aunt by mentioning that her mother told her there wasn't exactly a fence around Jackie's garden either. Dan instantly stopping and going "OH" was the perfect ending. Everything about this scene killed me.

THE GOLDBERGS, "The Pina Colada Episode", January 16, 2019, Actors: Jeff Garlin and more
The Scene: The "Pina Colada" song
Klutzy girl: To cheer Murray up after he reveals he too misses Lainey and is sad about her leaving, the rest of the family starts singing the "Pina Colada" song and manages to draw him into it. It was a hilarious, sweet moment between the family.

THE GOOD PLACE, "Chidi Sees the Time-Knife", January 17, 2019, Actors: Kristen Bell, William Jackson Harper, Maya Rudolph and more, The Scenes: Eleanor and Chidi talk in the clown house & The Judge returns from her visit to Earth
Klutzy girl: After Eleanor tells Chidi they fell in love in the clown house, she tries to recover by telling him she hates him but he isn't falling for it and tells her he loves her too. And then they briefly switch places when Eleanor wants to talk about philosophy and Chidi wants to have sex. Their reactions to this were hilarious and adorable. I love these two with every fiber of my being, and I'm so glad they keep finding each other and falling in love.
Nikos: The impartial Judge Gen briefly visits Earth only to return horrified with how much of a mess it is. Reason for choice: Maya Rudolph saying "y'all" and shining with every punch line. Bonus point for remarking that clearly Black women aren't well liked on Earth.

TRUE DETECTIVE, "The Great War and Modern Memory", January 13, 2019, Actors: Mahershala Ali and more, The Scene: Wayne finds tracks and the boy's body (picked by DarkUFO)

YOU'RE THE WORST, "The Pin In My Grenade", January 16, 2019, Actors: Chris Geere, Aya Cash
The Scene: Jimmy realizes Gretchen is lying
Luana: Chris Geere was amazing here, he looked so guilty when he thought he had stood Gretchen up but then he realized she was making the whole thing up and didn't show up either. I love these two and I love they finally picked a date, this last season looks like it will be a wild ride and I can't wait to see how this all ends.