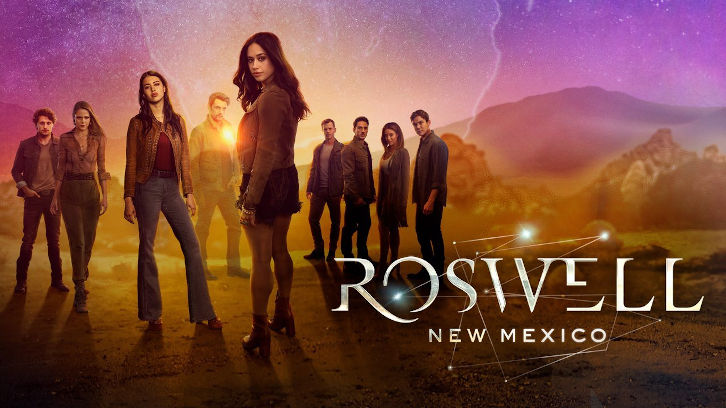 This week on Roswell, New Mexico Liz and Maria look for clues from Rosa. Later, Liz confronts Max about the lies and he admits that he saw her sister that night but explains that he had nothing to do with her death. Kyle hands over his dad's notes to Commander Manes. Isobel tries to get into Liz' head to make her leave but fails. Max loses control and accidentally blacks out the whole town.

Trust is everything: We may only be 3 episodes into the show but there are quite a bit of established relationships already. We have high school crushes, spouses and lovers, and they all have something in common. At least one person in each pair doesn't trust the other. Liz has made it very clear that she doesn't trust Max, with good reason. She asked him point blank when he last saw her sister and he lied to her face. Even if he had an explanation for the memory that she saw, it doesn't erase that. Trust is easily lost but very difficult to win back. Deep down, I don't think she actually believes that he could've killed her. But the lies and uncertainties are eating away at her. Then we have Isobel and her husband Noah. It's clear that she loves him a lot, but since she never told him the truth, I have to assume that she doesn't completely trust him. She's been able to hide her secret so far, but as things are getting more intense on the alien front, how long can she keep this up before he starts to notice something is off? And last we have Alex and Michael. Neither really trusts the other, and yet I feel that Alex would react pretty well if he found out. Being on opposite sides as his dad would probably be a bigger issue than Michael being an alien.

Annoying in every way: Speaking of which, Commander Manes is all set to become this season's villain. Every main character already dislikes him. And while I expected his attitude towards aliens, it's his actions towards his son(s) that pisses me off most. Everyone in town is proud of Alex, except for his own father. It seems that nothing he does will ever be good enough. I have a feeling he's had this attitude towards his sons since they were little. Alex probably went into the military just to make his dad proud and lost a leg for it. I can't wait to see him stand up to his dad.
Where are you? Anyone else surprised by the lack of screentime Maria has had? She's a regular and yet I feel like we've barely seen her these past 3 episodes. Sure, we got a bit more of her this week but it was only to run after Liz as she's looking for clues from her sister. We know next to nothing about this Maria. I hope we won't have to wait too long to see her get a storyline of her own. Because I'm actually curious to see what the writers are planning with her since it'll no doubt be a huge deviation from the original show (where she spent most of her time being Michael's love interest).
What are you hiding? I may be completely off base here, but I got the feeling that Isobel is hiding something about Rosa. Her reaction when she saw her in Liz's head was so weird. Almost like she had something to do with what happened to her and like they knew each other. I must say that I'm really intrigued by the mystery of what happened to Rosa. I wonder if the writers will go in a similar route as the original show or a completely different one.
Best quotes: Kyle: "Is it possible that maybe aliens aren't the enemy of humanity?"
Kyle: "I know you want to believe Max is a golden retriever, but he's a freaking X-file, Liz."
Isobel: "I just came from Max'. He's letting Liz experiment on him." Michael: "Please say sexually."
Michael: "Run, it's the cops."
Liz: "Why do parents name their kid Chad? All the Chads end up being Chads."
That's it for this week. Check in again next week for an all-new review and let me know in the comments what you thought of this week's episode.
Please be respectful in the comments, any unnecessary rudeness isn't welcome.