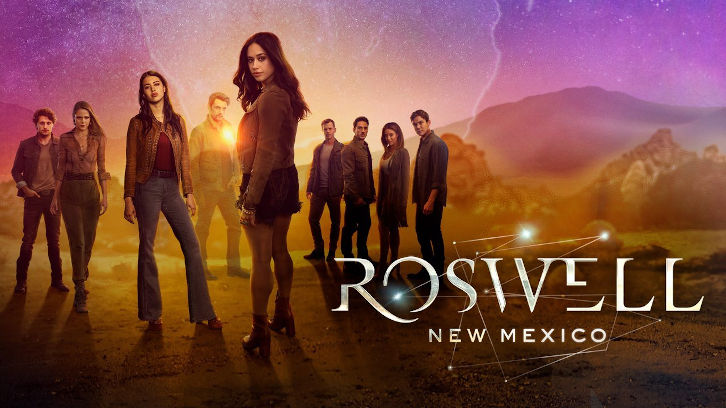 This week on Roswell, New Mexico marked the 10 year anniversary of Rosa's (Liz' sister's) death which leads to a lot of hatred towards the Ortecho's. The brother of one of Rosa's "victims" tries to kill Liz' dad but Max interferes and nearly kills the guy only to be stopped by Isobel and Michael. Liz finds out that Max saw her sister the night she died and learns through Kyle that Rosa was killed by an alien. This leads to Liz no longer trusting Max and thinking he had something to do with her death. Meanwhile, Kyle refuses to work with the military. Max is occasionally sleeping with his partner, Cameron. Alex and Michael continue to grow closer despite still being angry over what happened in the past.

Thank you for not being predictable: You know, last week I thought I had the writers all figured out. I was so sure they would have Kyle be involved with the military operation, completely misguided, looking for aliens while his ex would have to hide that her new boyfriend is the alien and blah ba blah. But instead, Kyle wanted nothing to do with it. He actually went to Liz with what he knew and trusted her. I hope we get to see them work together on this, especially now that he's in the loop. I don't want to see them on opposite sides again, though I'm afraid it's a real possibility. I just want to skip the part where they fight amongst themselves and get to the part where they stick together and fight the government. By the way, I'm really liking Michael Trevino in this role.

Oh, the angst: That being said, I didn't mind all of the drama. While last week felt a bit like a romance novel, this week brought a lot of friction. Max is clearly keeping something important from Liz regarding her sister. I highly doubt he killed her, but his silence is causing her to leap to conclusions, and I can't say that I blame her. It doesn't look good. I'm assuming the government covered her death up, which leaves me with a lot of questions. What happened to the people she supposedly killed? Were they also killed by an alien? Things are going to be pretty tense next week between Max and Liz.
I can't stand you: I'm not sure if it's the acting or the writing (or both) but I cannot stand Isobel. And I didn't have this problem with the character on the original show. Maybe it's just that the actress isn't used to the role yet, or the antagonistic role of the character at the moment or maybe it's just me. But there's something about her that just rubs me the wrong way (I can compare it to Lizzie on Legacies). I really hope this improves in the next few episodes.
A dark side: Max was having some issues controlling his anger this week. I'm glad they're showing a darker side to their powers. I hate it when the good guys are always so buttoned up. Show some rage, be flawed, it makes the characters more interesting. And could anyone really blame him for nearly killing that racist scumbag? They can't keep him locked up because the Ortecho's would get deported if they pressed charges (nice justice system you got there) and he's clearly not going to stop, he's been doing it for years and is only escalating. It's already been stated that Isobel can get into people's heads (she made Liz leave town) so couldn't she have made that guy leave town as well or something?
Best quotes:
Cameron: "You look like garbage, partner. Ruggedly handsome garbage, but garbage."
Max: "Are you sassing Jesus?"
Alex: "You know I just did this for attention, right?"
That's it for this week.
Check in again next week for an all-new review and let me know in the comments what you thought of this week's episode.
Please be respectful in the comments, any unnecessary rudeness isn't welcome.