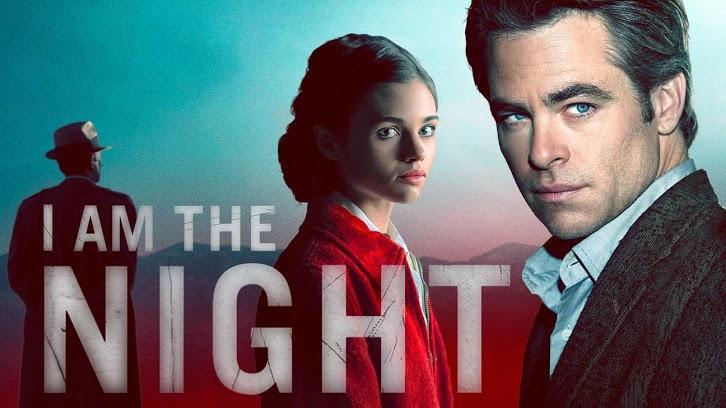 Although it is based on a true story, I will not be reviewing I Am The Night in terms of how it compares to events that inspired it or speculating when real-life details might be worked into the show. This is not a documentary.

Directed by Monster's Patty Jenkins and starring Hell or High Water's Chris Pine, I Am The Night is a sleek noir homage peppered by questions of identity. This first episode introduces two searching souls fated to cross paths, thanks to a mutual acquaintance who might just be a serial killer. But perhaps even scarier for the characters are parts of themselves they haven't discovered yet. The opening scene sets this tone by following one of the main characters, Pat Lee, from behind, as she prepares to leave for school. Her mother fusses with her hair and cautions her to behave well at school. A joke from her mother about how Pat won't be acting up because she's different, as in smarter, than her classmates prompts this response.
"I want to be normal. Just like everyone else. Just like you."
And actress India Eisley turns to face the camera for the first time. You don't hear a violin screech, but you're meant to feel it. Pat Lee's eyes are blue. And the moment is presented with a touch of horrific revelation. It's a bit humorous, in the darkest of ways.

Setting aside any historical knowledge, we're left with a number of questions. What were Hodel's crimes? Why did he approach Fauna at the bus stop? Who is the man trailing Fauna, and why is he trailing her? What does Hodel's wife know? Why didn't Hodel want Fauna to contact Tamar? How will Jay and Fauna's paths cross? This pilot episode also sets up some bigger, long-term questions as to what the main characters' fates will be? Will Jay find closure and a new beginning in pursuing this story? Will Fauna choose to return home? With a show like this, you can count on the show not being about whether or not justice will be served. It's about what happens to Jay and Fauna. So far, with the superb casting, viewers will care about these characters. And that's the most important part of a pilot, selling the protagonists.
Until next week, let's speculate on why the title "I Am The Night" was chosen. I suspect it wasn't a tribute to Darkwing Duck, but it makes me think of that character's iconic "I am the terror…" speech.