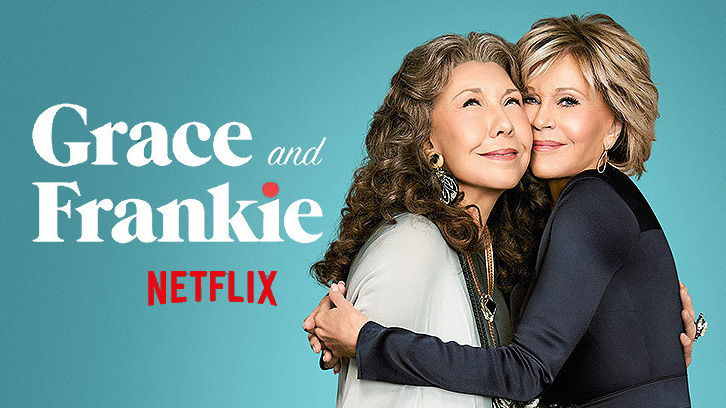 New year, brand new season of Grace and Frankie!

On January 18, Netflix drops 13 new episodes of the popular comedy with acting goddesses Jane Fonda and Lily Tomlin. Spoiler TV got to watch the first six episodes of the new season early to give you a tiny little sneak peek of what's to come.

Season 4 concluded with Grace and Frankie being shipped off into assisted living, which was not too well received by some viewers. Manipulated by their children, the two ladies felt like they had no other choice than to give up their beach house and move to a retirement community. In the meantime, both their ex-husbands are having the time of their lives as they are actually considering inviting another man into their bedroom. While the women are losing everything, the men's biggest problem is whether to have a threesome or not. What's new?

When Grace and Frankie realize that their kids have parent-trapped them to get them to move to the retirement community, they decide that they have had enough. They take their toaster, a blow torch and Frankie's fondue pot, steal a golf cart and run off. Heroines!


Season 5 starts off right where season 4 ended. Grace and Frankie are back at the beach house which has been sold while they were away. Nevertheless, the two women want their house back and try to find out who the new anonymous owner is. Grace believes she knows who bought the house but get's disappointed when it turns out her guess was merely a naive wish.

Mallory, Brianna, Coyote and Bud are worried about their mothers and insist on them going back into assisted living. The four of them are really obsessing over the two women in this season. While it is understandable that they are worried the question arises if and how much children should be able to muddle into their aging parents' lives.

Meanwhile, Robert and Sol find themselves in a situation they are slightly overwhelmed with and later on get blessed by a new, rather complicated roommate. Well, actually it is more like two roommates. One of whom makes quite an impression on Sol.

Brianna, as annoyed and vicious as ever, faces some major problems and is forced to reach out for help (which, as I am sure you already guessed, almost kills her). After all, Brianna does not ask for help. Not ever.

As it was announced a few months ago, RuPaul has joined Grace and Frankie for a few episodes this season. He already pops up in the very first episode and enchants the audience with his fabulous presence. Grace and Frankie, however, are less delighted by his character. Nonetheless, the scenes with him and the two ladies are highly entertaining.


In season 5 Grace and Frankie seem to be confronted with ageism (paired with sexism) more than ever. Their ex-husbands never face the problem of not being taken seriously due to their advanced age. For Grace and Frankie, though, it is a constant struggle. They need to prove themselves pretty much every single day anew. This season gives a peek into how hard it can be, in particular for women, to fight the persistent stereotype of ageism.
What I enjoyed particularly about the first few episodes was the abundance of swearwords in the dialoges. Compared to previous seasons it seems like the f-word gets dropped a lot more often. It is still not exaggerated but simply makes everything more believable. After all, in real life we swear all the time. Or is that just me?
What I was somewhat missing in the first few episodes was Vibrance - Grace and Frankie's business. Unless I missed it there is literally only a single mention of their vibrators. That one mention, however, clarified that their business still exists and that it apparently is going rather well.
I was probably most exicted about the fact that Grace' ex-beau Nick returns for several episodes. It is always a pleasure to see Jane Fonda and Peter
Gallagher on screen together. Their characters have a great chemistry, whether they are fighting or kissing.
Here are some random pieces of dialog to spark your interest even further:
"Let's not draw on facts. They are so over."
"We are here! Do you not see us, Bob?"
"We have a blowtorch!"
"What you might not know is that this ordinary phone contains a camera."
- "We are so close!"
- "To what? Being impregnated by a pig?"
"I have kissed a girl."
"I'm unclear if this is garbage or your life."
"You love not being nice to people."
"I've been begging you to do that since you were 4."
"He failed his drug test. He wouldn't smoke with me."
Make sure to check out season 5 on Netflix. The episodes are released on
January 18!