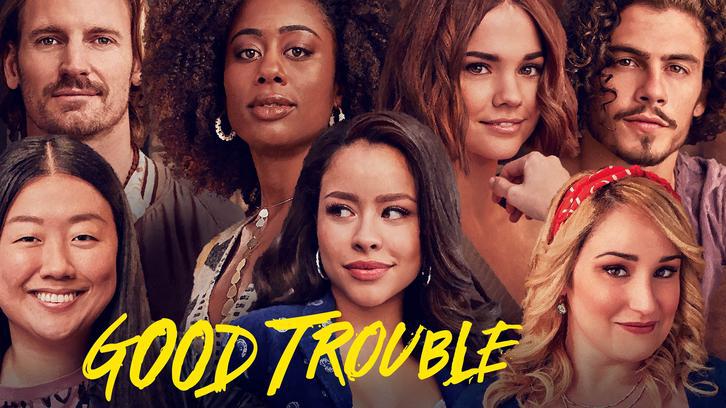 The moment a lot of The Fosters fans have been waiting for is finally here, the premiere episode of the Mariana and Callie-centric spinoff, Good Trouble. The premiere takes place right at the end of The Fosters three-part finale which was set five years in the future.

My first overall thought about this show after watching the first episode is that it still has the heart of The Fosters but it's a more edgy and fun show which is perfect when you're in your twenties which Mariana and Callie now are. The show shifts between past and present quite a lot which was a bit confusing at first but after watching a few episodes, I kind of got used to it.

This week on Good Trouble:
Anyway, Mariana and Callie are both done with college and starting their professional careers in Los Angeles. Mariana is working for a tech start-up while Callie is clerking for a conservative judge. There's a lot that happens in the first episode and a lot of new faces that we get to meet. The first person that we get to meet is Alice, who is running the Coterie which is where Mariana and Callie now live. The Coterie is a community style living space which Callie did not know about and is very much not a fan of in the beginning.
We get to meet Malika, Gael, Dennis and Davia who's also living at the Coterie. Davia is a body positivity Instagram influencer, Malika was also in the foster system like Mariana and Callie and Gael is an artist but also works as a graphic designer. Gael is also the guy that Callie hooks up with in this episode. We also get to meet Judge Wilson as well as Ben and Rebecca who are Callie's fellow clerks who went to Harvard and Yale, respectively. Mariana's team at work consists of Raj, Sam and team leader Alex.
Both Mariana and Callie are having a really hard time with their respective jobs and they get into a few arguments about their living situation during the episode. I mentioned that the show still has the heart of The Fosters and that really shows when Callie leaves work to comfort a really upset Mariana.
Favorite character:
I feel like I have to pick Mariana or Callie here because we don't really get to know too much about the other characters yet but from what I did see, I really like the other series regulars. I can already tell that Alice is going to be a fun character and Gael seems to be a really intriguing character. I think this show has great potential and I can't wait to find out more about all of these people. I feel like both Callie and Mariana have grown up since The Fosters even though you can still see a lot of how they used to be in that show on Good Trouble too.
Best/Favorite scene:
I really liked the dinner scene in the Coterie so that was one of my favorite scenes, and also the ending where Alice, Malika, Dennis and Davia helped Callie and Mariana gets settled in their room. But then my absolute favorite scene was Mariana and Callie on the roof having a heart to heart. Two of my favorite quotes from this episode were from that roof scene with the two sisters. I just loved how even though they fight, they are still there for each other no matter what. I really enjoyed hearing Callie telling Mariana that they can't give up, that they fight because I think that is something that is so important for a lot of people in their twenties to hear because life can be so messy and confusing at that time in your life.
Favorite quotes:
Malika:
You really think you can make a difference?
Callie:
I'm going to try
Callie to Mariana:
We are Adams-Fosters. We don't give up. We don't give in. We fight. And we have each other, we are not alone.
Mariana:
I don't care where we live, as long as we are together.
What did you think about the first episode of Good Trouble? Who's your favorite new character? Please, let me know your thoughts in the comments below.