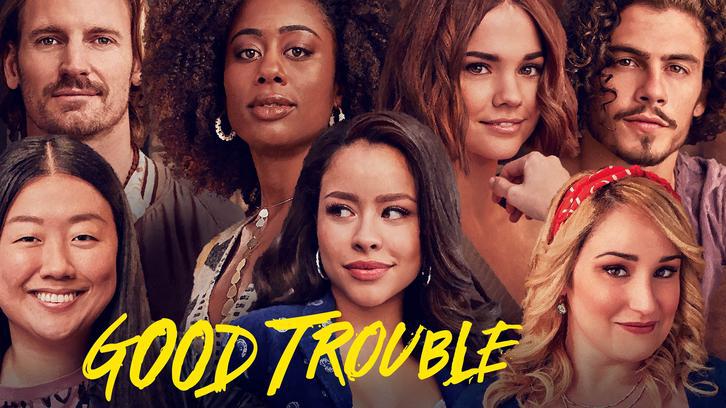 Good Trouble airs Tuesday nights 8:00PM ET on FREEFORM

Banking on the goodwill of fans from a previous show to help boost a spin-off is always a tricky business. There is always the fear of not matching-up to a past show's success and alienating fans who might be still upset about unsatisfying finales. This is not the case though for the Good Trouble. I was a bit apprehensive when they announced a Callie and Mariana only spin-off, but I am sure that a majority of the Foster kids and maybe the mothers will show up on this show. The name of the show was strange, but after watching the first five episodes, I am impressed by the genius of Good Trouble. Last week we met a majority of the cast members that you will see come and go during the episodes. Even though the show is based on Callie and Mariana's life, the other characters are being given a substantial amount of storyline which genuinely makes our favorite sisters feel more grown up.


This episode is titled The Coterie, and it is beautifully directed and filmed. We saw in DTLA the ladies move into this community living type of situation. I will confess that I am not a fan of this space but, it works for what the show is trying to do. During her formative years on the Fosters Callie was always the child that worked hard on herself to not get into trouble. In this episode, we see a little bit of that struggle, but eventually, she gives in to pressure from Jude. Callie finds herself in a difficult situation at work because of bad decision making, and with her fellow clerk Rebecca trying to one-up her, things don't end well. I am not a fan of Rebecca, but I respect her than I do Benjamin who is very calculating and phony. Mariana is also having some issues at work with her team. This episode she has a little confrontation with Alex, and we get to see how much Alex is afraid of Mariana's capabilities and will do anything to sabotage her growth.
The Coterie is a character-driven episode, and we get to go a little deeper on Malika through a member of her family. It is an emotional meet up that will leave you wanting to know more about Malika's life. Gael is a bit confused especially after Callie meets the mysterious guy that he was undressing at the end of episode one. I hope the show will let Callie grow from pining for men who are not available. She's had hot and cold relationships a lot, and she needs to shake it up a little. We get a glimpse of Davia's life that is heartbreaking, and Alice who is honestly my favorite person in this show has a devastating storyline that will leave you crying. The last seven minutes of The Coterie is the best in my opinion. The episode has a lot of dancing, drinking, heartache, love, joy and many other descriptors of happiness and pain that I cannot think off right now so you should watch it.
What do you guys think of Good Trouble?